It was a year of hellos and goodbyes.
The world lost irreplaceable talents like Prince, David Bowie and Glenn Frey.
Here in Billings, we said so long to Alberta Bair Theater executive director William "Woody" Wood when he left in July for a job in Michigan after ushering in a record-breaking season in 2015-16.
We also had to say goodbye in July to longtime sound man Randy Wyman when he retired to travel the country.
The biggest blow was losing iconic artist and World War II hero Ben Steele in September, just shy of his 99th birthday.
There were also some notable hellos in 2016.
Visionary entrepreneurs boosted a downtown cultural renaissance in 2016. Smiling Dog Records brought vinyl back downtown, and three new art galleries, Western Art Forum, Terakedis Fine Art and Montana Gallery packed in the crowds during ArtWalk.
Here are some of my favorite moments in 2016:
Photos: Show goes on after storm delays Magic City Blues Fest
Photos from Magic City Blues Fest on Saturday.
Most mojo
After two hours of trying to escape the rain, the Magic City Blues crowd was rewarded at midnight in August to a performance by Ziggy Marley. When Marley appeared on that Montana Avenue stage, whipping his dreadlocks over his shoulder, and singing in that distinct Jamaican accent, it was one of the biggest moments yet in the 15-year history of MCB. Ziggy has more mojo in his little finger than most of us have in our whole body.
Sweetest song
His voice was bruised and gravelly, but John Prine's sincerity when he sang "Paradise" in August under the Roosevelt Arch in Gardiner made me ache for the future of wild places. Prine expresses so beautifully the longing for a place long gone in his dad's native West Kentucky.
"I wrote this song 45 years ago and I'm honored to sing it tonight in honor of my father, William Prine, who used to take us to state parks and national parks," Prine said.
Photos: Chicago and Earth, Wind & Fire
Photos from the Chicago and Earth, Wind & Fire show on Sunday at MetraPark.
Unexpected pleasure
So many people told me their prom consisted of Earth, Wind and Fire covers that I was kind of dreading the show with Chicago in November because I don't relish nostalgia acts.
But there I stood at MetraPark's Rimrock Auto Arena along with most of the other 3,700 people in the arena, jumping around like I was 18 again. Ten minutes into their set, they hit their groove on "Boogie Wonderland," cranking up the bass featuring founding member Verdine White wearing glittery green pants and white pointed-toe boots a mile long.
Biggest opening day
It felt like a scene out of the '60s one snowy Saturday morning in February at Smiling Dog Records with vinyl records flying off the shelves and fans asking rockers for autographs.
All that was missing was screaming girls at the grand opening for Michael Ludlam's new record store on South 27th Street. Ludlam paired his opening with the Billings debut of the two-album set "Long Time Comin': Lost Sounds from the Treasure State," featuring Montana rock bands from 1958 to 1969. Musicians from 10 Montana bands from that era showed up.
At one point, the line of customers stretched from the cash register to the back of the store.
Aha moment
Director Sarah Butts described her staging of "Who's Afraid of Virginia Woolf" in November through Sacrifice Cliff Theatre as a "battle zone" between the characters, played by Dina Brophy, Craig Huisenga, Caitlin Hart and Shane McClurg.
I have never held my breath so long during a scene as I did in that final act. Brophy, whose acting chops I have admired for years, was absolutely riveting as the bully Martha unraveling. Huisenga's character, George, says in one of the final scenes, "We all peel labels." Boy, is that the truth.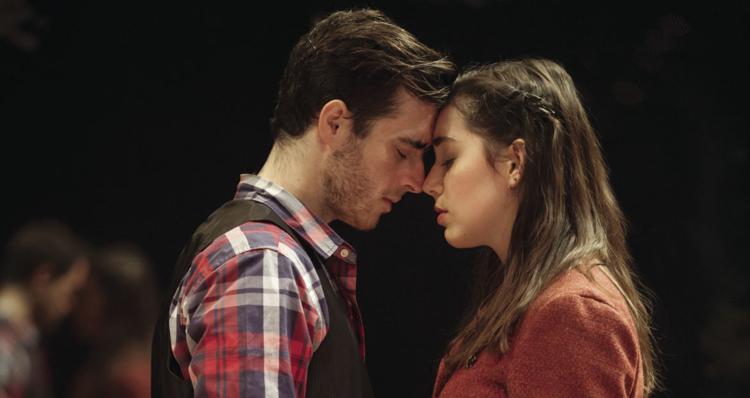 Best musical
The surprising part of seeing the Broadway touring production of "Once" in November at the Alberta Bair Theater was that there were empty seats in the 1,300-seat theater.
Balcony seats were as low as $26, a steal for a chance to see this contemporary musical, which won eight Tony Awards in 2012.
There was no way anyone in the audience could have been disappointed. When the leads performed the show's most beautiful ballad, "Falling Slowly," there were audible sighs throughout the theater.