After 50 years, the family who started the Los Guadalupanos Mexican dance group in Billings is still going strong with generations of dancers passing down the tradition.
On Saturday, the 66th annual Mexican Fiesta took place at South Park, and many spectators came to watch Los Guadalupanos in their colorful garb skip and bounce to well-known traditional dances.
Greg Contreraz, 52, said that his parents, Ynes and Ruth Contreraz, started the group and encouraged him and his siblings to dance as well. For years, the group held the fiesta at the Our Lady of Guadalupe Church before moving it to South Park.
Now, Greg is the lead supervisor of Los Guadalupanos, which refers to people from Guadalupe, Mexico. His family, including his parents, were born in the United States, but have long ancestral ties to Mexico.
"They were very proud of our culture, and that's something that I thank my parents for that they passed that down to us as something we should be proud of," Greg Contreraz said. "We're Americans, but we have our Mexican culture behind us, and especially when they first started, there wasn't a lot of Hispanics in Billings. It's a Mexican church, so they thought they needed some Mexican dancing."
His parents taught them dances like "Jarabe Tapatío" or the Mexican hat dance that signifies the importance of the sombrero. "Los Machetes" tells the story of two farm workers who love the same girl and are willing to battle for her.
Each song and dance tells a story, with many of them originating from multiple communities in Mexico, like Guadelajara and Jalisco, in the late 1800s.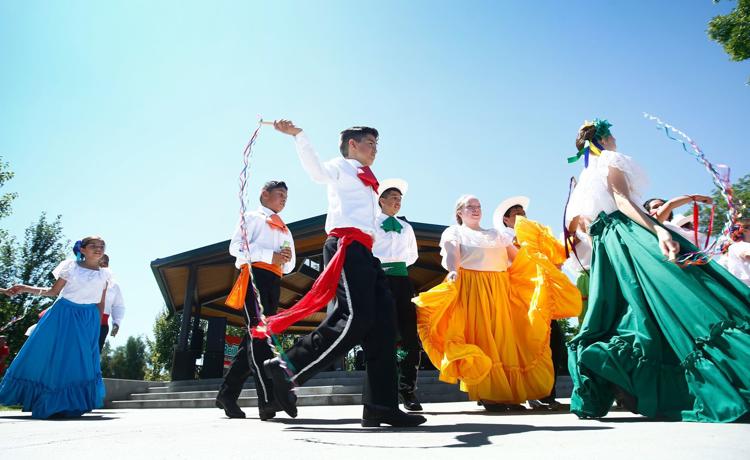 The dancers wear traditional Mexican clothing, and the group performs 12 different dances. It's all about bringing people together, Greg Contreraz's daughter Anna Contreraz, 26, said. Her nine siblings have danced as well. Having danced for 20 years, Anna Contreraz remembers helping her mom sew ribbons and chains onto the traditional attire.
"This all about family," Anna Contreraz said. "Every one of the dancers is either a cousin, a second cousin, or a brother or sister."
Greg Contreraz's sister, Angelica Johnson, 46, has helped choreograph about 10 dances for the group during the past 25 years. Her brother has been her dancing partner since she started when she was three years old.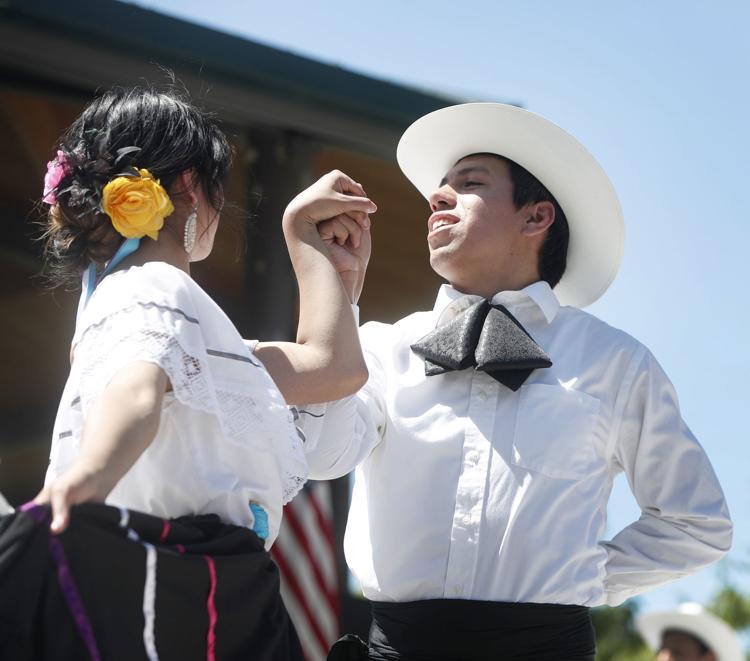 "It has been a family tradition and now we are passing that down to our children with hope, of course, that the culture will stay alive and we're able to bring that to Billings with our family members," Johnson said.
The fiesta's organizer, Jessica Contreraz, said that the event started as a way to raise money for the church. For the past few years, the event has been aiming to raise money to help build a new church called Mary Queen of Peace Parish on South 27th Street, which will be a congregation of Our Lady of Guadalupe, Holy Rosary Church and Little Flower Parish.
According to 2018 information by the United State Census Bureau, Hispanics and Latinos make up about 6.3% of Billings' population.
"Our net profit was a little over $16,000," she said. "That helps with all the funding for the church and we use it throughout the whole year."
While it's clear that the Mexican Fiesta is a fun summer event, the Contreraz family wants to continue their family traditions and teach others about Mexican culture.
"When (our mother) would watch us kids dance, she said her chest would puff up with pride," Angelica said. "Now I understand that feeling because I do the same thing when I watch the dancers. You feel such pride in your culture, pride in what you've created, and pride in what's to come in future generations in our family and our culture."