Kev Marcus led a double life for years.
He studied music theory by day and performed classical music on his viola at night. But during the in-between-times when he wasn't pursuing a degree in classical music, Marcus was making beats.
"I was trying to be like Daft Punk. I wanted to the producer behind people like Justin Timberlake, like Pharrell."
Marcus was speaking by phone from his home in South Florida on an 80-degree morning when it was spitting snow in Billings. His voice was as sunny as the weather.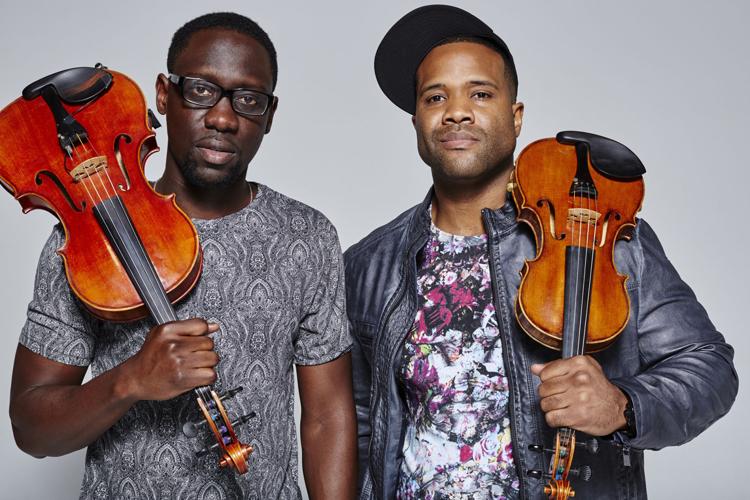 Marcus and the other half of Black Violin, Wil B., will perform twice on March 30 at the Alberta Bair Theater, including a 12:30 p.m. matinee for students and a 7:30 p.m. public performance.
'Classical boom'
Marcus performs on violin and Wil on viola. They tour with a DJ, performing "classical boom."
Teaching kids to use their creative instincts is part of his mission.
"We try to perform for 200,000 kids a year," Marcus said.
Working up material that is a mash-up of hip-hop, R&B, rock and classical music is something that came naturally to Marcus and Wil. Marcus said he never wanted to be the kid who practiced his viola or violin 10 hours a day, but he did like making music.
"It's important not to try to be anyone else. I tell students they need to be their own musician and work hard at it to get somewhere."
You have free articles remaining.
Cut his teeth on Tupac
Marcus grew up in South Florida, the son of parents who immigrated from the Caribbean. He cut his teeth on Tupac and the Fugees and loved the laid-back vibe of reggae great Bob Marley. When he started hanging out with the wrong crowd in fifth grade, his mother put him in orchestra class.
"I was the only black kid in orchestra class. It was nothing I was really into, but I was naturally good at it. 
By the time he got to high school, Marcus was good enough to get into a performance arts school.
"That's where I met Wil on the first day of orchestra class. We both had reggae in the house, but he was also into Michael Jackson."
They both landed academic scholarships, Marcus at Florida International University and Wil at Florida State University. They loved music so much they decided to make it their life's work, but they were looking at hip-hop, not classical music.
Genre-less
"The beauty of us is we stand out everywhere," Marcus said. "Our show is very loud, as far as volume and intensity. We borrow a lot from the hip-hop side, but the classical part is there, too."
Black Violin has opened for 50 Cent and Aerosmith, played at one of the biggest music festivals in the world, Bonnaroo, and composed a remix of Vivaldi's "Spring" for HBO's "Ballers."
"We've done all kinds of crazy things," Marcus said." We are genre-less; we don't have a box."