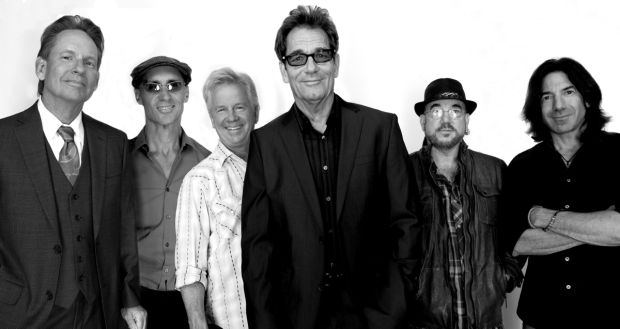 Huey Lewis is not simply known as a hit maker from the 1980s, but as a pop culture icon.
His loud jackets, perfect hair, and dark shades are such a big part of the '80s that the mere mention of his name conjures a certain image of '80s cool. His signature song, "Hip to Be Square," was analyzed by the psychotic Patrick Bateman in the 2000 film "American Psycho," as addressing the importance of trends, both for the band and our culture.
The song was never made part of the film because of a snafu between his record label and the filmmakers, but somehow the situation was spun into Lewis yanking his song from the film because it was too violent.
In a recent phone interview from a tour stop in Boston, Lewis said he is often hounded with requests for TV and film appearances, but he tries to be choosy.
"In the business, there are three levels of fame when it comes to film. First, there is 'How's Huey Lewis? Then, there is 'Get me Huey Lewis. Then, it's 'Get me somebody that sounds like Huey Lewis,'" he said.
Despite his disappointments and one lawsuit, Lewis is only a tad bit cynical about the movie business. He had a better experience with "Back to the Future" in 1985 when his hit, "The Power of Love," was featured and Lewis got a cameo role.
Lewis also performed with Gwyneth Paltrow in the 2000 film, "Duets," and composed and wrote the title track for the 2008 film "Pineapple Express."
Lewis, who was born in San Francisco and established his career there as a blue-eyed soul and pop-rock performer, now lives in Stevensville. He considers his headlining appearance Sunday, Aug. 10, at Magic City Blues at South Park a hometown show, and Lewis expects many friends from across Montana, including Paradise Valley author Tom McGuane, to be there.
Lewis said touring is a drag but when he gets on stage, playing live is still a blast. Even though the band has been through considerable transition in its 30-year history, most notably when the Tower of Power horn section left in 1994, Lewis' signature voice still carries the show. Horn players Marvin McFadden, Ron Stallings and Rob Sudduth, have been with Lewis for 20 years.
"We're playing better than ever," Lewis said. "We're smarter and better than ever. The idea is with music, you begin to play in the pocket. If you get into that place, it's the most exhilarating place to be."
Lewis and his band returned to the studio in 2010 to record some new material, their first in almost a decade. "Soulsville" is a Stax Records tribute album.
"It's a soul, and rhythm and blues tribute. It's not 'Midnight Hour' and 'Knock on Wood,' although we do an Otis Redding tune. But it's got interesting stuff."
In 2013, Lewis released a 30-year anniversary edition of his biggest LP, "Sports," which included a second disc featuring live tracks.
As for his live show here in Billings, Lewis said he's still working out the set list.
"We don't get there very often so I expect we'll do some stuff off of 'Soulsville' and for you guys, we'll play a little bluesier."
Stay up-to-date on what's happening
Receive the latest in local entertainment news in your inbox weekly!