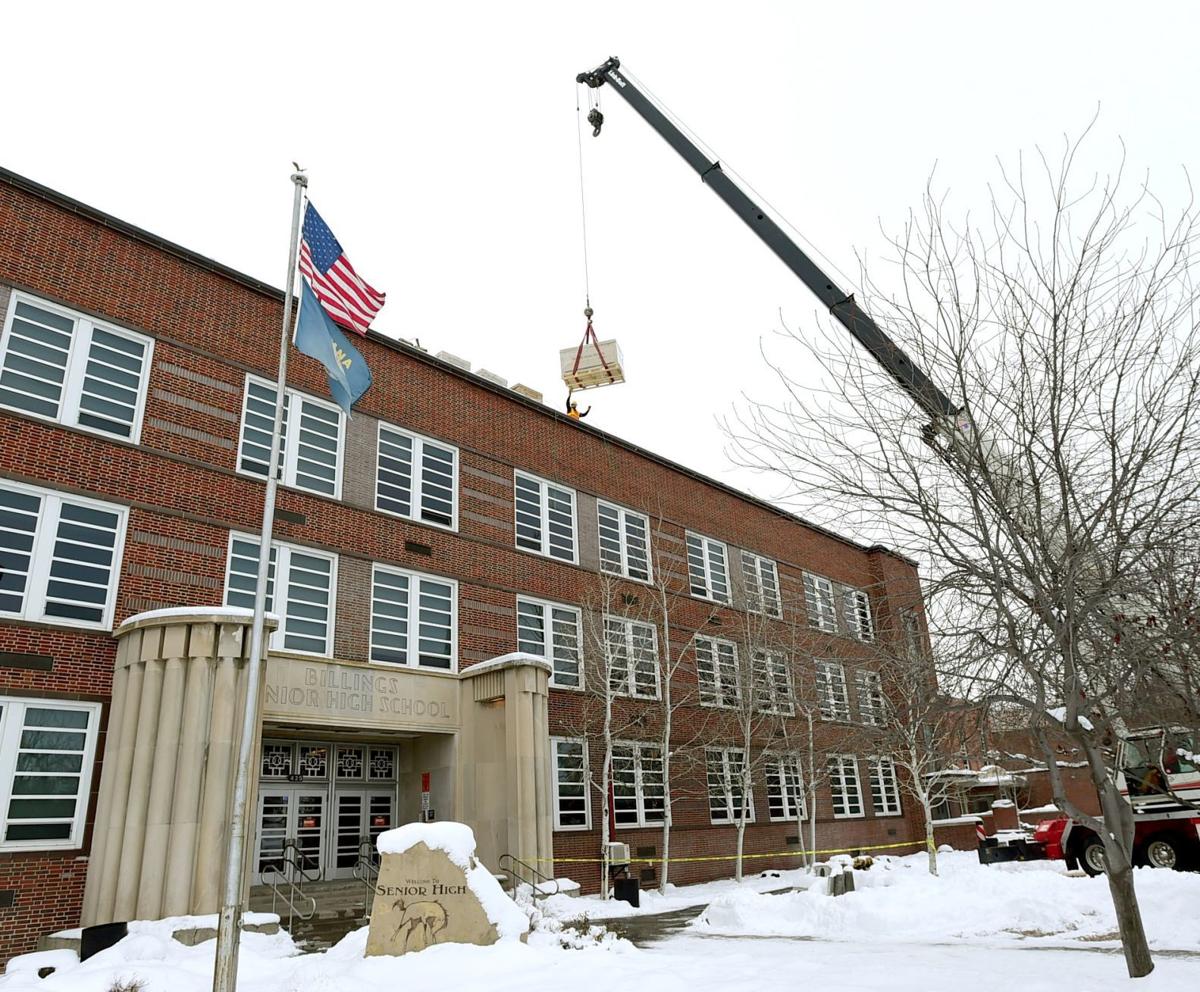 All three Billings Public High Schools will have solar power next year.
Solar panels on the lawn at Skyview High have augmented the school's energy supply since November 2018. A solar array was installed on the roof of Senior High this spring. The district is awaiting city approval of a permit to install an identical solar array on the lawn at West High, according to Scott Reiter, School District 2 facilities director. Those two solar arrays have generated electricity in every month since they were placed in service.
Each school's solar array has the capacity to generate 50 kilowatts of electricity. That power generation reduces the district's electric bill. The solar panels allow the district to reduce its energy costs, maximizing the portion of the budget that can be spent on teachers and classroom resources for students.
Each of the solar projects is funded by a Universal System Benefit grant distributed by NorthWestern Energy. The $50,000 grant cut the district's capital cost to about $100,000 for each school. The district projected that energy savings will allow the projects to pay for themselves in the first 10 years of their 20-year life cycle.
Reiter estimates Senior High saved $4,313 since June when its solar array began operating. Assuming a price of 11 cents per kwh for electricity, Skyview has saved about $6,756 so far 2019. 
The solar arrays may be the most visible sign of energy efficiency in Billings Public Schools, but they are just one factor in a comprehensive district energy conservation program that debuted 10 years ago. Every building in the district is included. Energy savings have been achieved by changing habits (such as turning off lights and electronics when not in use) by regulating HVAC and replacing worn out boilers with high efficiency furnaces.
The districts' (read taxypayers') grand total energy savings is a whopping $8.3 million over 10 years. That savings equals 24% of the district's actual energy costs. The savings are calculated by comparing what energy bills would have cost without the efficiency changes to actual bills. The formula, which was developed by an energy efficiency consultant, accounts for actual temperatures.
The Montana Department of Environmental Quality runs a friendly annual competition to identify the state's most energy efficient schools. Billings Public Schools have been selected as winners of the DEQ Smart Schools Energy Challenge in every year. This year, Bitterroot and Miles Avenue elementary schools were in the winner's circle of four schools statewide. In 2018, Senior High and Newman elementary were among the four state champs. Senior, Bitterroot and Washington elementary were chosen in 2017. Senior, Alkali Creek and Meadowlark elementary schools were 2016 winners. In 2015, Broadwater elementary and Castle Rock Middle School were among the four winning schools statewide.
The next solar project planned will be for Castle Rock Middle School, Reiter said. If the school board approves the project and NorthWestern Energy approves a grant, Castle Rock will be producing some of its own power a year or so from now.
As the school board and district leadership prepare to reduce the annual budget by $4 million, taxpayers should know that a tremendously successful effort has been made to avoid wasteful spending on heat and power bills. The good news is that maximizes the portion of the budget available for classrooms. The challenge is finding further cuts in a district that has long strived for operational efficiency.