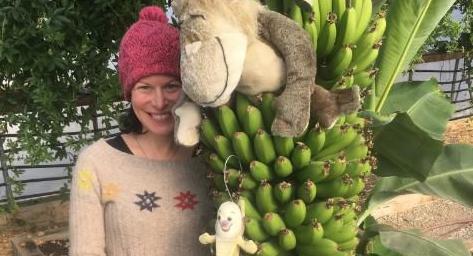 What book are you currently reading? Is there a book you are looking forward to pulling off your shelf? What about one you're eager to order?
I'm currently reading a novel called The Girl with Glass Feet by Ali Shaw. It's kind of a dark fairy tale, with several interwoven stories. I'm also reading Dog Soldiers by Robert Stone. Next up is Stay and Fight by Madeline Ffitch, which I'm looking forward to very much.
What have you been listening to lately? What's your go-to music and why?
I've been listening Amanda Shires and Jason Isbell cover the Warren Zevon song "Mutineer," which they performed live in Billings last month, and a lot of Wilco, because I had tickets to the Missoula show that was cancelled and so received a free download of a previous live show, which was very nice. And Tom Catmull from Missoula, who's been playing great shows on Facebook live. And Richmond Fontaine and Richard Buckner, always.
What shows or movies are you watching right now? Do you have a guilty pleasure that you'd admit to streaming online?
I have the idea that watching things is a social act, so I don't watch much TV or movies when I'm alone. If it counts, I've been watching (and doing) some really wonderful exercise classes, especially Mercede Nelson's live Zoom classes from Tone360 Barre + Yoga in Billings.
What are you currently creating?
I'm working on a long poem about viruses, which are fascinating! I'm interested in looking at them from a scientific/analytic perspective and finding connections between the structure and nomenclature of viruses and other aspects of my experience and environment. Also there's an ongoing debate about whether viruses are microbes that's connected to the larger debate about how "life" should be defined, which both is and isn't a scientific concern. I love it!
Is there a poem that has become your go-to during this time, or one you just can't get out of your head? Why?
Although I understand the need for and the appeal of poetry that is meant to uplift and inspire, my own taste leads me toward poems that are a bit darker, or at least more complex or ambivalent. I like poems that make me think and feel in uncomfortable ways. A few good examples are "Ponderosa" by James Galvin from his book X, a poem by John Murillo titled "Upon Reading That Eric Dolphy Transcribed Even the Calls of Certain Species of Birds," and pretty much anything by Louise Glück.
Be the first to know
Get local news delivered to your inbox!