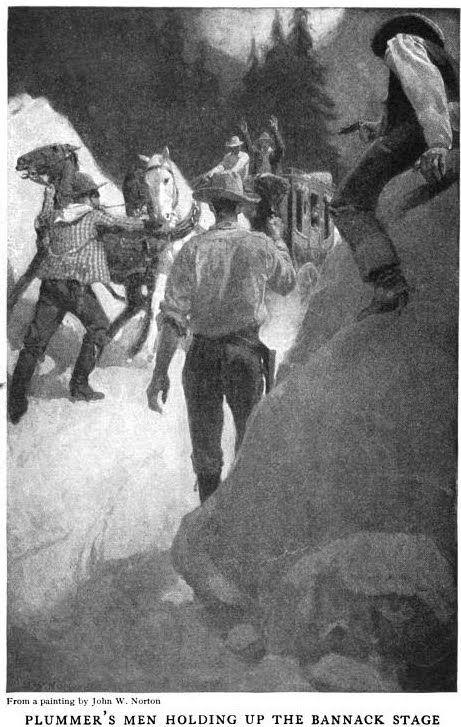 Organized law enforcement in the Montana Territory was nearly nonexistent when prospectors, hoping to strike it rich, showed up in the Alder Gulch area in the 1860s. As gold and other precious metals were transported across the territory, stage coaches and trains became popular targets for thieves.
These "road agents," as they came to be known, became the primary focus of the famous Montana Vigilantes, formed in 1863 in Virginia City. The vigilantes took to trying and hanging suspected criminals, often in public lynchings.
That same year, prospector, outlaw and former lawman Henry Plummer arrived in Bannack, where gold had been recently discovered. Plummer's outlaw past caught up with him, but not before he was elected sheriff of Bannack.
Unbeknownst to the people of Bannack, Plummer was also believed to be the leader of one of the Innocents, a large gang of highwaymen who had infiltrated mining operations and had stolen thousands of pounds of gold. As the Vigilantes took to rounding up the members of the gang, they began to realize the connection between the Innocents and Plummer.
Plummer was hanged in January 1864 by the Vigilantes, on a gallows that was said to have been constructed under his own orders as sheriff of Bannack.
Witnesses claimed that before his lynching, Plummer bargained with his executioners by offering to retrieve a valuable cache of stolen gold. He was hanged, along with two other suspected road agents, without revealing the location of the treasure.
The mystery of Henry Plummer's lost treasure was detailed in a May 2, 1990, episode of "Unsolved Mysteries." Though several people have claimed to have found the gold, there has never been a confirmation of its finding, or even of its existence.