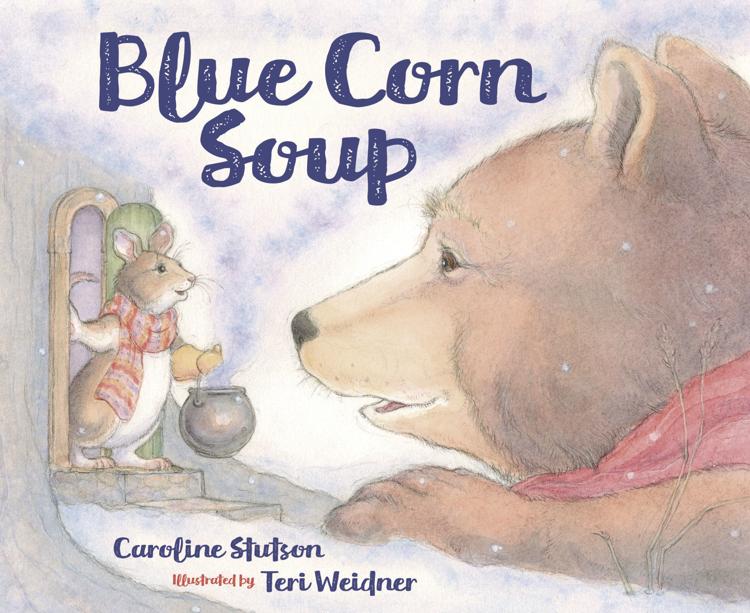 By Caroline Stutson, Illustrations by Teri Weidner (Sleeping Bear Press)
A snowy day makes for great blue corn soup, according to Mouse. She adds the ingredients and sets the pot a-bubbling on top of her small fire. "Blue Corn Soup," a finalist for the High Plains Book Awards Children's category, tells the tale of a small mouse and her neighbors.
Written by the late Caroline Stutson and illustrated by Teri Weidner, the story is a take on the folk tale "Stone Soup." Only Mouse supplies all the ingredients. Ground corn, pepper, pine nuts, and onions send out a fragrant aroma. Soon her neighbors bring their appetites. Clearly, the blue corn soup in the pot will not feed four hungry friends. They turn away, no blue sopa for them today. But Mouse has an idea. Will the friends go along with it or go away hungry?
Told through easy rhyming, Stutson's tale of "Blue Corn Soup" demonstrates the dilemma of what to do when there's not enough to go around. As the sniffs of Chipmunk, Rabbit, and Bear lead them to the sagebrush home of Mouse, Weidner's superb illustrations encourage readers, young and old, to help solve the problem. The text includes a few Spanish words, which seemed a bit odd since I didn't notice anything else with a Hispanic/Latin flavor, unless blue corn soup is a traditional Hispanic recipe. The back of the book includes a recipe for the soup, which is a great idea for a family dinner with story time as dessert. A tribute from Caroline's grandson provides a perfect benediction to a delightful story for youngsters of all ages.
An award-winning author, Penelope Kaye's debut book, "Making Crooked Places Straight," will be on bookshelves in May of 2019.