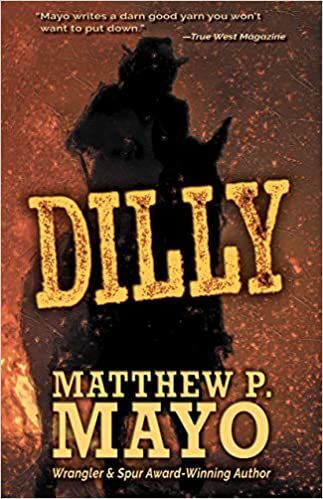 Editor's note: "Dilly" is a finalist in the Young Adult book category of the 2021 High Plains Book Awards.
Maybe you've always fancied yourself a wrangler. Maybe you've wanted to time travel back to the early days of settling the West. Maybe you are a history buff in search of a new theme. Matthew P. Mayo has you covered on all accounts in his book "Dilly." A finalist in the Young Adult category for the High Plains Book Awards, "Dilly" follows the orphan on his trek from Ohio to Wyoming, eventually settling on a cattle ranch as the cook's helper. Dilly sets his sights on becoming a ranch hand with his own horse but finds that growing up is about more than growing whiskers and riding the range.
Mayo has researched the Sheep Wars of Wyoming and includes many rich details of ranch life and attitudes of cattlemen. Some readers may find dialog offensive by today's standards, but they are true to times and circumstances during the 1870's to 1900 in rough Western territories. Cook's response to Dilly donning clean clothes after a washdown when he first arrives at the Hatterson Ranch: "You think we give you those so we can see you play dress-up, like a girly's dolly?"
Encountering sheepherders during a nighttime raid, the cattlemen are brutal, and the scene is disturbingly violent. Dilly's response to a dying adversary and consequent meeting of a Basque sheepherder brings sensitivity to the horror of the event. Dilly's change of perspective signals his own coming of age and to terms of what his orphan past impressed on him. "I looked at the soup, still warm in my hand, but I didn't feel like eating any more than those sheep had felt like dying. 'I am sorry, mister.'
"I couldn't look him in the eye anymore. His eyes hurt too much to look on. I shook my head, and my own tears began again."
Dilly is told as a flashback that has prologue and epilogue from Dilly's 1931 point of view. There is enough action and accuracy of history to engage reluctant middle and high school readers.
Elizabeth Waddington is a retired librarian who loves to read a book in her hands.