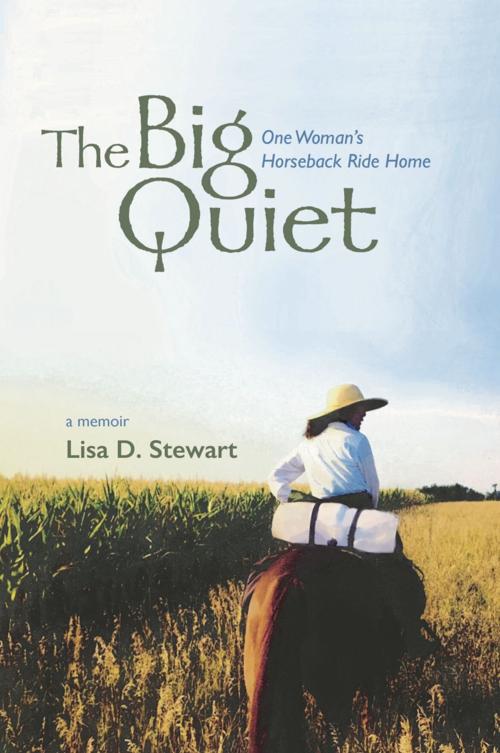 Editor's note: "The Big Quiet: One Woman's Horseback Ride Home" is a finalist in the First Book category of the 2021 High Plains Book Awards.
"The Big Quiet: One Woman's Horseback Ride Home," a finalist for the High Plains Book Award in the First Book category, is a memoir by Lisa D Stewart. At age 54, Lisa rode her horse, Chief, 500 miles from Kansas City to Vernon County, Missouri. It is a journey as much about her past as well as a test of her strength and stamina at middle age. She had once ridden more than 3,000 miles with her then-husband, but that was 30 years prior.
While the trip might be called a meditation, an introspective journey of self-reflection, it is also about the kindness of strangers who share their stories, their pastures, their homes.
Although I have always admired horses – as long as my feet are on the ground – this book portrays what it must be like to manage a high-strung mount along a busy interstate, reading each flick of the ears, every change in gait. Trust is short on both sides when fear is a passenger. Crossing an old bridge with missing planks, she notes, "If Chief were to drop a foot through one of these holes, he would tear himself up trying to get out. Chief must walk directly behind me on the wood plank if we are to make it."
Lisa seems to have a sense about which places are safe to pitch her tent, to pasture Chief. She must approach complete strangers, as a lone woman going to their door, asking for water and pasture for her horse.
While the whole experience is an exercise in trust and a certain courage – her own, Chief's, and the folks who afford her kindness – Lisa realizes it is really gratitude that brings her home. Gratitude for open land, for her current life. Gratitude for the opportunity to believe in herself. One reviewer suggested it was a journey of self-discovery. I read it as more as life affirming. Lisa could go home, yet move boldly forward.
I did enjoy the book for the most part. I expected more drama, a scary encounter. When there was one, I just kept reading, and when it was over, I was left with a real sense of why a woman would want to do this.
Shari Nault, chair of the High Plains Book Awards Board, author of the novel "Buffalo Tango."