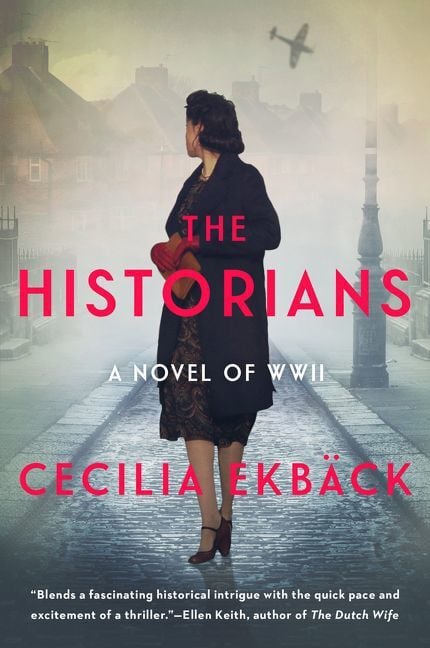 Editor's note: Cecilia Ekbäck is a finalist in the Woman Writer category of the 2021 High Plains Book Awards.
Mystery novel readers looking for more than the usual detective fare will welcome Canadian author Cecilia Ekbäck's "The Historians," a finalist in the High Plains Book Awards' Woman Writer category.
Set in the author's native Sweden of 1943, "The Historians" opens true to form as a murder mystery with an amateur sleuth. But the narrative soon assumes a noir tinge of crime fiction, turns thriller with all its chills, slips into the haze of espionage fiction, and emerges as a historical novel of dark political and humanitarian issues reverberating beyond its World War II setting.
When her college friend Britta is found brutally murdered, Laura Dahlgren searches for both motive and killer that lie somewhere within the labyrinth of bureaucratic, furtive, and insidious politics.
In her investigation, she confronts her own Sweden, from Stockholm to Lapland, as a country divided over nationalist resistance to German aggression, an unrealistic neutrality, or an alliance with the Nazis. Worse, she confronts an indigenous Nordic interest in eugenics, disturbingly represented by the "State Institute for Racial Biology." She also discovers that personal bonds cannot be separated or protected from political alliances.
Though some readers may find "The Historians" too complex, the author's Preface on the Nordic countries in World War II and the introductory Cast of Characters keep the reader well-oriented. Then, too, the alternating chapters presenting the perspectives of two principal characters, Laura and Jens Regnell, secretary to the Swedish minister of foreign affairs, sharpen the contrast between the personal and political spheres.
Ironically, this novel entitled "The Historians" suggests as much about what we don't know as what we do. An early reference to the Norse god Odin reverberates throughout: Odin "sacrificed an eye to be allowed to drink from the well of cosmic knowledge." Like many a good mystery, this one negotiates between what we see and what we know.
William Kamowski is Emeritus Professor of English at MSU Billings.