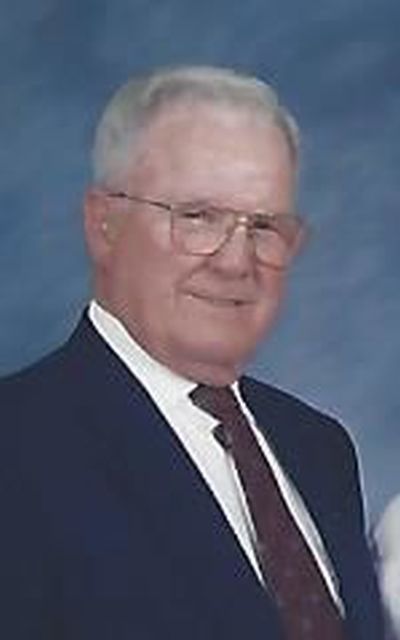 Bryce Wood Williams passed away on Monday morning, June 24, 2019, at the age of 94. After several months of declining health, Bryce died peacefully in his sleep.
Bryce was born at home near Versailles, Illinois, on October 11, 1924, to father Oscar Jesse Williams and mother Jane (Jean) Anderson Williams (Watt). Bryce was the fifth child born to Oscar and Jean. He helped on his family's small farm and worked any odd jobs he could find starting at an early age. His work ethic and desire to take care of his family led to him enlist in the U.S. Navy after his 17th birthday. He was home on leave from boot camp when he heard the news on December 7, 1941, that Pearl Harbor had been attacked. He was ordered to report to the USS Clark, a destroyer in San Diego, California. The ship sailed into Pearl Harbor about one month after the attack. Must have been quite the sight for a 17-year-old from Illinois.
Bryce was assigned to the USS Clark for the duration of the war. He was a machinist mate so was in the engine room. At the end of the war, Bryce returned to Illinois. He worked on the farm and then started driving over-the-road trucks. During this time, he met Dorothy Jean Williams in Kansas City, Missouri. They were married December 28, 1952.
Bryce re-enlisted in the Navy and retired as a Lieutenant Commander on May 1, 1970, at the Long Beach Naval Shipyard, Long Beach, California. He spent his entire naval career in the engine room (probably explains his hearing problem). The family then moved to Aurora, Colorado, because Bryce 'didn't care if he saw the ocean again!'. They later moved to Billings, Montana.
Bryce enjoyed playing golf. He scored two hole-in-ones in his career and played at the infamous Old Course at St. Andrews in Scotland. He would often just go to the clubhouse to have coffee and talk with the other golfers. He also loved his horses. He belonged to the Back Country Horsemen of Montana that worked to clear trails for horse travel. Many good friends were made during his association with these activities.
Bryce was preceded in death by his wife Dorothy; his parents; his sister Virginia Jean Wellman; brothers Oscar Jesse Williams, Jr., Gordon Watt Williams, and Wallace Eugene Williams. Another brother Ronald Derwin Williams died after Bryce in 2019. Bryce is survived by his children Jeffery Alan Williams (Dennisse) of Billings and Kevin Anderson Williams (Elizabeth) of Centennial, Colorado; grandchildren Julia Antonia Williams, Justin Daniel Williams (Taylor), Bryan Kevin Williams, and Rebecca Ann Barragree (Anthony); and great-granddaughter Emerson Ann Barragree and great-grandson Bellamy Ryder Williams.
Bryce and Dorothy were laid to rest on July 25, 2019, at Fort Logan National Cemetery in Denver, Colorado.
Hard to believe it has been a year since you were called home. We all miss you and love you.
To plant a tree in memory of Bryce Williams as a living tribute, please visit Tribute Store.
Obituaries Newsletter
Sign up to get the most recent local obituaries delivered to your inbox.