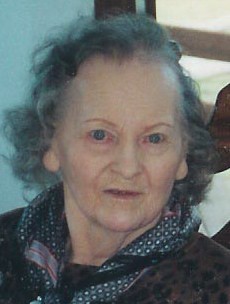 Dorothy Dreeszen, age 85, passed away Monday, Aug. 3, 2009, just two days after her birthday, at Aspen Meadows where she lived for a short time.
Dorothy was born on Aug. 1, 1924, in Billings, the daughter of Irvin H. and Ruth Horton Cook. She was the only girl among five boys in her family. When Dorothy was very young, the family moved from Billings to a farm in Lockwood. She attended Central School in Lockwood and went to Billings Senior High.
Dorothy was proud of her pioneer heritage and told many stories of her ancestors coming to the Montana Territory on the Bozeman Trail and the perils of living on the frontier. As a young woman during World War II, she worked various jobs in Billings including Newberry's, Ideal Bakery and Nehi Bottling Plant. During that time, she met her husband Maynard W. Dreeszen while he was stationed in Billings with the Army Air Force. They were married on Dec. 16, 1943, and continued to live in Lockwood through her life.
Mom was an avid gardener. Her specialty was raising tomatoes and green beans. She enjoyed collecting stamps, quilting and sewing throughout her life and took up painting in her later years. Throughout her life, she kept in touch and corresponded with many friends and relatives.
She was preceded in death by her husband, Maynard, her parents Irvin and Ruth Cook and her five brothers, Conrad, Chester, Russell, Kenneth and Irvin Cook, Jr. and granddaughter, Julie Dreeszen.
Dorothy is survived by her children Tim of Billings, Arlene of Billings and Doug (Patty) of Ballantine.
The family wishes to thank the staff at Aspen Meadows for the loving, compassionate care and kindnesses while she was a resident there.
Cremation has taken place and a memorial service is at 11 a.m. on Friday, Aug. 7, 2009, at Smith's Downtown Funeral Chapel at 925 S. 27th St.
In lieu of flowers, the family requests donations be made to the charity of your choice.