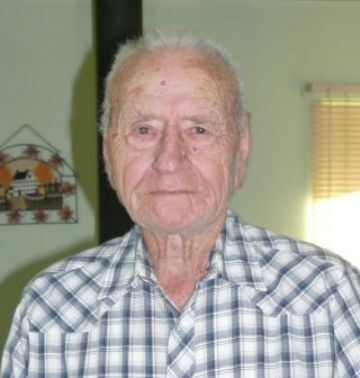 'Lambing' started extra early on a farm north of Saco on Valentine's Day in 1925 with the birth of George Henry Lamb. Liz and Elmer Lamb were the proud parents of Baby Lamb who joined siblings Manuel, Ivis, and Elmer and later Ruth, all of whom preceded George in death.
George is one of the few people you can say spent about 90 years of his life working. In his early years, he worked for the railroad, did construction at Cole and worked at the Glasgow Air Force Base. Shortly after marrying his bride, Stella Rice of Big Sandy, he was drafted into the Army and left for WWII and then Korea.
Upon his return, Stella and George built their life on their farm outside of Saco, along the Milk River, with the addition of their three children; Ric, Sue, and Bruce. George worked for the Saco Dehy and remained there for 26 years as the plant operator/manager. In 1985, George, Stella and their son, Ric, purchased what is now R & G Quality Feeds in Malta. He worked 6 days a week, putting in 10 hours a day, and then he would head home to do farm work and spend time with his family. In 2012, George and Stella leased out their farm and moved to Malta. He continued to work six days a week until this past Dec. George took great pride in the operation that he built up with his son Ric, with whom he worked side by side with for 50 years. George had no quit in him and through every health battle, he remained determined to get back to work at the plant and to his wife.
George was an exceptional husband, dad, brother, grandpa, great-grandpa, and friend. He had an abundance of kindness to give and a warm smile to greet everyone, he was hard not to love. He was never one to complain, asking for very little in life and he appreciated everything he had. The lifelong examples George set of honesty, hard work, commitment and compassion left its mark on his family and much of Phillips County where he spent his entire life.
George lost the love of his life on Nov. 15, 2019. He never had plans for retirement but God did. On the evening of Jan. 6, 2021, George left us to join his wife Stella of 74 years. He was 39 days from his 96th birthday.
George is survived by his son Ric Lamb (Cori) of Malta; daughter Sue McQuillan of Joliet, Montana; daughter-in-law Cindy Lamb of Havre, Montana; grandsons Travis Lamb (Lizette) of Hinsdale, Montana, Jason Lamb (Janelle) of Sidney, Montana, Justin Lamb (Gina) of Malta, Landon Lamb (Janina) of Townsend, Montana, Kelly Lamb of Missoula, Montana, Tyler Lamb of Bozeman, Montana, Seth Prestwich of Seattle, Washington, Josh McQuillan (Amber) of Joliet, Cole McQuillan (Jolene) of Joliet; granddaughters Katie Croft (Jon) of Joliet, and Morgan McQuillan of Joliet. George is also survived by 28 great-grandchildren and multiple nieces and nephews. George is proceeded in death by his wife Stella Lamb, his four siblings, parents, son Bruce Lamb, and grandson Dusty Prestwich.
A funeral service will be held Monday, Jan. 18 at 11 a.m. at the Wilderness Funeral Home in Malta. Burial will be at the Grandview Cemetery at Saco, MT immediately after the service. The service is open to the public and will also be video streamed. Memorials can be made in honor of George to the Hi-Line Retirement Center in Malta, or to the Malta Ambulance Service.