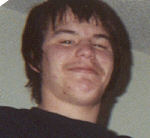 Joe Jacob Amos passed away on Saturday, Aug. 8, 2009, in Billings.
Joe was born on May 14, 1986, to Jose Romero and Debbie Amos in Billings.
Joe is survived by his parents; his siblings Barbara, Andrew and Robert, all of Billings; and his two nieces and two nephews, Adrian, Lyssa, Aleah and Liam.
Our love for you will never end. Your battle was long and hard, with no relief. But now you have peace - endless peace. A peace we do not know yet. You touched many hearts in your short journey of life, and gave us moments we will hold and share forever. God called you out of your pain and sorrows. He said to follow Him, and He will set you free: free forever. You followed Him knowing you would see us again soon one day, where there is no more sorrow. There is no pain but endless love and joy. We will see you soon to enjoy that joy, peace and love that you now have.
Visitation will be held at 7 p.m. on Wednesday, Aug. 12, at the Gallery. Funeral services will be held at 1 p.m. on Thursday, Aug. 13, at the Gallery. Interment will follow at Mountview Cemetery. Condolences may be sent online to www.cfgbillings. com.