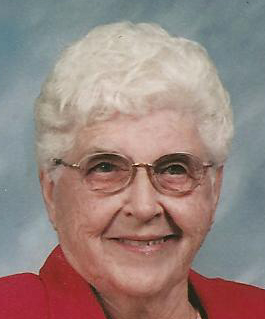 Marion R. Spomer Ostermiller, 90, passed away Wednesday a.m., Aug, 12, 2009, at St. Johns Nursing Home. She is now resting in peace and pain free.
She was born in Billings on Nov. 3, 1918, to John and Katie(Bernhardt)Spomer. She lived all her life in Billings on farms. She married Pete Ostermiller Jr. on Feb. 13, 1938, in Billings. They were farmers in Huntley and west of Billings for many years. Later, they moved to town and she worked for the Cliff House Café for many, many years. She took pride in her garden, yard and flowers. She later moved to St. Johns Assisted Living and enjoyed it and all her friends. She was a member of the Peace Lutheran Church.
Marion was preceded in death by her husband Pete in 1967; her parents; brother Fred Spomer and stepmother Magdelina Spomer; and dear friend Henry Krug; two stepbrothers and one stepsister.
She is survived by her daughters, Ruth Hatten (Jim), Barbara Cooper (Paul); grandchildren Brenda Peterson (Kevin) and Pete Cooper (Kim); step-grandchildren Doug Hatten (Sheri), Dave (Julie); great-grandchildren Riley, Kynzee Cooper, Teal, Raney, Kenyon, Mykal Hatten; sister Tina Fritz; her children, Steven Fritz and Pami Kinn; stepbrother Emil Rennick; and many other nieces and nephews, great-nieces and nephew.
A big thank you goes out to all the staff and nurses and everyone at St. Johns, Pastor Tom, Pastor Troy, Pastors Paul and Ellen for all their comfort and help they gave us. You are really appreciated.
Funeral services will be held 1 p.m. Friday, Aug. 14, at Peace Lutheran Church, located at 1301 Avenue D. Interment will follow at Sunset Memorial Gardens. Visitation begins 7 p.m. Thursday, Aug. 13, at Smith Downtown Chapel. Memorial donations can be sent to St. Johns Lutheran Ministries, 3940 Rimrock Road, Billings, MT 59102, or Peace Lutheran Church.