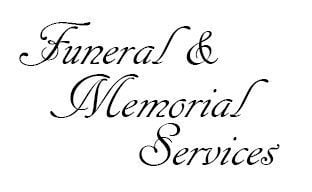 HAAG — Ruth V., 92, of Billings. Cremation. Graveside memorial service 11 a.m. Tuesday, Sept. 10 at Sunset Memorial Gardens, located at 1721 Central Ave. (10)
AUSEN — Glen R., 95, Billings. Graveside service 3 p.m., Thurs., Sept. 12, Bridger Cemetery. (12)
LYLE — Kathryn "Kathy", 86, of Billings. Cremation. Memorial service Noon, Saturday, Sept. 14, at Smith Downtown Chapel, located at 925 South 27th Street. (14)

FUNK — Uriah J., 18, of Billings. Visitation 5-8 Tuesday, Dahl Funeral Chapel. Memorial Service pending. (10)
HENDERSON — Tina L., 55, of Billings. Funeral Service 2 p.m. Tuesday Dahl Funeral Chapel.  (10)
DECRANE — Berylene, 65, of Pryor. Funeral Service 1 p.m. Tuesday St. Charles Mission. Burial Bird Hat Family Cemetery. (10)
KELLY — Mary Jane, 66, of Billings. Celebration of Life 10:30 a.m. Friday, Parkview Care Center, 600 S 27th St. (13)
MESSER — Igerna, 96, of Billings. Visitation 5-7 Friday, Funeral Service 11 a.m. Saturday, both at Dahl Funeral Chapel.  (14)
WINDYBOY — Marva, 70, of Billings. Vigil service 6 pm Wednesday Dahl Funeral Chapel. Funeral Service 1 p.m. Thursday St. Charles Mission.  (12)

PROCTOR — Marilyn. 68. Cremation. Private family services to be held. (15)
REDDING — Carl "Corky", 96 of Billings. Memorial Service 11 a.m., Tues., Sep. 10 at Michelotti-Sawyers. Interment, Yellowstone National Cemetery at 1 p.m. (10)
EICHENBERGER — Kenneth, 85. Memorial service 11 a.m. Sat. at First Presbyterian Church. (14)
RUBY — Michael, 65. Memorial service 11 a.m. Thurs. at Michelotti-Sawyers. (12)

LEE — Ellen, 71, of Roundup. Memorial Service 11 a.m. Tuesday at Masonic Temple, 405 Main Street in Roundup (10)

REYNOLDS — Thomas S., 88, of Billings. Visitation 3-8 p.m. Wednesday, Sept. 11 at Heights Family Funeral Home with a time for sharing from 6-8 p.m.  Funeral Mass 11 a.m. Thursday St. Bernard Catholic Church (12)
REPENNING — David, 66, of Billings. Cremation. Memorial Service 1 p.m. Thursday Heights Family Funeral Home. (12)
ROTH — Gary, 61, of Billings. Cremation. Arrangements Pending. (10)
CLOUD — Patricia, 78, of Billings. Cremation.

STARKWEATHER — Mary. Funeral service is Wednesday, Sept. 11, 2019 at 11 a.m. at the Bullis Funeral Chapel in Hardin, Montana. Burial will follow at the Fairview Cemetery in Hardin, Montana.
Obituaries Newsletter
Sign up to get the most recent local obituaries delivered to your inbox.