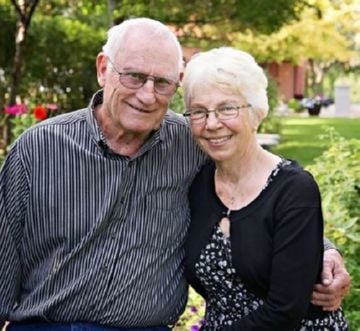 Robert Franklin Richardson, 87, and Evelyn Conlin Richardson, 79, passed Nov. 18, 2020 and Jan. 22, 2021 respectively due to COVID-19, surrounded by their loving family.
They were born and raised in Paradise Valley Montana, and enjoyed camping, hiking and spending weekends on their family land near Chico Hot Springs.
They were members of Faith Chapel for 37 years. Evelyn worked for First Bank and St. Vincent Hospital in Billings, while Frank worked for Job Service after retiring from the Navy in 1986. Frank enjoyed a successful career in the Navy as a Frogman and member of SEAL Team One. The family lived in San Diego from 1967 to 1983 before returning home to Montana. Frank and Evie found joy in the 'little things' in life and all the adventures that came their way.
They were devoted to their faith, family, country and especially to each other. They are survived by Mark Richardson (Sabrina), Laurie Brenden (Chris Mattingly), Lisa Richardson, Christopher Richardson, Adam Richardson, Jessica Hayes (D'Vaughn) Annistyn and D'Andre and Kylinn Brenden. For full obituaries please visit Franzen-Davis.com. Services are planned at a later date.