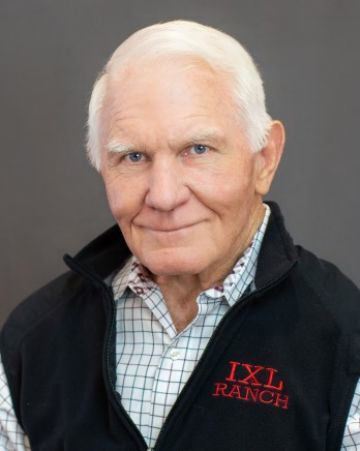 Thomas William Scott of Dayton, WY passed away peacefully at his home on Saturday, June 20, 2020. He was 76.
In the fall of 1943, Tom was born to Homer and Mildred Scott, the fourth of five children. Homer and Mildred made a home in Sheridan, Wyoming, and the family was active with business, ranching, and the community.
Tom's early education included many area schools - Dayton, Linden and Highland Elementary and Central Middle School. High school years took him east to New Jersey - The Lawrenceville School, near Princeton, New Jersey.
After high school, Tom enrolled at the University of Colorado, but after one year made his way to the University of Wyoming, leaving after his sophomore year to work with Peter Kiewit in Idaho and California doing construction. He went on to obtain his bachelor's degree from the University of Wyoming in 1969.
Tom met Joan Diemer, of Houston, Texas while attending the University of Wyoming. They were married on August 23, 1969 and started their life together in Story, Wyoming.
Soon after, Tom's father, Homer, purchased a bank in Billings, Montana, and asked Tom to lead this new venture. The work was engaging. Tom brought the Scott family presence and oversight to Billings. This became his career. Tom served as a First Interstate Bank Director starting in 1971, then became Chief Executive Officer from 1978 through 2003. He served as Chairman of the First Interstate BancSystem Board from 2004 to 2016.
Under Tom's leadership, First Interstate Bank grew to be the premier community bank in the northwest region. His 47 years of oversight and vision guided First Interstate with strong family and corporate values, as well as a commitment to long-term growth, exemplary customer service, and support for the communities it serves. It's an understatement to say Tom was passionate about giving back to community.
Tom's career accolades are lengthy. He served on the Federal Reserve Board, received the Billings Chamber of Commerce Lifetime Achievement Award, and was admitted to the Montana Business Hall of Fame. Additionally, Tom helped guide the philanthropic work of both First Interstate Bank and the First Interstate Foundation, citing his family values. Over the years, he and Joan have personally given to individuals, organizations and causes they believe support and enhance community and lives.
In 2005, Tom and Joan began looking for a new landscape, a special place to call home. They found the IXL Ranch, right by the Padlock Ranch headquarters in Dayton where life had begun. The Tongue River Valley and the Sheridan Community have benefitted ever since. The list is long and includes, the Sheridan YMCA, Tongue River Valley Community Center, The Hub, Antelope Butte Foundation and Leadership Wyoming. Montana was also a focus of their philanthropic spirit. Beneficiaries include Billings Clinic Foundation, Montana State University-Billings Foundation, Special Olympics, St. Vincent Healthcare Foundation and Leadership Montana, to name a few.
Tom was a passionate wing-shooter, and this took him to Alamos, Mexico where he purchased a home in the mid 1980's. He was known there as Señor Thomas, and his involvement in providing scholarships and support to the community was immeasurable. He was fond of his dogs and preferred them in most cases to people. His loyal dog, Abby, will be lost without him. He was passionate about Wyoming and Montana. His consistent effort to improve upon the land brought him great joy leaving it better than when he found it.
Tom and Joan created a wonderful family, with their daughter Julie Rose and her husband James Rose, and their son Jonathan and his wife Jennifer. He has five grandchildren: Juliana and Elizabeth Rose, and Holland, Harper, and Harrison Scott.
Tom is survived by his wife Joan, brothers Jim and Scotty, and his sister Susan. He was preceded in death by his parents Homer and Mildred Scott, and his brother Dan Scott. He has countless nieces and nephews whom he cared for deeply.
A Celebration of his life is scheduled for July 18th at the Padlock Ranch at 4 p.m.
In lieu of flowers, donations can be made to: Tongue River Valley Community Center (www.trvcc.org) or The Hub at the Senior Center (https://www.thehubsheridan.org).