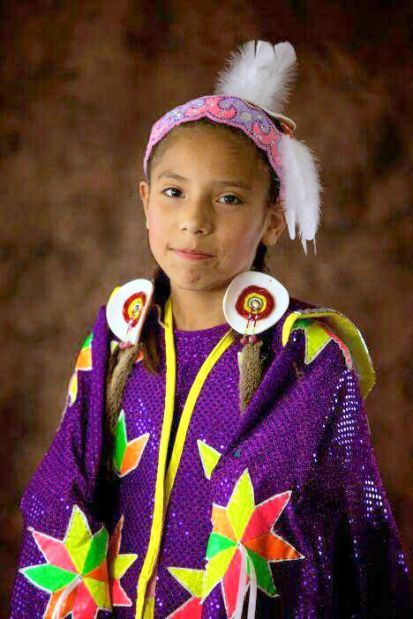 Zoey "Life" Alakooliichish "Has a Good Home" Cheryl Not Afraid went to her heavenly home on Oct. 6, 2014, to sit in the lap of her Lord and Savior, Jesus.
Zoey was born June 18, 2003, along with her twin sister, Selena, to Jacquelena Big Hair and Leroy (Shelia) Not Afraid.
Zoey was a sweet, silly, fun-loving girl of whom all her many friends referred to her as their "best friend." As twins, she and Selena's best friends were another set of twins, Alexis and Katarena; Evani, Akira and Adrianna.
Zoey loved dancing, karaoke, shopping, was all about fashion, make-up, and the color pink. She also played basketball, liked to camp and build a good campfire, and was into cross-country running. She loved riding horses and enjoyed the horse she and her sister had. She enjoyed boating, swimming, tubing and driving boats. She was really into selfies — her Dad calls her the "Selfie Queen of The Indian Nations." She was a natural-born leader and had a strong nurturing instinct for anyone younger than her. Zoey enjoyed hunting, target shooting at zombies and going into the sweat lodge. She enjoyed her Kindle and visiting YouTube.
Zoey had an entrepreneurial spirit. She had her very own debit card and was really proud of it. She loved the Crow Fair. She loved her many friends. She loved Jesus, God, her Bible. She was really thankful for a Savior Who forgives.
Zoey was preceded in death by her maternal grandparents Preston and Sina Bell, her uncles David Bell and Franklin Red Wolf; paternal grandparents, Jacob C. and Rosemary Walks Big Hair, Sr., and great-grand-father Sylan Sage, and great- grand-mother Otter Louise Holding Eagle Sage, and her Aunt Pamela Not Afraid Stewart.
Zoey is survived by her twin Selena, sisters Tristen , Cree, Destiny, and Ava. Brothers R.J., Preston (Rachel), neice Kaydence and nephew Jaibin, maternal grandparents Angelena Bell, and Jacob C. Big Hair Jr. Paternal grandparents Francine Amyotte, and Willis (Corrine) Sage. Her adopted Mom Cheryl Horn, and her aunts, uncles, cousins, and many "best friends." Her adopted grandparents, Nellie Speelmen, Esther Brady, Vance Little Bird and Cara Bull Shows. Paternal extended families Medicine Horse, High Hawk, Pretty on top, Left Hand, Back Bone, Medicine Tail, Bird, Holding Eagle, Malnourine, Benson. Maternal extended families Big Hair, Bell, Gray, Whiteman, Plainfeather, Beaumont, Real Bird Falls Down, Fitzpatrick, the late Paul Hill family, Walks, Brown, Montgomery, Two Bellys.
Zoey became a hero in the end to many who desperately needed healthy organs. In her Father's words, "Today, Zoey became a Hero! In the midst of our tragedy. We quickly learned that Zoey could become an Organ Donor. In honoring, Zoey's kind and loving spirit. Her mother, Jackie and I agreed to share Zoey's life with families in need. Late last night after Zoey's Farewell Surgery. we received this text from her Organ Donor Representative: 'Zoe's gifts: her heart to a 7-year-old, her liver to a one-year-old, one kidney to an adult, one kidney to a four-year-old and two people are receiving sight. Hoping and praying that all transplants & recipients do well. We'll let you know later if anything is different. God bless you Leroy.'"
A vigil service will be Thursday, Oct. 9 at 7 p.m., at the Spirit of Life Foursquare Church in Crow Agency. A memorial service will be held at 11 a.m. at the same church. Burial will follow at the Fairview Cemetery in Hardin. Arrangements are in the care of Dahl Funeral Chapel and memories and condolences may be expressed at www.dahlfuneralchapel.com.
To plant a tree in memory of Zoey Afraid as a living tribute, please visit Tribute Store.
Obituaries Newsletter
Sign up to get the most recent local obituaries delievered to your inbox.