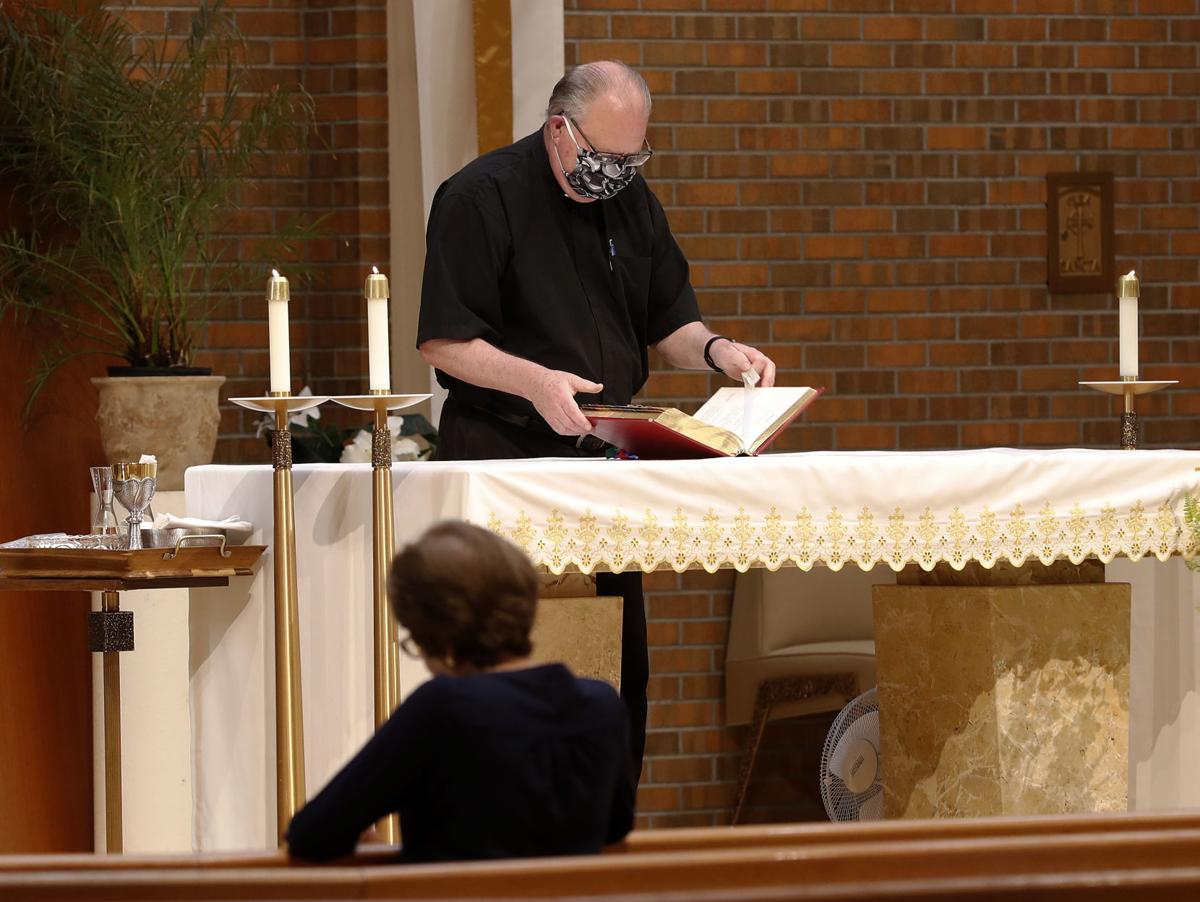 No Communion cup. No kids' ministry. No social hour. No handshakes, and certainly no hugs.
Church looks different in Billings now from how it did before the time of COVID-19. But as congregations begin meeting again in person, members are pleased to be together.
"We had significantly less people that first weekend, but the ones that were there were so grateful," said the Rev. Steve Zabrocki, parish priest at St. Thomas the Apostle Catholic Church in Billings. "They were happy to be back at Mass and they certainly expressed it."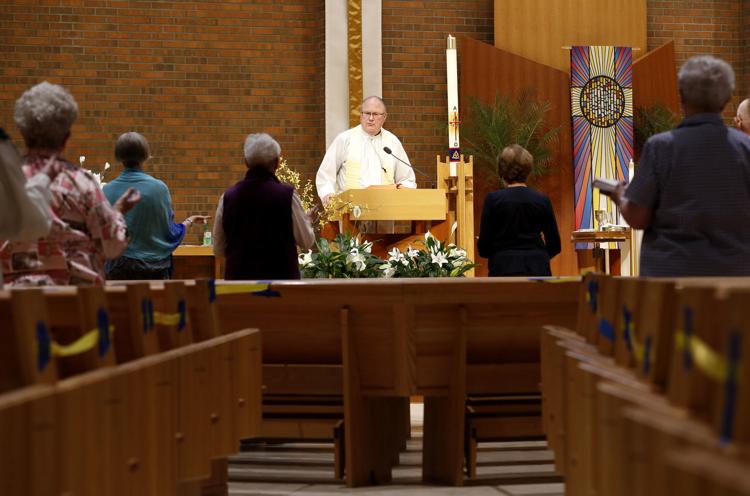 Numbers have continued to grow since St. Thomas reopened April 26. Other parishioners have continued to watch services online.
"Some stay home because of their concerns and fears, and that's OK too," Zabrocki said.
An informal survey by The Gazette of nearly three dozen churches in Billings revealed they are split almost evenly between those that have reopened and those that remain closed.
About half the shuttered churches in the telephone survey have set a date to reopen. The rest are in discussions about when to make that happen.
Most churches stopped holding services on or around March 26, when Gov. Steve Bullock implemented the stay-at-home directive. Many turned to online services to continue ministering to members, either live-streaming or taping messages for later airing.
A month later, on April 26, Bullock, in his Phase One reopening directive, gave churches the green light to reopen. It came with the caveat that places of worship were to operate at a reduced capacity; employ strict physical distancing protocols; and avoid gathering in groups of more than 10 if space limitations hindered social distancing.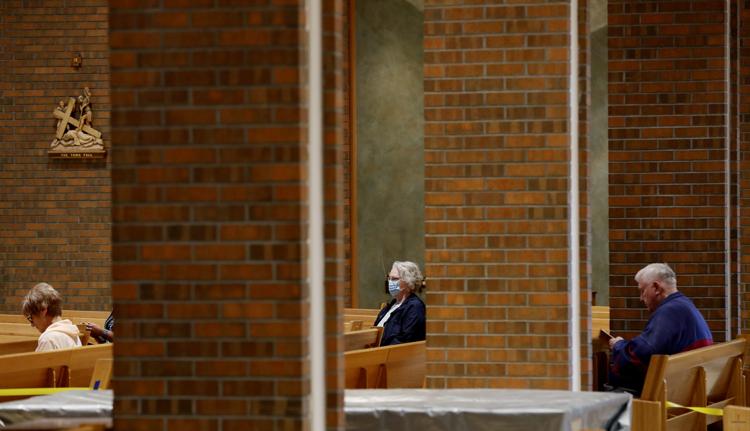 Challenges for small churches
The Rev. Wendy Ochs, pastor of Evangelical United Methodist Church, said her church of about 80 people is still closed. it will be up to the leadership of the church, using UMC protocols and state guidelines, to decide when to reopen.
"We all recognized even though we had permission to go back to worship, to do it safely we needed time to plan and prepare," Ochs said.
Deciding how many people can come inside the sanctuary to allow for social distancing, creating sanitizing stations and recruiting volunteers to help clean between services are all a challenge for a small church. Requiring masks, and especially prohibiting singing, "will be tough," she said.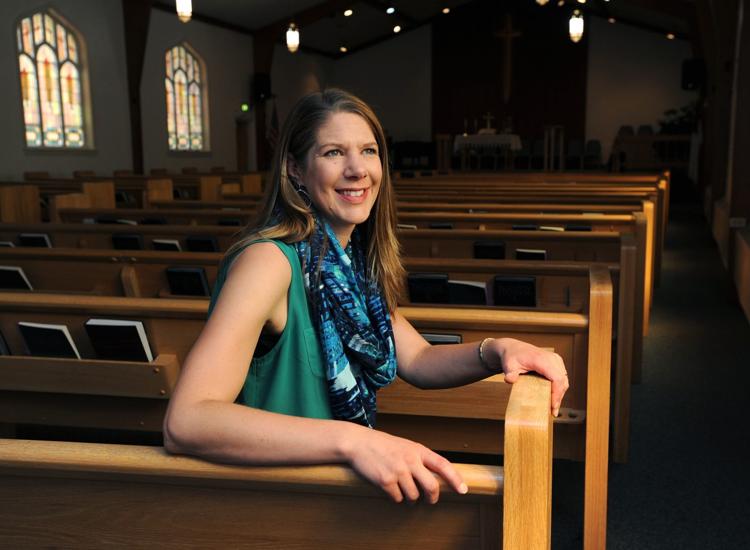 Ochs said at the start of the shutdown, the Methodist churches in town began to work together to keep an online presence. Different pastors recorded various parts of the service, which were then edited together and put on the church websites.
DVDs and CDs were mailed to members who couldn't watch the service live. And a phone tree allowed staff and volunteers to check in with others.
"It gave people a chance to develop relationships," Ochs said.
A lot of people have consistently tuned in to the services, she said. People she's never met or hasn't seen for a long time have taken advantage of church online.
"I can't speak for all pastors, but we're seeing these new opportunities to reach out to people," Ochs said. "We're going to have to continue some of this when we get back together because it's working."
The last Sunday in May, all of the Methodist congregations plan to gather together at Shiloh United Methodist Church for parking lot worship as "a fun way to get back together," she said. After that, pastors at each church will decide when to reopen.
The new normal
Elevation, a nondenominational church that sits just west of MetraPark, reopened on May 3. Before then, a lot of time went into sanitizing the building's interior, said the Rev. Roger Dayton. They've also set up sanitizing stations for the returning members.
To create the proper social spacing, the staff removed chairs from the auditorium and rearranged the rest into pods six feet apart from the others. But that was only the start of the changes that members saw when they returned.
"We don't do snacks or coffee," Dayton said. "There's no nursery or children's church. We took that off the table until Phase Two."
Instead of passing the donation plate, there's a collection container in the back of the church. There's no hanging out in the lobby after services to talk and chat and hug friends.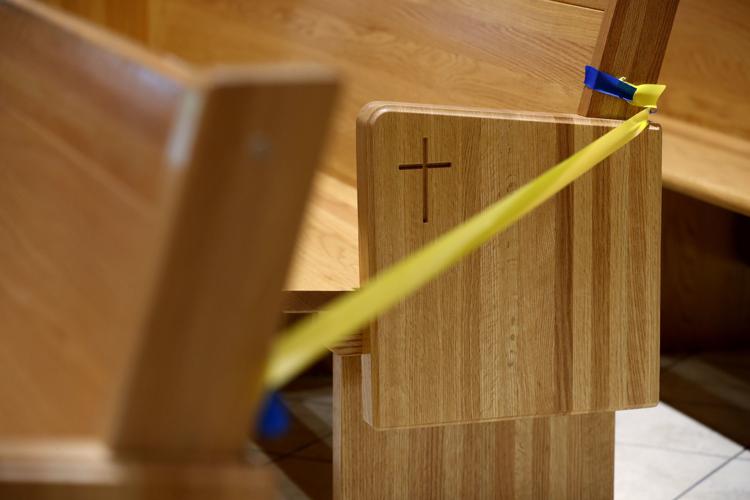 Dayton calls that the hardest aspect of the new normal "because we want to foster an environment of relationships."
"For us to say 'sorry guys, you can't hang out here,' that's a difficult thing."
Injecting some humor into the situation helps, he said. In the past, the service included a meet-and-greet time, where participants turned to each other to say hi and shake hands.
Now, they are instructed to meet and wave at each other, usually to an upbeat tune like "U Can't Touch This," by MC Hammer, "to make it fun," Dayton said.
Typically, the church, which counts a lot of young families among its members, sees an average of 520 people on a weekend. When Elevation reopened after the COVID-19 closure, the first week had 120 people in attendance, which increased to 174 the second and 184 the third.
One reason for the lower numbers is likely tied to the lack of child care.
"It's tough to have a kid in a service, so parents have said they'll probably just stay home and watch online until the kids' ministry opens up," Dayton said.
That will happen in Phase Two, which Bullock just announced will begin June 1.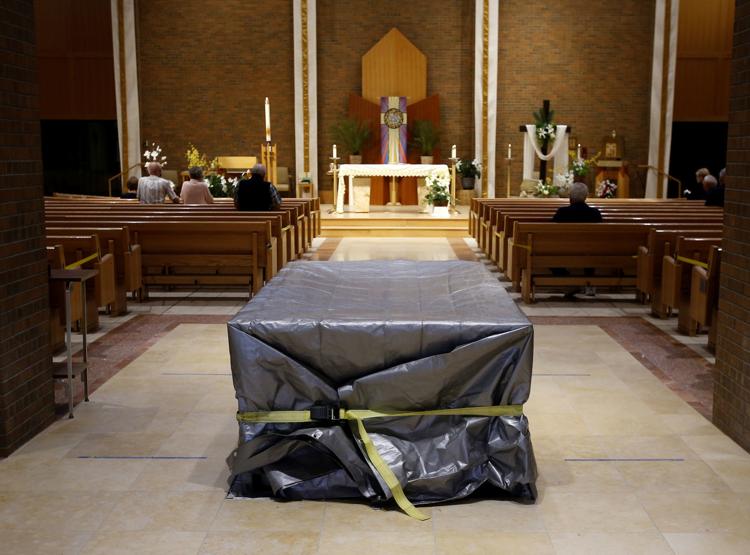 The Catholic response
The 100-plus Catholic parishes in the Great Falls-Billings Diocese received a three-page memo from Bishop Michael Warfel outlining safety protocols needed to restart public worship after Bullock's announcement.
Darren Eultgen, chancellor for the diocese, said the parishes "scrambled in a good way" to figure out how to implement social distancing and develop cleaning procedures, while continuing to air Mass online.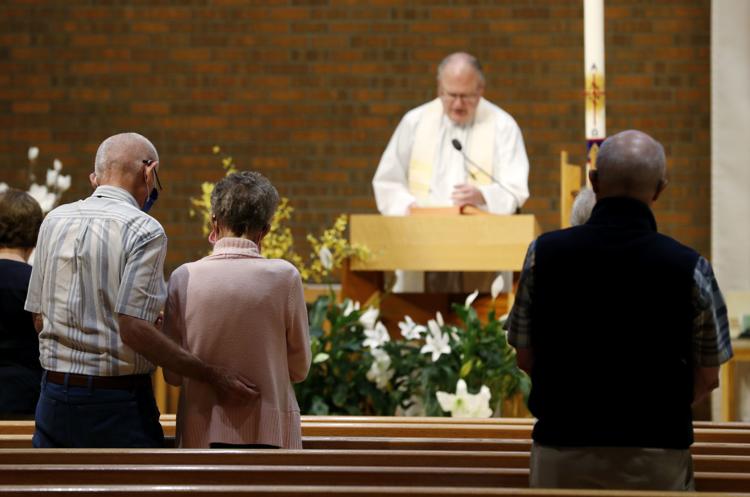 It was up to individual priests to determine an opening date, Eultgen said.
"For a number of churches in eastern and central Montana, particularly small parishes, it took time to figure out how they were going to implement the changes," he said.
For older, medically vulnerable priests, the thought of going out in public caused some trepidation. The diocese gave them alternatives on how to serve their parishes and stay safe.
"They want to serve people, but they had their own concerns about how to open up their church," Eultgen said. "Now, a few weeks in, I believe all of our places are open for at least some masses on the weekend."
In Billings, Zabrocki said St. Thomas worked hard to navigate both the temporary closure and the church's reopening. To begin with, the parish that had never offered online services had to do just that.
"We started practicing with daily Mass, so we could tweak it," Zabrocki said. "We filmed the Mass Saturday afternoon for the weekend."
Then came Holy Week: Holy Thursday, Good Friday and Easter Sunday, all masses that typically produce a church packed with the faithful.
"There I was to celebrate those liturgies with no one there except the reader and the person running the video camera," he said. "It turned out well. People were so very appreciative."
Mulling over how to stay in touch with members, to make sure they were OK and to offer them assistance, Zabrocki sent an email to parishioners. Then he and others made phone calls to elderly members, particularly ones who didn't live with family.
To ready the church building for reopening, the staff roped off pews to help maintain social distancing. The interior was sanitized, something that is repeated between the two Sunday morning gatherings.
Following diocesan directions, during Mass the parish eliminated the Sign of Peace, when congregants turn and speak to each other. Hand-holding, and the use of the cup during Communion, were omitted, hymnals and holy water removed.
People are not required to take Communion, but those who do form a single line and maintain six feet from each other. They receive the bread in their hand, not on their tongue.
Hand sanitizer is available when people walk into the church. Participants are encouraged, though not required, to wear masks. And people are asked to leave right after so the building can be cleaned before the next Mass.
Zabrocki didn't know how many people he'd see for that first Sunday Mass. About 160 came when normally 350 to 400 show up. For the second Mass, one-fourth of the normal 400 turned out.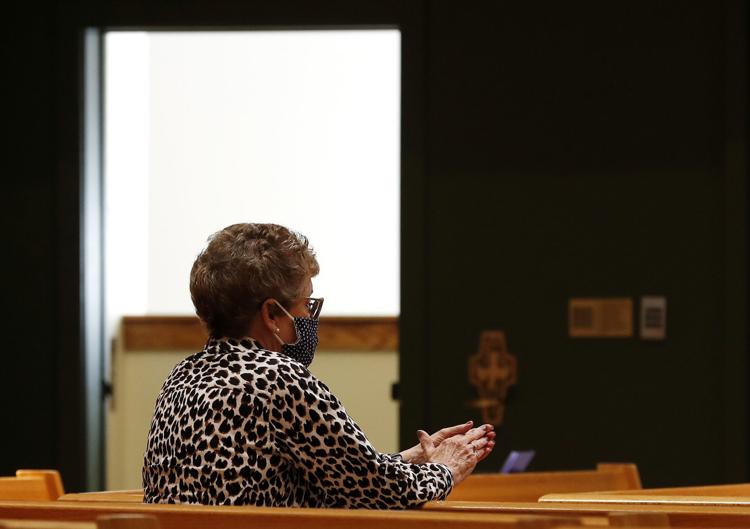 The Mass is still taped and put online, for parishioners who prefer to watch from home. But numbers keep going up. At a recent Mass, for the first time, people were turned away because of the reduced capacity required for social distancing.
"We're in the process of figuring out what's the best way for us to hopefully livestream the Mass from the church to the church community center for the overflow," Zabrocki said. "People are getting more comfortable with getting out."
When Pam Nielsen's father died in late April, she had an unusual idea for how to mourn and honor him.
Concerned about COVID-19?
Sign up now to get the most recent coronavirus headlines and other important local and national news sent to your email inbox daily.