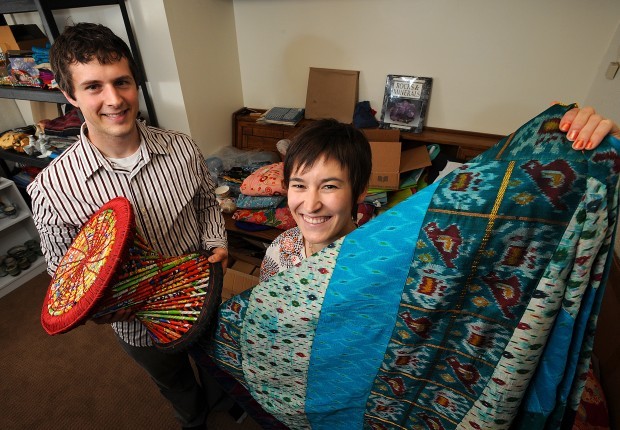 When Kendra Langford Shaw was a kid, she learned to live by a simple rule: a trade for a trade.
She could trade a sibling one Skittle for an M&M, or a candy bar for a candy bar. But a Skittle for a candy bar just wasn't right.
"It had to be an equal trade on both sides," Shaw said of the rule her parents taught her and her four siblings. "It had to be a trade for a trade."
Now she and husband Johnathan Shaw are employing the same philosophy in an online business they've started. Only instead of candy, the Shaws buy fair-trade items and cultural heritage crafts for a fair price and then sell the items to customers for a reasonable rate.
"So it's a fair deal on both sides of the table," Johnathan Shaw said.
It only made sense, the couple said, to call their fledgling enterprise A Trade For A Trade. They launched the business in January and are slowly getting the word out about it.
The two grew up in Billings and met at church camp. Kendra's family did quite a bit of traveling, and she spent six months in Australia her sophomore year in high school.
They carried on a long-distance relationship when Johnathan went off to the University of Oregon and Kendra studied at the University of Montana. During that time, he went to Japan on an exchange and Kendra went to France.
The couple got married in 2005, and and moved to Missoula so Kendra could finish her final year of school. He had a degree in linguistics and Japanese and she in creative writing.
Both had a travel bug, so they went to Japan for two years to teach English. While there, they were exposed to tiny mountain pottery towns where the entire population used traditional methods to create beautiful pieces.
It grabbed their attention, but they didn't know what they might want to do with it. They came back to Billings for five months in 2008 to help out when Kendra's mother underwent surgery.
Then they hopped back on a plane to Melbourne, Australia, to live and work for a year. They also started to focus on their next step.
A small group they joined at a Melbourne church helped to give them direction. The group centered on a Christian's response to global poverty, Johnathan said.
"It helped in thinking through how you can have an impact on poverty in the world, even when you're not doing much individually," he said.
They started thinking how they could take their interests and blend them into something that could benefit other people. Kendra liked searching out fair-trade crafts from developing countries and heritage crafts from developed ones, while Johnathan was good with computers.
"We decided we're a pretty good team for trying to launch an online website," he said. "So toward the end of our time in Australia, we started writing a business plan."
They made their trip home their first purchasing trip, in November 2009, making stops in Japan, India and Nepal. Using Kendra's online research, they visited with artisans and nonprofit organizations that ran businesses to fund their work.
"I found that people in Nepal and India were more than willing to work with us," Kendra said. "They are just very aware that if they don't start getting more products out of these two countries, they're not going to make it."
The couple purchased clothing, jewelry, crafts and home decor. They bought colorful recycled-plastic items, including a stool, a tray and a bowl, from a nonprofit in Nepal that helps fund healthcare and education for the poor.
They bought traditional blue pottery from Jaipur, India, where artisans are trained in the traditional arts of ceramics and hand-block printing. They collected the items and shipped them to Montana through a customs agent.
They arrived back in Billings in mid-December, and got the business up and running in late January. To conserve resources, they've been splitting their time between their parents' homes in Billings.
They've been getting some orders from people they know in Billings and elsewhere. And, even better, some of the purchasers are people they've never met.
"We've gotten a few orders from people who found our site on Google, which is really good," Johnathan said. "That means our products are showing up out there, people are finding them, so we're slowly building steam."
A Trade For A Trade differs somewhat from fair-trade retail outlets in that it focuses on smaller artisans and organizations that may not have the time or money to earn fair-trade certification.
"We're asking them the questions, 'tell us how your artisans work, what are their hours every day, what are they being paid and do you have any kinds of social development programs,' " Kendra said. "These are all ethical products."
The couple plans to move to Michigan in the fall so Kendra can pursue a master's degree in creative writing. Johnathan will continue working on the business.
"The idea is to get it large enough to support us, and then we're able to put profits back into the business, into finding more artisans, working in more countries," Johnathan said.
They'd also like to donate some of those earnings to nonprofits, like the one in Nepal that helps so many people. At the same time, they want to give lots of people the opportunity to buy products at a fair price, so the transactions are a win-win for everyone involved.
"We want to provide an outlet to everyone in America to buy ethical goods," Johnathan said. "We think it's especially important for Christians to be part of the global ethical movement, and we want to be part of making that happen."
To meet Johnathan Shaw and Kendra Langford Shaw in person, visit them at their booth in the vendor section of the Montana Association of Weavers and Spinners Conference today and Sunday in the Montana State University Billings ballroom. They will be on site today from 11 a.m. to 6 p.m. and Sunday from 8:30 a.m. to 1 p.m.