One of the sweet memories I have growing up in Billings is the annual fair that rolled into town in August. It was a much-anticipated family outing, with my folks hauling four kids down to the fairgrounds, starting with a mandatory walk through the livestock barns. We waited patiently for my Dad to win a sizable stuffed animal for each of us, spent more than we should on the carnival rides, then capped off the night with a stop at the Brockel's Chocolates booth to purchase mouthwatering caramel apples ($1 each) wrapped in waxy yellow paper.
Thankfully, those fresh cream caramel apples still exist today and are still handmade by the Brockel family, owners of Brockel's Chocolates in downtown Billings. My recent visit there to pick up a few caramel apples turned into a memorable afternoon with owners Gary and Patti, along with their daughters Jodi and Jaci.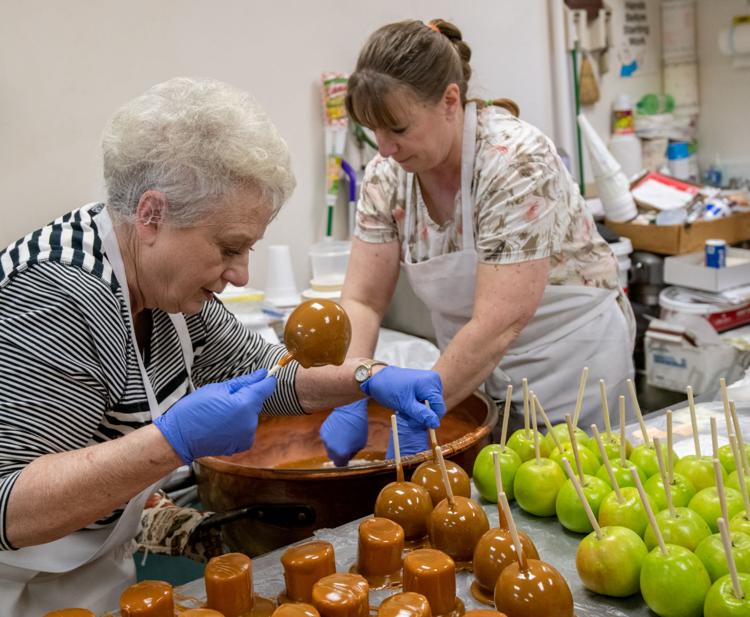 Gary and Patti had owned the A&W Downtowner in Billings, which they sold. They always thought it would be fun to own a candy store, so when Wilcoxson's Ice Cream out of Livingston decided to sell their candy-making operations, Gary and Patti bought the business in 1978 and moved to Livingston to learn the ins and outs of candy-making. The recipes were part of the purchase, some of them dating back to 1912.
Four months later, they moved back to Billings and opened Brockel's Chocolates. Forty-one years later, and still in the same location on North 29th, the fun continues with some 160 varieties of candy they produce each year.
The Brockels' daughters are part of the operations. Jaci oversees customer service, along with the storefront operations, while Jodi and her daughter, Savannah, are learning all the techniques and tricks to making candy. Now in their 70s, neither Patti nor Gary is thinking retirement. As Gary puts it, "I'll retire when God retires me. We haven't even tried all the recipes yet."
A large copper cauldron filled with caramel bubbled on an antique burner in the back kitchen. The glorious smell permeated the tiny space, as the caramel continued to cook for about 2.5 hours. Patti told me she doesn't need a thermometer to determine when the caramel is ready — it just comes naturally after so many years of making this gooey treat. When ready, it's a two-person operation transferring the cauldron over to the staging area for dipping the caramels. Gary added a small amount of vanilla, but this wasn't just any vanilla. It comes from Madagascar at $675 agallon. As Patti said, "Cheap candy isn't good, and good candy isn't cheap."
Granny Smith apples sat ready to go, washed with sticks inserted, along with a group of oversize marshmallows, which would also be coated in the warm caramel. Coating the apples with caramel went quickly, with both Jodi and Patti double dipping each Granny Smith and setting them back on the table to cool. The marshmallows got the same dunking treatment.
I loved the easygoing banter between Patti and Gary. Theirs is not only a love affair for candy but a love affair for each other. They told of the year that comedian Red Skelton appeared at the fair to a sold-out crowd, and the apples were gone by the end of the day. They pulled an all-nighter to produce five more batches to have enough on hand to last through the next day.
You have free articles remaining.
The caramel recipe, handed down from Wilcoxson's, has stood the test of time, with a bit of tweaking from Gary. It's a combo of corn syrup, sugar, cream, evaporated milk, butter, pure vanilla and soy lecithin. They experiment with all flavors of caramel — praline, sea salt, maple, butterscotch, vanilla and honeydew, to name a few.
While the caramel apple may be the signature goodie, there is so much more to savor. Nut clusters, toffee, truffles, fruit creams in both milk and dark chocolate, fudge and turtles (using only a superb pecan that comes out of Texas). In honor of their granddaughter, turtles have been renamed Savannahs. Another specialty is ice cream bars made with Wilcoxson's ice cream and hand-dipped in Brockel's homemade chocolate.
Gary was quick to point out that over the years he has been fortunate to study with some excellent "confectionery technologists." The reputation of Brockel's is paramount, knowing that quality keeps the customers coming. Patti piped up, "If we make one goof-up, that candy goes in the garbage. Candy is smarter then you are."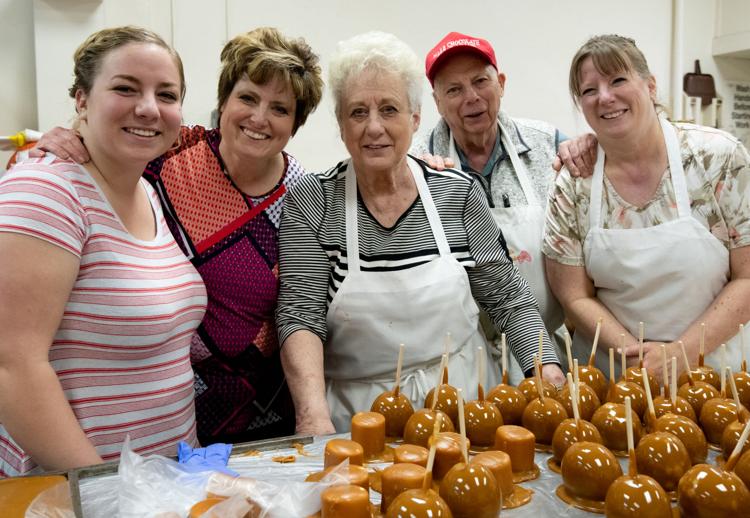 Out front, Jaci was busy behind the small U-shaped counter assembling a box of chocolates in between waiting on customers. Her smile lighted up the storefront. It was clear that many were repeat customers and Jaci instinctively knew what they would ask for. She has a way of decorating the boxes with brightly colored handmade bows. In addition to walk-in customers, the store does a brisk business shipping candy throughout the US.
There is an absolute joy that happens when something so excellent doesn't change over the years. The Montana fair remains a major event in Billings — same location — but with modernized facilities under the umbrella now known as the Metra. The games are more sophisticated, as are the rides. But the caramel apples have stood the test of time, with two changes. The waxy yellow paper is gone, no longer available. Now the apples are wrapped in a non-stick Satin-Pac, before being wrapped in yellow tissue paper. And the cost of each apple is now $5.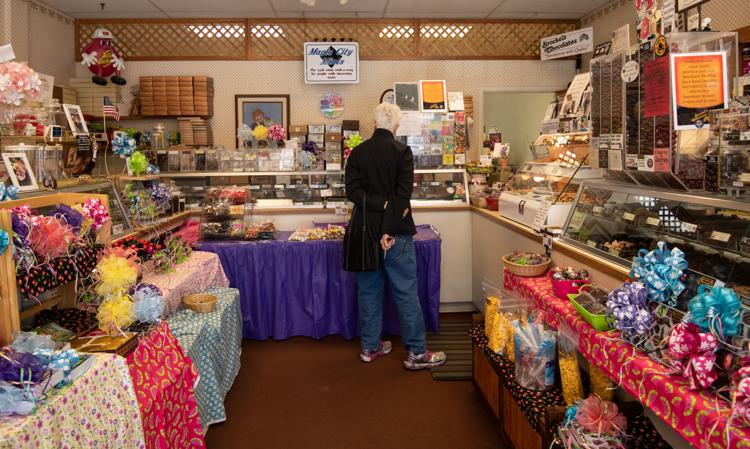 You don't need to wait for the Brockel's booth at the fair to get in on the goodies. Stop by their store on North 29th in Billings. If you're yearning for a caramel apple, call ahead to make sure they have them available. Brockel's Chocolates is open six days a week, Monday-Friday, 10 am-5:15 pm; Saturday, 10 am-4:30 pm.
---