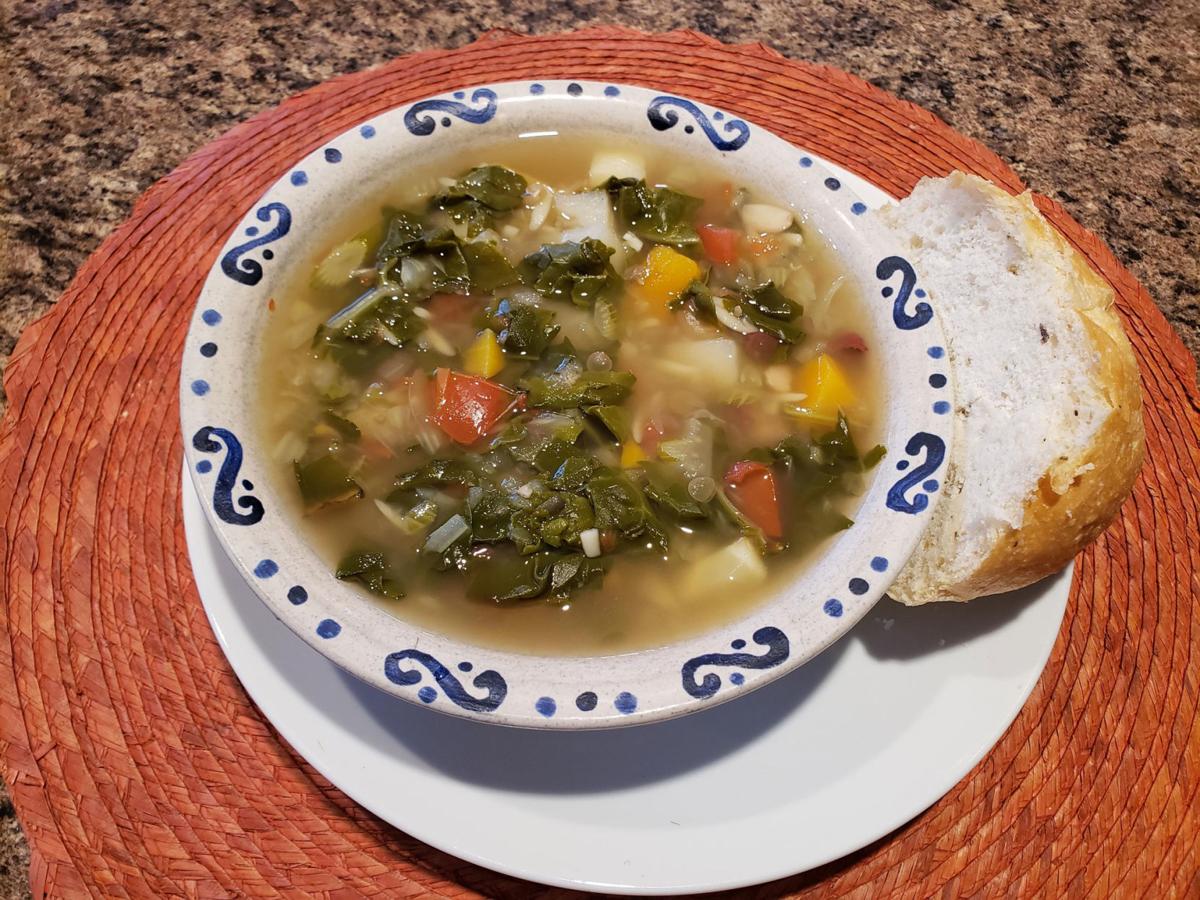 With the beginning of the New Year, more emphasis has been put on making changes in our lifestyle to improve our health.
Recently, public radio featured the release of a new cookbook called "The Blue Zones Kitchen, 100 Recipes to Live to 100." The book by Dan Buettner contains a collection of recipes from different parts of the world where people live the longest. The group of experts and doctors Dan worked with labeled the areas as Blue Zones. These areas are Sardinia, an island 200 miles off the coast of Italy; Ikaria, a small island off the coast of Greece; Costa Rica's Nicoya Peninsula; Loma Linda, California, with a group of Seventh-day Adventists; and the islands of Okinawa. The people living in these areas live the longest because they are more physically active, are more involved socially, have a sense of purpose, and have eaten the right foods and avoided the wrong ones. Some 90% to 100% of their diet is made up of plant-based foods, consisting of fruits, vegetables, nuts, beans, whole grains, and tubers. Taste is important and they have found ways to make their healthy food taste good. The book contains the important points the people of these Blue Zone areas follow to enable them to enjoy a healthy and long life, along with the recipes.
Each of the six villages on Sardinia's Blue Zones area prides itself on recipes for both summer and winter minestrones. The hearty fresh vegetable soups are made and enjoyed year-round with in-season vegetables. The fregula pasta called for is pasta common in Sardina. It is made of semolina dough that is formed in a small ball and toasted in an oven. It is similar to Israeli couscous in shape, but you can substitute any small pasta. The book includes 3 different versions of their minestrones.
Minestrone with Fennel and Wild Garlic
¼ cup dried red beans or (½ 15 oz. can red beans)
¼ cup dried chickpeas (garbanzo beans) or (1/2 15 oz. can drained garbanzo beans)
¼ cup dried fava beans (can substitute edamame or lima beans)
2 large potatoes, peeled and cut into 1-inch cubes
1 bunch beet leaves or Swiss chard leaves, cut up
2 fennel bulbs and stalks, washed and chopped
2 cups cubed pumpkin or other squash (zucchini, yellow, butternut, or acorn)
4 to 5 stalks wild garlic, garlic scapes, or garlic chives
¼ cup fregula pasta or other small pasta
*I also added ½ teaspoon each dry rosemary, basil and oregano, and also salt and pepper to taste.
*Note: When substituting canned beans for dried beans — 1 can cooked beans equals ½ cup dried beans.
You have free articles remaining.
If using dried beans, soak the beans at least 6 hours or overnight; drain and rinse. Peel the fava beans by squeezing each one between your thumb and other fingers. The skins should slip off pretty easily. In a soup pot, simmer beans in water to cover for 45 minutes to 1 hour, adding lentils after 30 minutes. Drain beans and lentils. If using canned beans, rinse and simmer beans and lentils in water to cover for 30 minutes, then drain. To make the minestrone: In a large soup pot, combine beans with all vegetables in water and bring to a boil. Lower heat to medium-low and simmer for 15 minutes. Add pasta and simmer for another 15 minutes. Serve with crusty bread and a drizzle of olive oil. Source: Blue Zones Kitchen, 100 Recipes to Live to 100," Dan Buettner.
The following Ikarian 100% plant-based stew was the recipe Dan Buettner served to the residents of Albert Lee, Minnesota — famous for meatpacking — to convince them to eat more vegetables. The residents were won over to a healthier lifestyle, and the recipe is a favorite. The city of Albert Lee became the pilot for what is now the "Blue Zones Project."
Ikarian Longevity Stew
1 cup dried black-eyed peas (or 2 cups canned, drained)
½ cup extra-virgin olive oil, divided
1 large red onion, finely chopped
4 garlic cloves, finely chopped
1 large, firm ripe tomato, finely chopped
2 teaspoons tomato paste, diluted in ¼ cup water
1 bunch dill, finely chopped
If using dried black-eyed peas, cover with water and bring to a boil for 1 minute. Remove from heat; cover, and let stand for 1 hour. Drain and rinse. (If using canned black-eyed peas, skip this step.) In a large pot, heat half the olive oil over medium heat and cook the onion, fennel, and garlic, stirring occasionally, until soft, about 12 minutes. Add the black-eyed peas and toss to coat with oil. Add the tomato, tomato paste, and enough water to cover the beans by about an inch. Add the bay leaves. Bring pot to a boil; reduce heat, and simmer until the black-eyed peas are about halfway cooked (if using dried peas). Check after 40 minutes, but it may take over 1 hour. If using canned, skip to next step after 10 minutes. Add the chopped dill and season with salt to taste. Continue cooking until the black-eyed peas are tender, about 20 minutes. Remove from heat and pick out and discard the bay leaves. Pour in the remaining olive oil, stir, and serve. Source: "The Blue Zones Kitchen, 100 Recipes to Live to 100," Dan Buettner.
When committing to a healthier lifestyle, you don't have to leave out sweets and desserts. To enjoy a healthy dessert and to include more fruit in your diet, try this easy and delicious frozen ice cream.
Chinese Five-Spice Banana Ice Cream
4 ripe frozen bananas, sliced
4-5 teaspoons Chinese five-spice powder
Coconut or nut milk, as needed
Combine bananas and seasoning in a food processor and blend. Occasionally scrape down the sides and continue to blend until smooth, approximately 3 to 5 minutes. If you need to thin it a little, add a couple of teaspoons coconut or nut milk, a little at a time, making sure not to add too much. Scoop into a bowl and enjoy immediately as soft-serve ice cream. For firmer ice cream, place in an airtight freezer-safe container and freeze for at least 1 hour. Source: "The Blue Zones Kitchen," 100 Recipes to Live to 100, Dan Buettner.
Bernie Mason writes the Local Flavor column for Lee Montana Newspapers. She was a Yellowstone County extension agent for 24 years. Mason grew up in Sidney in a family of German and Danish ancestry.