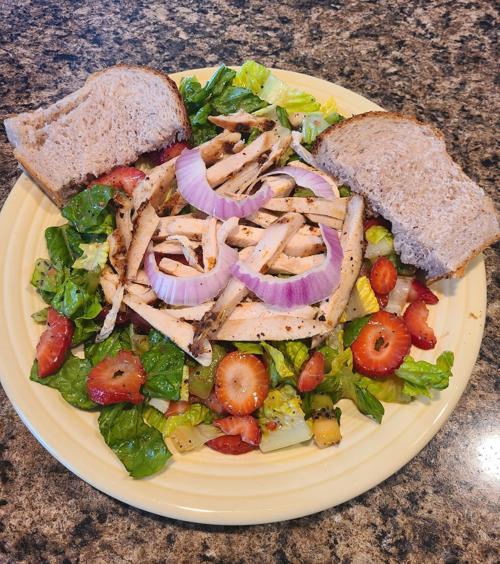 Spring has arrived and the strawberries are plentiful. The prices are good and the quality is excellent. Though strawberries are available all year long, they are the juiciest and most flavorful during May and June. Strawberries are loaded with good nutrition, including vitamin c, fiber, potassium and antioxidants, among others, plus they are low in calories and carbohydrates. They are just the thing to be enjoying now in a variety of ways. If you would like to try growing some of your own, there are varieties that produce once a year, a couple of times a year or are ever-bearing. For more information, a MontGuide, "Growing Strawberries in the Home Garden," is available by contacting your local Extension Office.
To really celebrate spring, try this refreshing salad that features strawberries and grilled chicken. This colorful salad is on the menu at the Snowgoose Grille at St. Mary Lodge at Glacier National Park. It is featured in Chuck and Blanche Johnson's "Savor Montana Cookbook," and includes a history of the Snowgoose and St. Mary Lodge, which dates back to 1932. The Snowgoose is rated as one of Montana's top eating establishments and offers the best dining in that area. The original recipe does not include the kiwis, which I have added.
Strawberry Chicken Salad
6 grilled chicken breast halves, julienne cut (cut into matchstick shapes)
18 whole strawberries, sliced
3 kiwis, peeled and sliced
2 heads romaine lettuce, chopped
3 slices red onion rounds
1 recipe poppy seed dressing (recipe follows)
Toss romaine lettuce, strawberries and kiwi together with poppy seed dressing. Divide equally among 6 salad plates. Top with a julienne chicken breast. Garnish with red onion rounds.
Citrus Poppy Seed Dressing
(Serves roughly 6 salads)
1 1/2 tablespoons poppy seeds
Mix sugar, salt, dry mustard, onion, lemon juice and poppy seeds into the mayonnaise. Whisk well to combine. Refrigerate to blend flavors.
Strawberry Almond Bread
Maybe you have had strawberry quick bread, which is the usual way to enjoy strawberries in bread. But have you ever tried putting strawberries in yeast bread? I decided I wanted to try it and was happy with the result. It makes a delicious bread to go with the chicken/strawberry salad. Also try it for breakfast toasted and topped with cream cheese and fresh sliced strawberries. Yum! If a stronger strawberry flavor is desired, substitute strawberry-flavored drink mix for the sugar. The bread can also be made in a bread machine. Just follow the directions that go with your bread machine and wait to add the almonds until after the first rising.
1/4 cup sour cream (can use low-fat)
1 cup sliced fresh strawberries
2 tablespoons vegetable oil
3 cups bread or all-purpose flour
1 package (2 1/4 teaspoons) yeast
Combine yeast, 1 cup flour, salt, and sugar in the bowl of a stand mixer; mix well. Combine water, sour cream, strawberries and oil in a microwave-safe dish; heat to between 120–130 degrees. Using low speed on mixer, add wet ingredients to dry ingredients in mixer bowl; beat 1 to 3 minutes on medium speed. By hand or with dough hook on mixer, stir in slivered almonds and enough flour to make a firm dough. Knead on floured surface 5 to 7 minutes or until smooth and elastic. Add additional flour if needed. Place dough in lightly greased bowl and turn to grease top. Cover; let rise until dough has doubled in bulk. Turn dough onto lightly floured surface; punch down to remove air bubbles. Shape into a roll; place in a greased 9 x 5-inch loaf pan. Cover; let rise until dough has doubled or finger indention remains after touching. Bake in preheated 375 degree oven 30 to 40 minutes, until golden brown and bread sounds hollow when thumped on the top. Remove from pan and cool on rack. Source: " Red Star Yeast Baker's Collection."
Strawberry Pie
Strawberry pie is always a favorite for spring and summer and there are many versions of the pie. If you avoid baking pies because you don't feel you are very proficient at making pie crusts, then this one is for you. The crust ingredients are mixed together similar to cookie dough and the mixture is simply pressed into the pie plate. Strawberry gelatin along with cornstarch is used to thicken and set the pie.
1/2 cup (1 stick) margarine, softened
3 1/2 tablespoons confectioners' sugar
1 to 2 drops red food coloring
3 tablespoons strawberry gelatin
Preheat oven to 450 degrees. Combine the flour, margarine and confectioners' sugar in a bowl and mix well. Pat over the bottom and up the side of a 9-inch pie plate. Bake until golden brown. Cool on a wire rack. Cook the granulated sugar, cornstarch and water in a saucepan over low heat until thick, stirring constantly. As an alternate, the mixture can be put in a microwave-safe bowl and cooked in the microwave until thickened, stirring occasionally. Stir in the food coloring, lemon juice and gelatin. Stir in the strawberries. Pour into the pie shell. Chill until set. If desired, top the pie with whipped topping before serving. Source: "Living Well, More Than a Cookbook," National Extension Association of Family & Consumer Sciences.
Strawberry-Watermelon "Daiquiri"
(Servings: 6, 1 cup each)
Enjoy this cooling, frozen "mocktail" all summer. Since it is non-alcoholic, it is appropriate for anyone.
2 teaspoons Crystal Light liquid strawberry lemonade flavor drink mix
2 cups frozen sliced strawberries
2 cups frozen chopped watermelon
Blend ingredients in blender until smooth. Serve immediately. If desired, garnish the edge of the glass with a fresh strawberry. Source: "Kraft Food & Family," summer 2014.
Bernie Mason writes the Local Flavor column for Lee Montana Newspapers. She was a Yellowstone County extension agent for 24 years. Mason grew up in Sidney in a family of German and Danish ancestry.