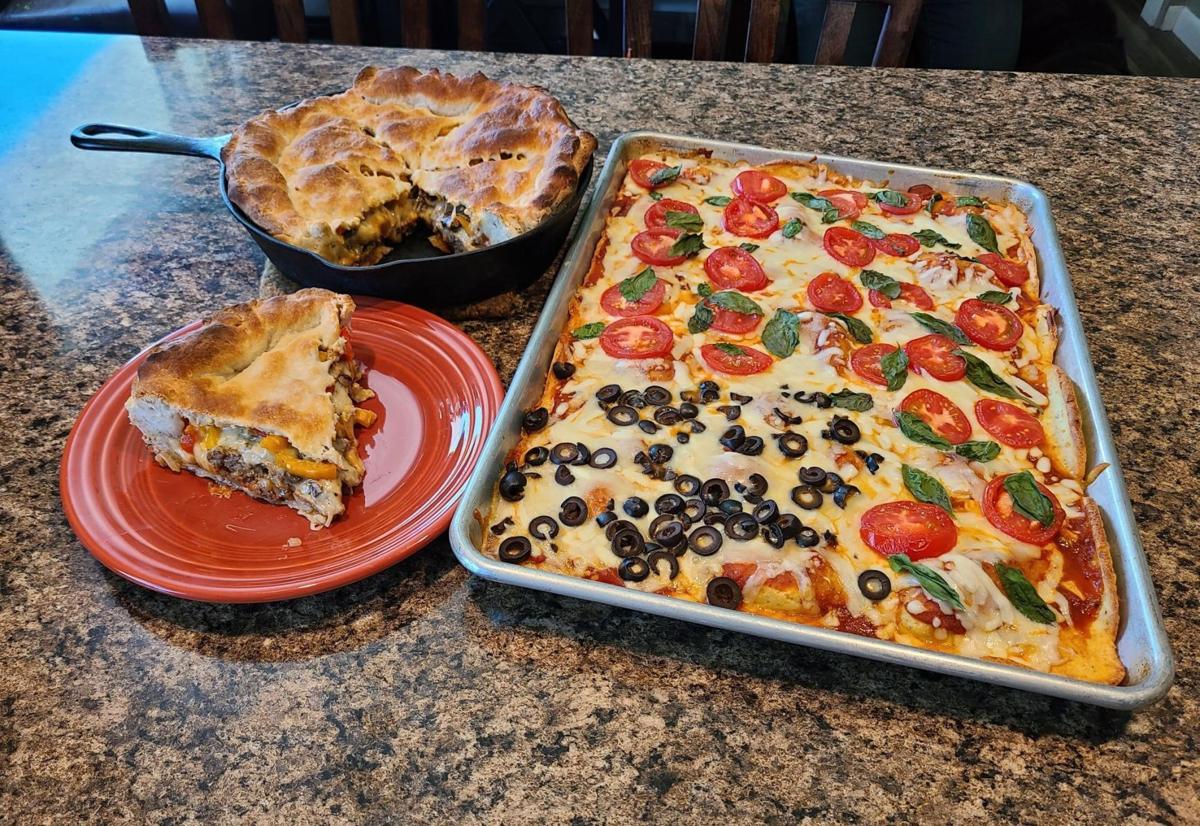 Pizza is one of the most popular and basic menu items. It has become a staple for many American families and a meal choice they make when they want something that is quick to pick up or have delivered to the home. In fact almost half of us enjoy pizza once a week. Experimentation in the ways to create your own individual pizza is on the rise, and new kinds of pizza ovens for use outside and inside are also becoming available. The kind of pizza you can create is limited only by your imagination in what you choose for toppings, sauces and crusts, so let your individuality shine and your taste buds be stimulated with the choices you make. One of the newer innovations you might try to create for yourself is a cone pizza, which has been created by an Italian company. The crust is shaped like a firm ice cream cone so all the toppings can be held in the cone for easier mess-free eating. It is time to discover the wide world beyond sausage and pepperoni. Following are some recipes that make use of some different techniques you may want to try.
If you don't want to take the time or effort to make the yeast dough for your pizza, try this different way to make the crust. It is so simple to whisk the ingredients together in a bowl and then pour the batter into a sheet pan to bake for this new "magic crust" pizza. Once the crust is pre-baked you can add whatever toppings you choose and then complete the baking.
Sheet-Pan Pizza with Magic Crust
1/4 cup grated Parmesan cheese
1 teaspoon dried Italian seasoning
1 (8 oz.) package shredded mozzarella cheese
1/2 cup green pepper strips
1/3 cup pepperoni slices (about 20 slices)
Preheat oven to 450 degrees. Spray a 15x10x1-inch sheet pan with cooking spray. This sheet pan size is also called a jelly roll pan. Whisk eggs and milk in a medium bowl until blended. Add flour, Parmesan cheese and Italian seasoning. Mix well; pour into prepared pan. Bake 20–25 minutes or until crust is firm and lightly browned. Spread pizza sauce onto crust; top with mozzarella, peppers and pepperoni. (If desired, top with different preferred toppings.) Bake 9–10 minutes or until mozzarella is melted. Cut into slices to serve. Source: "Kraft Heinz, My Food and Family," spring 2020.
Cast-Iron Skillet Calzone
If you enjoy eating a calzone, (a turnover kind of pizza) try this different method for making them. Rather than rolling out and assembling the individual calzones, with this method six calzones are made at once in a cast iron skillet so the assembly is simplified.
1 pound ground beef, ground turkey or ground sausage
1 pound fresh or frozen pizza dough, thawed
2 cups shredded mozzarella cheese or Italian cheese blend (8 oz.)
1 cup sliced fresh mushrooms
1 cup chopped red, yellow, and/or green bell peppers
1/2 teaspoon dried oregano, crushed
1/4 to 1/2 teaspoon crushed red pepper
Grated Parmesan cheese (optional)
Snipped fresh Italian parsley (optional)
Preheat oven to 400 degrees. In a 9 1/2 to 10-inch cast-iron skillet or other heavy oven-going skillet cook ground beef and onion over medium-high heat until meat is browned and onion is tender. Drain meat in a colander. Wipe out skillet with a paper towel; cool slightly. On a lightly floured surface, divide pizza dough in half. Roll one dough portion into a 12-inch circle. Press onto the bottom and up the sides of the skillet. Spread the 1/2 cup marinara sauce over dough. Top with meat, mozzarella cheese, mushrooms, sweet peppers, oregano and crushed red pepper. Roll remaining dough into an 11-inch circle. Place on top of filling. Pinch edges of bottom and top crusts together to seal. Using a sharp knife, cut slits into top crust. Place skillet in oven. Bake until golden brown and filling is bubbly. Let stand 5 minutes. If desired, sprinkle with Parmesan cheese and/or Italian parsley. Cut into wedges. Serve with additional warmed marinara sauce. Source: "Weeknight Easy, 40+ Delicious Recipes," Meredith Corporation.
BLT Pizza
If you enjoy a BLT sandwich, you will love those flavors in a pizza. It is quick-to-fix using refrigerated pizza crust dough.
1 (11 oz.) package refrigerated thin-crust pizza dough (Pillsbury is a choice)
1 (8-oz.) package shredded Italian cheese blend
5 medium Campari tomatoes, sliced
8 slices bacon, cooked and crumbled
2 teaspoons extra-virgin olive oil
1 teaspoon fresh lemon juice
1/4 teaspoon black pepper
Preheat oven to 400 degrees. Spray a large rimmed baking sheet with cooking spray. Unroll dough onto prepared pan. Bake until dough begins to brown, 8 to 10 minutes. In a large bowl, stir together cheese, mayonnaise, and seasoned salt; spread onto crust. Top with tomatoes and bacon. Bake until cheese is melted and crust is golden brown, about 8 minutes. In a medium bowl, toss together arugula, oil, lemon juice and pepper. Sprinkle on pizza just before serving. Source: "Cooking with Paula Deen," March/April 2020.
Fruit and Marshmallow Dessert Pizzas
Pizza even works for dessert, and fruit pizza tops the list. Marshmallows melt onto strawberries and bananas on these miniature pizzas that will surely be a favorite dessert for your family. If you can't find the individual pizza bases for the crusts, use a large pizza crust and cut out the bases from that.
8 (4 1/2-inch) pizza bases
1 small banana, thinly sliced
8 ounces strawberries, quartered
2 ounces pink and white marshmallows
Preheat oven to 475 degrees. Spray with cooking spray two oven or pizza trays; place in oven for 5 minutes. Place pizza bases on heated trays; spray with cooking oil spray. Bake pizza 7 minutes; remove from oven. Top with banana, strawberries and marshmallows. Bake about 4 minutes or until bases are browned and crisp. Drizzle with caramel topping. Source: "Pizza," Sterling New York.
Bernie Mason writes the Local Flavor column for Lee Montana Newspapers. She was a Yellowstone County extension agent for 24 years. Mason grew up in Sidney in a family of German and Danish ancestry.