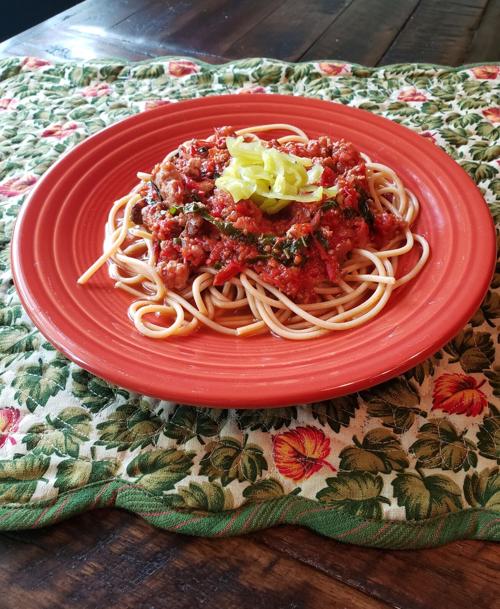 Tomatoes that are picked fresh and ripe from the vine are one of the special benefits of having your own garden. We need to take advantage of having these prizes available to us and enjoy them in as many ways as possible.
Whether eating them directly from the vine, combining them with other fresh veggies in a salad, enjoying a rich pasta sauce, or using them to top off a pizza, there are so many options we have to take pleasure in with this popular vegetable. I personally have been finding ways to include them in my meals each day. If you are fortunate enough to have an ample supply, now is the time to preserve some to enjoy this fall or winter either by freezing or canning. Freezing tomatoes is easy if you are pressed for time. Cherry tomatoes can just be washed, patted dry and placed in zip-lock freezer bags and in the freezer. Larger tomatoes should be placed in hot water to loosen the skins, then — skins removed — cut in quarters, placed in zip-lock freezer bags and then in the freezer.
There is nothing like a fresh tomato sauce, and with plenty of fresh tomatoes available, take the opportunity to prepare a batch. This recipe, which is especially flavorful, I found in the 2016 edition of the Better Homes & Gardens Special Interest Publication — "100 Best Tomato Recipes." This is the basic recipe to prepare, but also included are several variations on the basic to give you many flavor options. Batches of the sauce can be made and frozen for later use as well. Though the recipe calls for Roma tomatoes, I used a mixture of Roma and cherry tomatoes since I have an abundance of the cherry variety. Also, if using cherry tomatoes, it is not necessary to remove the skins on cherry tomatoes when cooking with them.
Fresh Tomato Marinara Sauce
1/3 cup finely chopped onion
2 pounds Roma tomatoes, peeled, seeded, and chopped
½ cup dry red wine, pomegranate juice, or cranberry juice
1 to 2 teaspoons balsamic vinegar
½ cup snipped fresh basil
In a large saucepan, heat oil over medium heat. Add onion and garlic; cook 3 to 5 minutes or until onion is tender, stirring occasionally. Stir in tomatoes, wine, vinegar, salt and pepper. Bring to boiling; reduce heat. Simmer uncovered, 20 to 25 minutes or until slightly thickened, stirring occasionally. If desired, mash with a potato masher to reach desired consistency. Stir in basil. Sauce can be stored in the refrigerator for up to 3 days or freeze for up to 3 months.
*Tip: If fresh Roma tomatoes are not available, substitute 2 (28oz.) cans Italian plum tomatoes, drained and chopped (about 3 cups). Reduce salt to ¼ teaspoon. Serve Marinara Sauce over cooked pasta and if desired, add any of the following options.
Additions to Marinara Sauce:
*Creamy — Stir in ¾ cup heavy cream with the basil.
*Puttanesca — Mash 3–4 anchovy fillets, rinsed and patted dry, into cooked onion mixture; cook 30 seconds more. Stir sliced, pitted ripe olives and 2 tablespoons drained capers into sauce; substitute fresh Italian parsley for basil.
*Sausage — Cook 8 oz. bulk Italian sausage with onion until sausage is browned; drain. Top pasta with sliced pepperoncini salad peppers.
*Spinach-Bean — Omit basil. Stir one 15 oz. can cannellini beans, rinsed and drained, and 2 cups torn spinach into sauce; heat through. Top pasta with crumbled feta cheese.
*Eggplant-Mushroom — Cook 2 cups chopped eggplant, 1½ cups sliced fresh mushrooms, and ½ cup chopped yellow sweet pepper with the onions until tender. Increase balsamic vinegar to 1 tablespoon and salt to ¾ teaspoon. Top pasta with grated Parmesan cheese.
These pizzas are simple and quick to make using flatbreads for the crust. Almost any vegetables other than root vegetables will roast in 10 minutes to use on the pizzas, so the members of the family can choose their favorites. The cherry tomatoes that top off the pizzas become sweeter with the baking.
Pizza Primavera
2 cups cut-up fresh asparagus
2 yellow sweet peppers, cut into thin bite-sized strips
2 medium red onions, sliced
½ cup grated Pecorino-Romano cheese (2 oz.)
2 cups halved cherry tomatoes
½ cup shredded mozzarella cheese (2 oz.)
Preheat oven to 475 degrees. Line a large baking sheet with parchment paper; set aside. In a large bowl combine asparagus, sweet peppers, onions, mushrooms, oil, and salt. Spoon vegetable mixture onto prepared baking sheet, spreading in an even layer. Roast for 10 minutes; remove from oven and set aside. Place flatbreads on two large baking sheets; sprinkle Pecorino-Romano cheese evenly over flatbreads. Arrange the roasted vegetables and cherry tomatoes evenly on flatbreads. Sprinkle with mozzarella cheese. Bake about 5 minutes or until cheese is melted. Source: Better Homes & Gardens Special Interest Publication, "Fast & Fresh, Easy Ways to Eat More Veggies," 2015.
You will appreciate having these stewed tomatoes available when winter comes. Think of all the ways you can use them in cooking. The addition of celery, onion and pepper lower the acidity in this recipe, so if you can the mixture, a pressure canner is required. Otherwise freezing the stewed tomatoes is quick and easy. Any type of tomatoes can be used.
Stewed Tomatoes
8 pounds firm ripe tomatoes
1 cup chopped celery (2 stalks)
½ cup chopped onion (1 medium)
½ cup chopped green sweet pepper (1 small)
¼ cup bottled lemon juice
Wash tomatoes. Remove peels, stem ends and cores. Chop tomatoes. Measure 17 cups. Place chopped tomatoes in an 8–10 quart non-reactive heavy pot. Add celery, onion, sweet pepper, lemon juice, sugar and salt to tomatoes in pot. Bring to boiling; reduce heat. Simmer, covered, for 10 minutes, stirring frequently to prevent sticking. To can: Ladle hot stewed tomatoes into hot quart or pint canning jars, leaving a 1-inch headspace. Wipe jar rims; adjust lids and screw bands. Process filled jars in a pressure canner at 10 pounds of pressure for a weighted gauge or 11 pounds of pressure for a dial gauge canner for 25 minutes for quarts or 20 minutes for pints. Adjust pounds of pressure for altitude. To freeze: Place pot of stewed tomatoes in a sink filled with ice water to cool. Ladle tomatoes into wide-mouth freezer containers leaving a ½-inch headspace. Seal and label; freeze for up to 10 months. Source: Better Homes & Gardens Special Interest Publication, "Canning, Save Summer in a Jar," 2016.
Bernie Mason writes the Local Flavor column for Lee Montana Newspapers. She was a Yellowstone County extension agent for 24 years. Mason grew up in Sidney in a family of German and Danish ancestry.