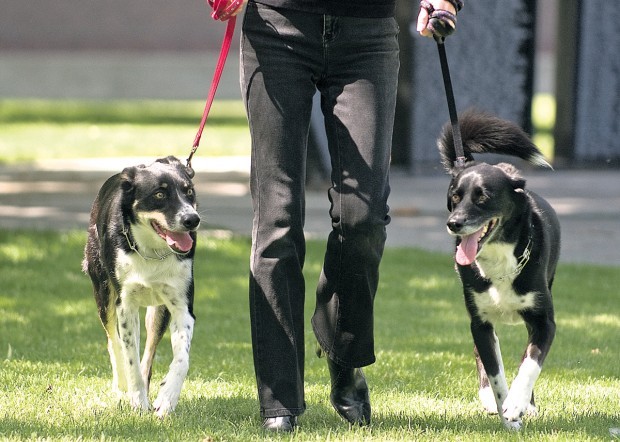 When Connie Kvilhaug wakes up and has two pairs of brown eyes expectantly staring up at her, she said she really has no choice.
A dog owner, Kvilhaug faithfully walks her two dogs, Harley and Winston, every morning.
"I work, so I like to do it right away in the morning," said Kvilhaug, a certified hypnotist in Billings. "I read a column by dietitian Dayle Hayes in The Gazette, and she described dogs as being 'your treadmill with fur,' and that is so true."
On the weekends, the trio sometimes heads out to Riverfront Park or Norm's Island, but Kvilhaug points out that the bike trail system in Billings is not exclusively for bicyclists.
"Dogs need exercise. People need exercise," she said. "So it has been a mission of mine to get dogs to walk their people, and to get people to walk to walk their dogs."
In talking with her clients who are often in her office for assistance with weight loss, many of them will bring up a canine family member.
"I always ask, 'Who walks your dog?' and many times the answer is 'no one,' which just breaks my heart," Kvilhaug said.
After researching how  such a simple task as walking a dog can benefit a person's health, Kvilhaug also stumbled upon information about how dog obesity has become a recent epidemic.
According to the American Veterinary Medical Association, more than 40 percent of dogs — a total of about 17 million canines — in the United States are overweight.
Kvilhaug also pointed out that additional numbers from the AVMA show only 17 percent of owners with overweight dogs think their pets actually have a weight problem.
Overweight animals are eventually burdened with similar ailments as their human counterparts. According to an article written by veterinarian Dr. Karen Becker, excess weight on middle-aged to elderly dogs can cause a wide range of disorders, including premature arthritis, cervical neck disease, back problems, ACL and soft tissue ruptures, ligament and tendon tears and heart and respiratory disease.
This information urged Kvilhaug to take action on a local level. Initially, she discovered National Walk Your Dog Week, recognized from Oct. 1 to Oct. 7. It was founded by Colleen Paige, a celebrity pet lifestyle expert and animal rescuer, to bring awareness to the increasing problem of canine behavior issues and canine obesity.
Paige, who said she has trained thousands of dogs in the past 20 years, estimates 75 percent of dogs in animal shelters are there due to a lack of exercise which has resulted in behavior issues such as separation anxiety.
"Dogs don't get the necessary outlet they need to stay physically and mentally healthy," said Paige on the Walk Your Dog Week website at www.walkyourdog.com. "I feel that part of the overpopulation of dogs in this country is hugely associated by our growing waistlines. Generally, the less a person exercises, the less a dog exercises."
According to the website, if an overweight person walks their dog for 30 minutes, three times per week, they can lower blood pressure, increase energy and reduce their weight by 5 percent. If their pet is overweight, the same regime can reduce the dog's weight by 15 percent.
Kvilhaug has now coordinated National Walk Your Dog Day in Billings, a community event she hopes will promote physical fitness in people and their pets.
"I'm excited," she said. "I have found people will often do things for their pets that they won't even do for themselves."