Tom Hoerster, a foreman at a Glasgow ranch, was busy cleaning the air conditioner on a tractor in 1997 when he slipped and fell, landing on his feet.
"I thought I did good," ending up in an upright position, he said during an recent interview.
Instead, the jarring touchdown injured Hoerster's back, damaging some of his discs and causing a bone in his spine to slip forward and press on another bone, pinching the nerves. He also broke his right arm.
He tried different kinds of treatment and exercise, but it didn't help.
"I got totally depressed," he said. "I could do nothing, and if I did try to do something, it hurt so bad. You don't want to lay down in bed the rest of your life."
He eschewed pain pills, but did take medication to deal with the depression.
In 2005 Hoerster moved to Billings, where a neighbor told him about a couple of friends who found good results from surgery performed by Dr. Stuart Goodman, a neurosurgeon with St. Vincent Healthcare. So Hoerster made an appointment, and a decision was made to do a spinal fusion.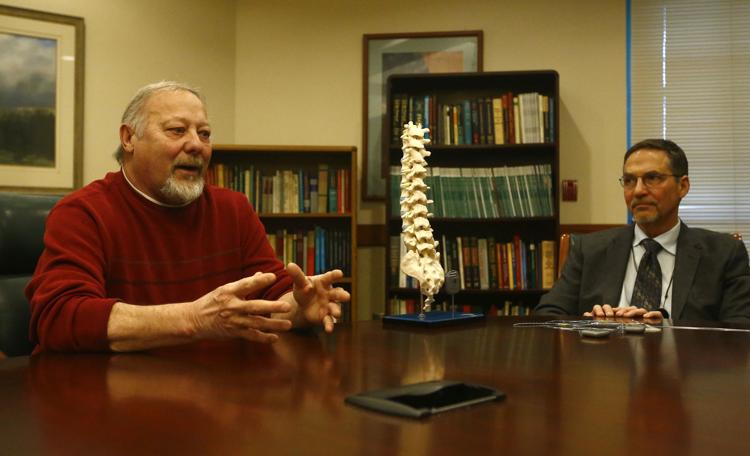 "That helped a lot, but the pain was still there," he said. "I also had pain in my right arm."
So in fall 2017, Hoerster agreed to do a two-week trial with a spinal cord stimulator, to reduce the ever-present pain. He was a good candidate for it, said Goodman.
"We put these stimulators in patients who generally have had their spines fixed but still have pain," he said. "What we think of as 'neuropathic pain' or false pain are signals sent by damaged nerves but which feel like regular pain to the patient."
For a tunneled trial, Goodman places the leads into the spine through needles and then anchors them to the covering of the muscle. He attaches disposable extension cables, which he tunnels to the side and passes out through the skin for the trial.
He then attaches the extension to an external battery pack worn on a belt. Hoerster felt an immediate difference.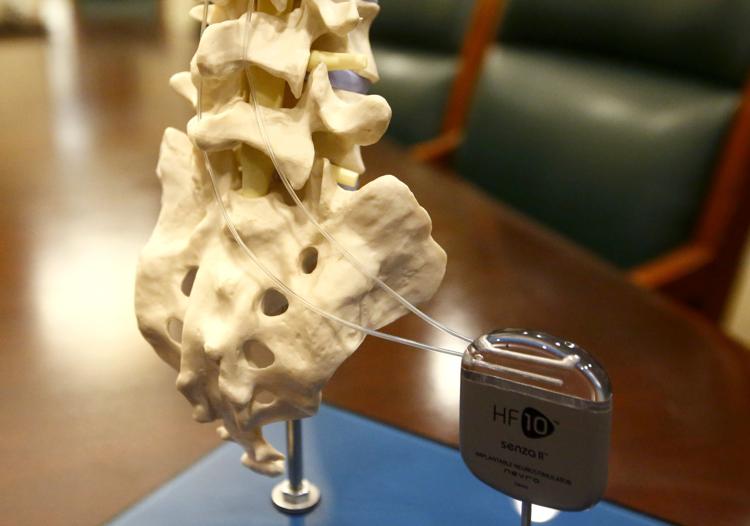 "I'd never felt like that for years," he said. "It was just unbelievable."
Before using the stimulator, on a scale of one to 10, Hoerster put his pain level at a 9. Afterward, it dropped to a 1 "and it's stayed that way."
With that good result, Goodman performed a second outpatient surgery, discarding the extensions and passing the spinal wires to a pocket he made to implant the small Nevro HF10 internal pulse generator. It's located about the same place a wallet would go in a back pocket.
The technique Goodman uses to place the wires is one he learned in Europe.
"The advantage is that the leads only have to be placed once," he said. "If they are in the right spot, then you do not have to risk getting to that spot in a second surgery."
It's a technique few physicians in Montana employ. Goodman is able to use the tunneled trial with all but about 5 percent of his patients.
A neurosurgeon for 34 years and on staff St. Vincent since 2006, Goodman completed extra training in functional neurology during his residency.
Since the early 1980s, he's known how to put electrodes in the brain for deep-brain stimulation and to use spinal cord stimulators for pain, he said. 
The goal of functional neurology is to work on reducing a patient's pain, improving motor function and reducing spasticity.
"Anything from Parkinson's and tremor to patients who have chronic pain because of bad spines and have had multiple surgeries that have failed," he said. "Or patients who have pain and no surgery is going to help them, and we need to reduce their pain so they can be more functional."
It can also include people suffering from peripheral neuropathy or who have blood vessel problems and have pain because there's not enough blood flow to the legs. Or people with an injured arm or leg who suffer chronic pain.
One type of treatment he uses is the spinal cord stimulator, which delivers low-voltage electrical current continuously to the spinal cord, to block the sensation of pain.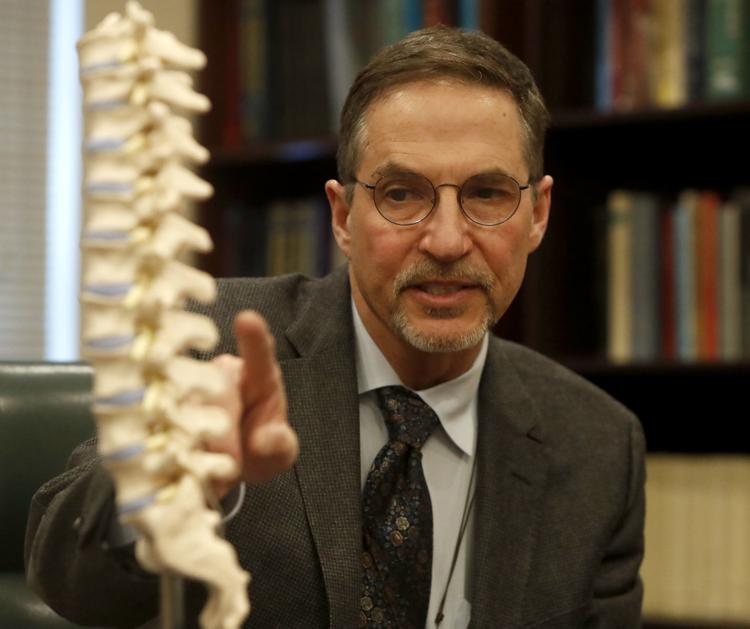 He works with doctors at the pain clinic with the goal of helping people off of opioid use, he said. The simulator has been quite effective to that end, he said.
Some types of stimulators cause a tingling sensation "like a phone on silent" and the person can feel that. In 2017, Goodman started using the high frequency Nevro HF10, which is silent, so a person can use it continuously and never feel it working.
He's seen a 92 percent response rate to the new stimulator, which means a pain reduction of at least 50 percent.
"They're usually able to be more active and they're sleeping better and taking less opioids," Goodman said.
Users must spend about 40 minutes a day charging the battery, placing a pad over the skin above where the battery is implanted. They are also expensive, equal to the cost of a car, Goodman said, although they are usually covered by insurance.
There's a 3 percent risk of a spinal leak during the procedure, for which Goodman would hospitalize the patient overnight. There's less than a 1 percent risk of infection.
For Hoerster, the spinal fusion meant he couldn't bend over, but the pain relief from the spinal cord stimulator has allowed him to kneel, which he joked previously would have required a crane to help him get up.
"Before, I could mow the lawn, but I would have to stop after a little bit and rest," he said. "Now I can mow my big backyard in one shot."
He can swim a bit, something he loves, rather than just wading in the water. And he can walk three or four blocks, rather than one block up and back."
"It just totally changed my life," Hoerster said.