By the summer of 2014, 17-year-old Timothy Bates had all but given up.
On a steady stream of depression medications since he was 14 and prone to self-harm that included cutting — "I loved my razor blades for a while," he said — the Wyoming teen was depressed and suicidal when he was checked into Billings Clinic's psychiatric department for a two-week stay, his second such trip in just a few months.
"I was pretty much done," said Bates, now 19. "I had given up on all of it."
With other methods showing little to no improvement, staff there pitched a experimental but low-risk and low-cost approach involving sleep disruption and specialized light therapy that in limited studies had shown promise in quickly reducing depressive and suicidal tendencies.
Figuring he had little else to do, Bates agreed to be the first youth to undergo the treatment there. To hear him tell it, the results were not only rapid, but also remarkable.
"It was a realization that things can get better," he said.
Bates' turnaround was so dramatic and it piqued staff's interest so much that the psychiatric department sought and gained approval to undertake what appears to be one of the first studies on the effectiveness of the treatment, called triple chronotherapy, in teenagers.
The open label pilot study is only about halfway through, having been completed on a handful of teenagers so far, but its potential for helping to reduce depression has staff cautiously optimistic.
"You can see the differences it makes, but you need to see some more data, some more information, to really know," said Dr. Mariela Herrera, a psychiatrist at the clinic.
Sleep and light
Triple chronotherapy involves three distinct parts, beginning with 36 hours of sleep deprivation for the patient.
That is followed by advancing the patient's sleep cycle to a normal bedtime over the next three days. A typical cycle might begin with having the patient sleep from 6 p.m. to 1 a.m. on the first day, 8 p.m. to 3 a.m. and finally from 10 p.m. to 5 a.m., followed by a regular 10 p.m. to 6 a.m. sleep schedule.
Finally, every morning beginning after the first night of sleep deprivation, the patient undergoes 30 minutes of light therapy at the same time each day using a specialized, but common, light box.
The box is the same type used to help patients suffering from seasonal affective disorder and, for the purposes of the clinic's work, is a 10,000-lux light.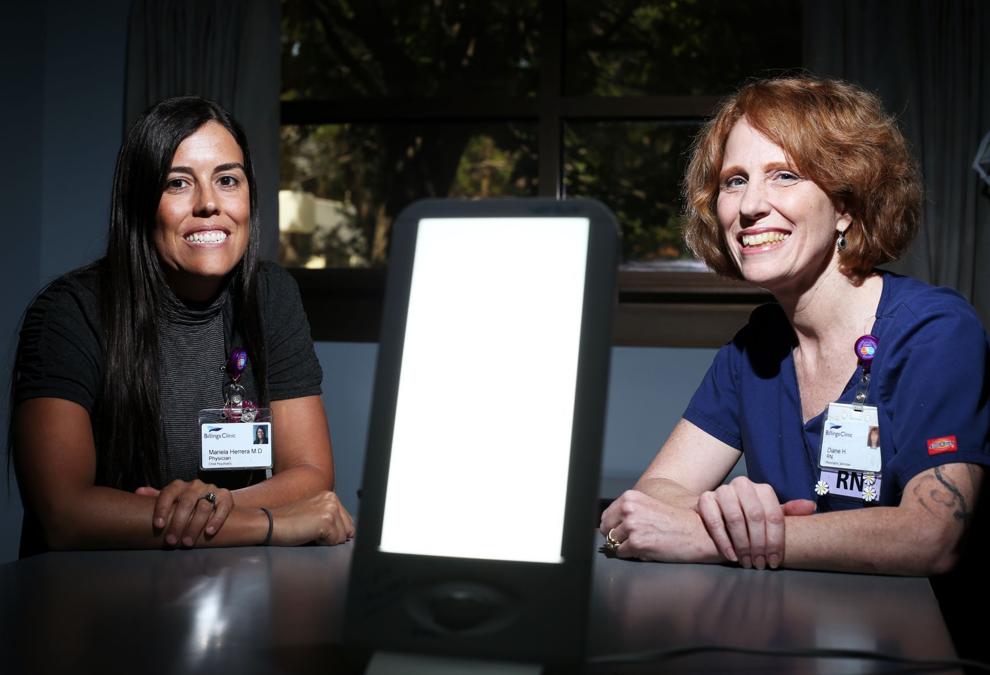 The therapy should never be done without supervision from trained medical professionals.
Diane Hurd, a registered nurse, said the therapy is aimed at reducing depressive and suicidal tendencies quickly, while longer-term efforts such as traditional therapy and medication are ongoing. It has been used with adults, and there have been limited studies in that vein, but there's just not much data on its long-term effect in youth.
"We started to realize there was a gap in the research, and it was such a great success here," Hurd said, noting that they'd used the therapy with several other youth before the study started in early 2016. "We saw a pilot study in the adult population and we looked at that protocol and went on to do more patients."
That study, conducted in 2014 by Dr. Gregory Sahlem at the Medical University of South Carolina, looked at the treatment's effect in 10 depressed and suicidal patients.
It found that the therapy is "feasible and tolerable" in such patients. It showed a significant decrease in depression and suicidal scale scores recorded by both clinicians and patients.
"Based up on the results of our small open label pilot study, triple chronotherapy is safe and feasible to administer in acutely depressed and suicidal inpatients," the study concluded.
However, staff at the clinic say there's still a lot of research to be done before its effectiveness can truly be determined, and larger data samples will be necessary in the future. As of early July, the initial study was about half completed and they're looking at a number of different elements.
"What's the effect on depression outcomes?" asked Herrera. "Are they suicidal? Is there self-harm or anxiety? We want to see if there's a positive or negative correlation with the quality of sleep."
'I'll always remember day 3'
Bates said he's struggled with depression almost as long as he can remember.
Late in the spring of 2014, it got to the point where he was on suicide watch at the hospital in Lovell, Wyo. When that stay ended, he spent time in two other facilities in Montana before coming to Billings for the first of two stays in the youth inpatient psychiatric center.
He said he'd use just about anything he could get his hands on to cut himself. Medications he'd been on for the previous three years were not only not working, but possibly making him worse, he said.
"At that point, I was just done," he said.
He'd been working with Dr. Eric Arzubi, a child psychiatrist and head of the clinic's psychiatric department, on finding a solution.
During Bates' second stay, Arzubi pitched triple chronotherapy.
"They offered up a couple of different ideas, and he said, 'We have this, but it's never been tried here before. Let's give it a shot,'" Bates said. "I thought, 'Well, I've got nothing to lose. I'm going to be here anyway.'"
As with Bates' case, the therapy and current study is being done with suicidal and moderately to severely depressed patients who are already there for inpatient care and aren't sought out outside of the department's confines.
And, like Bates, they must be motivated to complete the entire therapy. Hurd said some patients simply don't want to participate or don't think they'll be able to finish, and that's OK.
For Bates, the prospect of possibly going home to live with his grandmother was motivation enough. During the sleep deprivation phase, staff stayed up with him the entire time, playing games or shooting hoops.
Within a few days, he noticed a change — not only on paper in his depression scale scores, but in how he felt.
"Day three," he said. "I'll always remember day three. My score sheets, they always had a high depression score. That's the day where my score was down, it was something better. It was a realization that things can get better."
He felt energized and wasn't drowsy all of the time, "actually awake and functioning," he said, and the results were encouraging, both for Bates and the staff.
By the time he went home a few days after the conclusion of the therapy, he'd reached an agreement with Arzubi to stay off meds but continue the scheduled bedtime and daily light therapy.
Bates did just that for about three to four months after and now, at the age of 19, says his life has completely turned around, from having a better handle on suicidal thoughts to higher quality sleep, and now hopes others can find hope in his story.
"It was just a new outlook," he said. "It was almost like a timeout from everything that happened. When you deal with depression, you don't ever get rid of it. You just learn to deal with it. Depression isn't something to be taken lightly, but it's definitely workable. I came through it."
Today, Bates works with a Wyoming construction company. He's married and the couple recently celebrated their one-year anniversary. He hopes to go to college once his wife graduates from her own program in Lovell.
'It got everybody's attention'
Arzubi said that Bates' case led directly to the ongoing study.
"The results were good enough that it gave us hope to move forward and study it," he said.
The underlying idea of the study is to look at the impact of depression, suicidality and sleep. Problems with sleep have long been linked with depression, and resetting the circadian rhythm — sort of the body's internal clock, regulating sleepiness and wakefulness throughout the day — can help some to get more sleep.
In addition, the light boxes, which can be purchased online or at home supply stores, have been shown to help with the depressive symptoms in conditions such as SAD.
Hurd and Herrera both noted that the study, and the therapy itself, is a team effort, with physicians, nurses, mental heath workers, social workers, statisticians and others across the hospital pitching in.
But because of the treatment's experimental nature, a lot had to go right for everybody to sign off on the study. They both credit what happened with Bates as a major driver.
"To see a patient turn around like that, it got everybody's attention," Herrera said. "There's a lot of reasons why something like this won't go forward, so we're happy it did."
It's too early to know what the results of the study will be, staff said, but they plan to continue tracking patients and the effect of triple chronotherapy and hope to be able to conduct a larger and more comprehensive study in the future.
Bates said he still uses the light occasionally on days he thinks he might need it and does his best to get at least eight hours of sleep each night. He knows his depression isn't gone, but also knows he feels better equipped to deal with it, thanks in large part to what he believes started with the therapy.
"Things are going to get better and worse," he said. "There are ups and downs, but I can say this: More days are better than not any more."