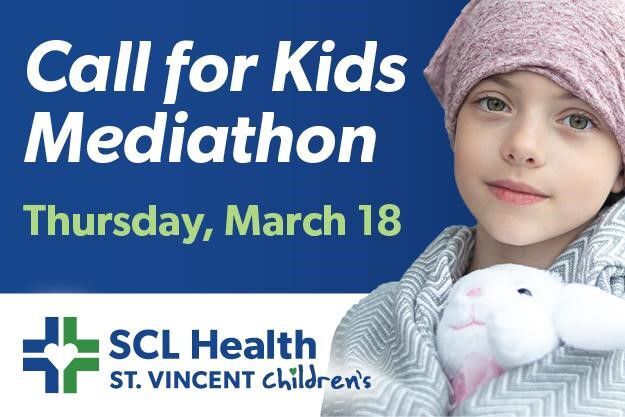 The events and services listed below are subject to change.
St. Vincent Healthcare March - April 5, 2021 Events and Classes
Thursday, March 18 Call for Kids Mediathon 
St. Vincent Healthcare Foundation will present the seventh annual Call for Kids Mediathon. Listen to Cat Country 102.9 from 6 a.m. to 6 p.m. to hear stories of courage, hope, and strength. Funds raised will benefit St. Vincent Children's Healthcare services, including the region's first Pediatric Intensive Care Unit staffed 24/7 by Pediatric Intensivists and the only Pediatric Surgery program in eastern Montana.
By donating, you ensure that our youngest, most fragile patients have the best technology, programs, and facilities to heal close to home. To put it simply, you are giving children the healthy futures they deserve.
Become a Healing Hero when you make a monthly commitment of just $20 or a single gift of $240 or more.
Remember - just one call can make a big difference, so be sure to listen, dial, and donate.
Make the call to show you care to 406-869-3669, or text KIDS to 32037.
Getting Ready for Baby is a free 6 week prenatal education series presenting all the expected and unexpected. We encourage pregnant women and their birthing coaches to attend all six in the prenatal class series, or you may just choose to attend one of the sessions.
1. Introduction, Frequently Asked Questions, Anatomy & Physiology, Discomforts, When to call
2. Stages of Labor, Labor Support, Vaginal Deliveries
3. Anesthesiologist, Pain Management, Equipment, Special Considerations, Cesareans
4. Tour of Mother Newborn unit, Car Seats, Post Partum, What to bring to the Hospital
Registration Instructions:
When registering for the classes, you only have to register one parent. We will consider each registration to be both parents in attendance.
Once you register, you will receive an email prior to the class providing instructions to access the virtual site.
In this fun and interactive class you will learn the Lamaze "Healthy Birth Practices" that are supported by research that examines the benefits and risks of maternity care practices. These practices represent the best things a mother can do to ensure positive, healthy birth outcomes for both she and her baby. You are welcome to attend Lamaze at any time during your pregnancy, but it may be best to come somewhere between the end of the second trimester to the beginning of the third trimester. This class is taught by our area's only Lamaze Certified Instructor and is offered to you free as our commitment to providing quality care for you and your family.
March 13 at 10:00 a.m. - 5:00 p.m.
April 10 at 10:00 a.m. - 5:00 p.m.
Registration Instructions:
● When registering for class, you only have to register one parent. We will consider each registration to be both parents in attendance.
● You will receive an email with instructions to join the class online through Google Meets, you do not need an app to join.
● Saturday Lamaze Class - This class is perfect for women and their support person to attend (please still attend if you do not have anyone to attend with you). We cover all the topics a new mom should know before birth. Returning moms are welcome to attend this class if they would like a refresher of what to expect.
● Class size is limited so please email me to cancel if you are unable to attend. We currently have a waiting list to attend this class.
Dementia Lecture Series
The University of Washington Northwest Geriatrics Workforce Enhancement Center, the University of Washington's Continuing Nursing Education, and the VA Puget Sound Healthcare System Geriatric Research Education and Clinical Center are partnering to bring a series of continuing education programs on geriatric health in primary care.
The series is designed for healthcare providers, including: physicians, nurses, physician assistants, advanced practice nurses, physical and occupational therapists, psychologists, social workers, pharmacists, and other interested professionals.
All lectures will be broadcast live via Zoom Webinar on Tuesdays from 5:00-6:30 p.m. MST. Past and present lectures are available online at nwgwec.org.
Jan. 12 – 3Ds of Diagnosis
Jan. 19 – Rational Preventive Care in the Context of AD
Jan. 26 – Rational Prescribing in AD
Feb. 2 – Care Planning in Early AD
Feb. 9 – ADRD in the Time of COVID-19
Feb. 16 – Ethical Dilemmas in the Care of Older People with Cognitive Impairment
Feb. 23 – Dementia and Driving
March 2 – Elder Abuse & Neglect in Primary Care
March 9 – Caring for the Caregiver
MTGEC will provide a certificate of attendance to all participants for the sessions completed.
MT nurses requiring ANCC credit will need to register and pay the $45 fee from UW School.