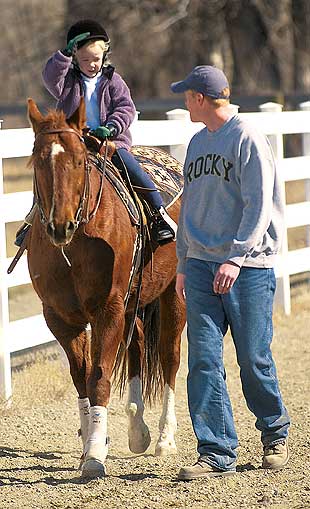 When Katie Bales mounted her first horse a year ago at the Creekside Ranch outside of Huntley, she had no fears.
Her mother had no apprehensions, either.
"She was so infatuated with horses," said Beth Bales. "But I wanted her to have the right experience - I didn't want to just throw her up on my uncle's horse and see what happened."
Now 6 and a kindergartner at Big Sky Elementary, Katie takes a weekly lesson and is constantly learning etiquette about being on and around horses.
Katie is responsible for carrying her own saddle and pad out to either Slick or Nike, the two animals she rides at the ranch. She knows to never stand behind the horse or directly in front of it. She knows a riding helmet is a must.
"And there's no smoking in the barn," she added in a quiet voice.
"That was one of the first rules she noticed," she explains.
Katie is also learning about grooming the horse and feeding it grain and hay after a ride.
"I had ridden a lot when I was younger and I knew a lot about safety," Beth said. "It's so much more than just sitting on the horse. It's about learning to communicate with the horse."
Cathy Rinderknecht, a registered nurse in the emergency department at Deaconess Billings Clinic, knows a great deal about the mental exchange between horse and rider.
Rinderknecht, who has been riding since she was a kid, has been involved with the Pony Club for the past 20 years. Her four children also grew up riding with the club, one of the leading junior equestrian organizations in the world.
When asked about horses and safety, Rinderknecht can immediately rattle off a list of do's and don'ts, and the necessary helmet is the least of it.
"You need proper footwear with at least a half-inch heel," she said. "Cowboy boots are good. You can't wear athletic shoes because they can slip through the stirrups."
A rider should also avoid loose clothing which can get caught on the saddlehorn, Rinderknecht said. A tucked in shirt or zipped up jacket is ideal.
The equipment, or tack, on the horse is also extremely important.
"Everything should fit properly," Rinderknecht said. "You don't want the saddle sliding off when you're on the horse."
Many practices need to be followed when a rider is on the ground, too. Rinderknecht explained a horse can see nearly 360 degrees, but not directly in front or behind, so it's best to approach the animal from the side. The neck and shoulders are generally good places to pat a horse.
"It's not the nose like everybody thinks," she said.
A few other rules Rinderknecht shared:
Always squat around a horse; never kneel or sit.
Stay close to the horse's body or well out of its reach.
Always tie the horse to a fencepost with a safety knot; never the rail of a fence, which could break.
When a horse is tied up, never pass between it and the object it's tied to.
Wear reflective gear if you're riding a horse at night.
On the road, a horse is considered traffic. It should travel with the traffic, not against it.
An inexperienced person should never be left alone around a horse.
In her profession, Rinderknecht said she has seen everything that could possibly happen with a horse and rider happen.
"Whenever you have two moving, living, breathing creatures, they have different ideas," she said. "But most of the things I have seen here (in the emergency department) are very preventable."
Larry McEvoy, an emergency department physician at Deaconess, agrees.
"A horse and rider who are in sync are far better off than someone - a beginner or an experienced rider - who isn't in sync with the animal," he said. "How you and the horse are working together is very important."
McEvoy has ridden horses since he was a little boy. But in the last five years, based on cases he has seen come into the hospital, he has become more proactive about safety while on horseback.
Injury patterns for people and horses typically follow four mechanisms, McEvoy said. Riders are either thrown off the animal, dragged, kicked or rolled on. The worst are the lethal head injuries or a rider who is thrown to the ground and then dragged.
"There's lots of accidents with horses we never see," he said. "People get up, limp for a couple of days and they're fine. We usually remember the big ones, the head and spinal injuries, or the fractured spleen or liver."
More minor injuries, which are also quite painful, McEvoy noted, include broken wrists and ankles and soft tissue contusions.
Many horse-and-rider accidents are just that - accidents - but in a large percentage of incidents, the rider somehow contributed.
"It's no secret we have a high number of horses per capita here in Montana," McEvoy said. "But it's a surprising number of people with horse injuries who have been drinking."
The dynamics between horse and rider, along with the rider's skills, are crucial, McEvoy maintained.
"When you're on a horse, you need to keep in mind you're with an animal that is always potentially dangerous," he said. "It's not that the horse wants to hurt you, but if it's spooked and you happen to be in the way, it's not thinking about you."
McEvoy eventually hopes to start an equestrian safety program at Deaconess, and is comfortable enough with his own skills that his own children ride horses regularly, too.
But safety is always paramount.
"Twelve-hundred pound horses run into each other all the time, but it's a lot different when that 12-hundred pounds is versus your 40-pound kid," McEvoy said.
"Remember a horse is not a machine - it's a being with its own thoughts and ideas. Just getting on one, you need to have a healthy respect for that animal."