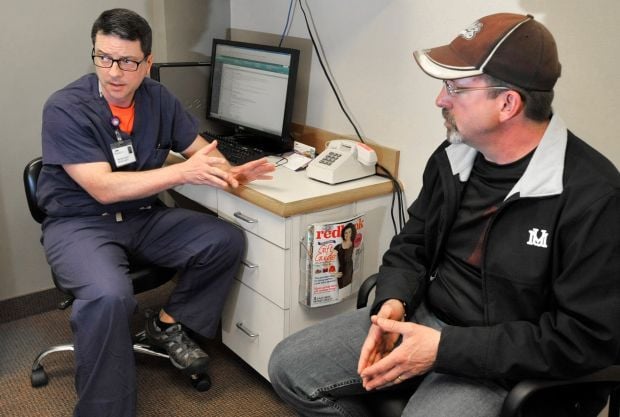 For two years, Scott Wildung experienced daily pain, bleeding and other issues from what turned out to be an overgrown, flat and pre-cancerous polyp in his rectum.
But when he woke up at Billings Clinic on Dec. 11, 2014, after the anesthesia wore off from a newly developed and minimally invasive procedure to remove the polyp, that all changed right away.
"Basically, all my problems I had the last two years were gone," Wildung said. "Everything was the same as it was in my first 48 years."
Performed by Billings Clinic general surgeon Dr. Bret Murray, the procedure is called transanal minimally invasive surgery (TAMIS) and, as far as doctor and patient know, Wildung's case was the first time it had been performed in Montana.
It is billed as a quicker and less painful option for removing some polyps and very thin or early tumors that is a sort of hybrid between previous techniques used by both gastrointestinal and surgery doctors.
Other surgeries for the same purpose can require weeks of painful recovery.
Murray said that TAMIS uses modified equipment to inflate the rectum with gas and use high-definition imaging magnified by as much a 3 ½ times, allowing for a more room to work and a more complete procedure.
"Traditional efforts are hampered by collapsing tissue," he said. "We can use instruments that are more substantial. That allows (me) to do a full, comprehensive removal of a piece of tissue."
Wildung said his surgery couldn't have gone better and that it's greatly improved his life.
About two years ago, he visited a doctor because of recurring rectal bleeding. At first doctors thought he had hemorrhoids and thought he'd just have to deal with it, but new symptoms began to surface.
"It got worse and worse," he said.
When he turned 50 last year, Wildung had a colonoscopy and learned that he had a benign mass that had to be removed.
Soon after, he ended up at Billings Clinic and with Murray.
A grade-school teacher and high school basketball referee, Wildung said that he was up and functioning normally right after waking up from the surgery and was soon back to work with no ill effects.
"I had basically no recovery, no pain whatsoever," he said. "The day that I got done with surgery is how I feel now today."
Murray said that TAMIS works well for tumors that are in danger of becoming cancerous and that surgeries are moving toward being less invasive.
"It isn't the end-all and be-all for everything, but that's the way things are going in general," he said.
It's also not an idea that's new to surgery in general and many of the techniques used in the TAMIS procedure have been used elsewhere in the past. Murray likened it to gall bladder surgery, which used to require a large incision near the rib cage but now requires just a small series of smaller incisions.
But TAMIS, at least in the region, is rare. Wildung said that before getting set up with Murray he'd called hospitals around Montana seeking information, but the closest one he could find that could perform it was in Washington.
"It's pretty uncommon," Murray said. "I think right now I'm the only one in the state that's doing it."
When successful and if they're caught early enough, it can take out an entire tumor.
"We can remove that in the same fashion and call it a cure," Murray said.