The state health department issued "temporary emergency rules" for the state medical marijuana program just days before an implementation deadline.
On Friday, parts of Montana's new medical marijuana program will take effect as state regulators move toward full implementation, which is slated for next year.
As passed by ballot initiative and refined by legislators during the most recent session, the new program promises closer product tracking, a self-sustaining tax system and a more robust licensing system.
The emergency rules released Monday clarify how the Montana Department of Public Health and Human Services will regulate possession limits, testing laboratories and manufacturers of marijuana concentrate during the transition period.
The deadline to have the full regulatory framework in place is April 30, 2018.
"DPHHS is undergoing an extensive administrative rulemaking process that will essentially 'stand up' the program once this process is fully completed next year," said department spokesman Jon Ebelt in an email to The Gazette.
The emergency rules expire in 120 days.
As part of those rules, the health department will be able to issue licenses to marijuana testing facilities on a temporary, case-by-case basis. This is so the facilities can begin to legally handle medical marijuana, though required testing doesn't begin until 2018.
Similarly, the rules allow for the temporary licensing of "chemical manufacturers" that make marijuana concentrate. As part of the 2018 deadline, they will require special endorsements from the state.
For much of the medical marijuana industry, Friday marks the beginning of a transition.
"This is not that dramatic of a moment," said Kate Cholewa, a spokeswoman for the Montana Cannabis Industry Association. "It's maybe a benchmark, but there are so many more provisions yet to come online."
For another part of its emergency rulemaking, the DPHHS clarified the possession rules that at least one group said would leave out some patients.
You have free articles remaining.
Keep reading for FREE!
Enjoy more articles by signing up or logging in. No credit card required.
The Montana Patients Rights Network said that it alerted Gov. Steve Bullock about a technicality in the law language that could have left some patients unprotected for possession of medicinal cannabis.
"This clarification helps safeguard more than 15,000 vulnerable patients, along with the 600 providers and 200 physicians who serve them," according to a statement sent by the organization. "We applaud DPHHS for tying up the loose ends that created distressing gaps in legal protection. "
When lawmakers passed the medical marijuana regulatory bill, they amended the law related to possession limits for three groups: patients who register to a provider, patients who provide for themselves and providers.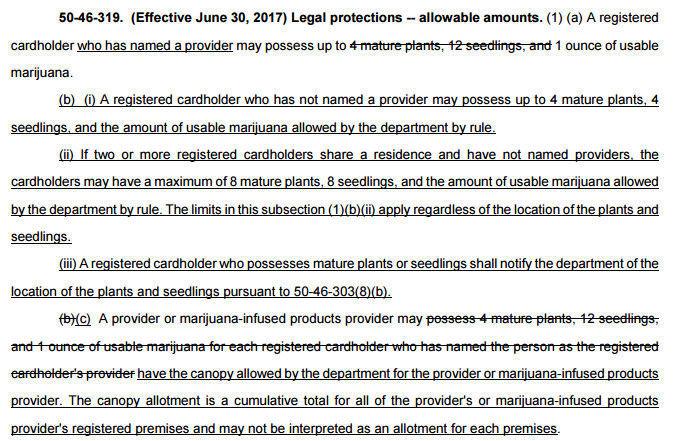 Previous forms of the bill, as well as the initiative passed by voters, didn't distinguish between those types of patients.
In its final form, the bill's effective date for patients who registered a provider was June 30, 2017. For the other two groups, now separated out in the bill, the effective date was April 30, 2018, unless the health department stepped in.
Both the health department and Cholewa maintained that there was no gap for any patients to possess medical marijuana. On June 2, DPHHS spokesman Chuck Council said that the ballot initiative, I-182, covered self-providing patients even though a new bill had since been passed.
The department's emergency rule memo said that the passage of both the bill and the ballot initiative created "understandable confusion" with regard to effective dates.
Despite any previous issue with possession limits, the DPHHS emergency rules cleared the air.
There are now more than 15,000 registered medical marijuana patients in Montana. There were about 7,500 in November.