One quarter of Montana residents are obese and every year Montanans get heavier, according to a study on obesity released Thursday by the Robert Wood Johnson Foundation. 
The study's silver lining is that Montana has the seventh lowest obesity rate in the nation. In other words, 43 states and the District of Columbia are fatter than the Last Best Place. 
Montana improved its standing during the previous year, when it ranked 10th in the nation. But it still saw its obesity rate increase by nearly two points, from 23.6 percent in 2015 to 25.5 percent in 2016. Before that, the state's obesity rate held relatively flat at the 23 percent mark for three years.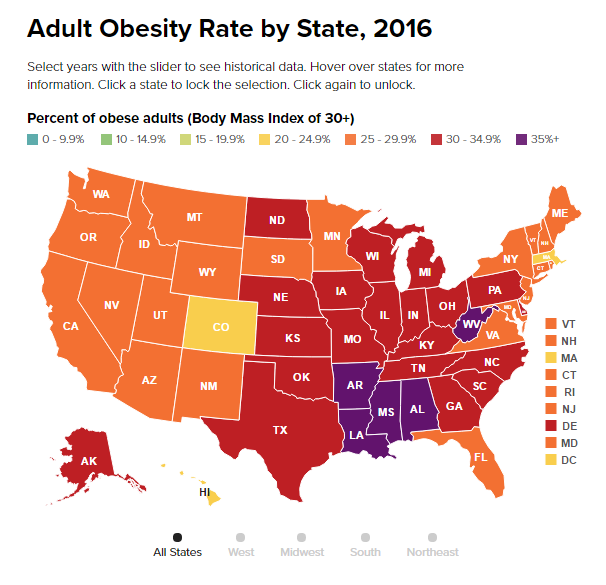 Since 1990, when only 8 percent of the state's population was considered obese, the obesity rate in Montana has climbed almost 17 points. 
"It is disappointing to see the upward slope," said Claire Oakley, director of population health for RiverStone Health, Yellowstone County's public health arm. 
In the last few years, RiverStone has supported or implemented programs that encourage healthy behaviors in the community, specifically targeting physical activity and nutritious eating habits. 
The Gardeners' Market at South Park, created by the Healthy By Design community coalition, was put together as an effort to give South Side residents easy access to fresh vegetables and fruit. The nearest grocery store to the South Side is an Albertsons on the far side of an underpass and busy intersection at Central Avenue and Sixth Avenue North. 
The Gardeners' Market runs from 4:30-6:30 p.m. every Thursday through Oct. 5.
RiverStone has also partnered with Billings Parks and Recreation to launch Park Rx, an initiative that encourages people to get out and get active in the public spaces near their neighborhoods. 
The initiative even includes support from veterinarians, who encourage their clients to take their pets out to a park or trail. 
Some people simply won't get up and out of the house, "but if they know it's valuable to their pet, they'll do it," Oakley said. 
One of the key components of the Robert Wood John Foundation study is an examination of state policy and its impact on public health. 
"Strong state policies play a key role in improving access to healthy food and increasing physical activity which are essential for promoting a healthy weight," the study states. 
The study measures 21 key policy areas — like access to breastfeeding programs and statewide complete streets laws — and scores each state on how well those policies have been incorporated statewide. Montana meets the criteria in 11 of the 21 categories. 
Local initiatives and programs to fight obesity are vital to help state residents lead more healthy lifestyles, but factors like income disparity, neighborhood location and access to safe and open public space can hobble local efforts to improve health, Oakley said.
"That's the value of policy," she said.
Policies enacted by city and state governments create the necessary framework on which communities can successfully build wellness programs. For example, Billings recently enacted a complete streets policy, which will help create safer sidewalks and more walkable space in the city, Oakley said. 
"Plain and simple, we need to get out and be more physically active," she said.