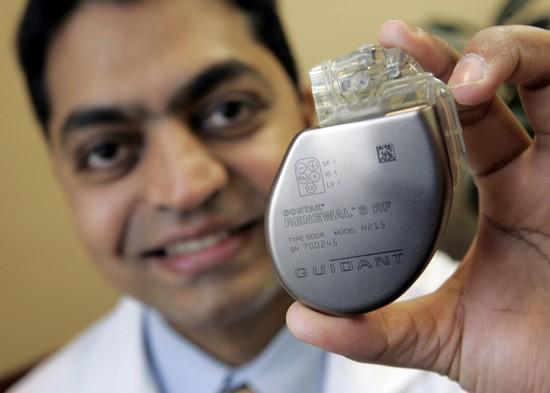 DALLAS - In 2002, after suffering her second heart attack in five years, Betty Newsome was too short of breath to walk from one room to another.
In 2005, her doctor suggested implanting a biventricular defibrillator, to combat cardiomyopathy, a weakened heart muscle that made her susceptible to sudden cardiac death. But it sounded too strange to the Dallas mother, grandmother and great-grandmother, 70.
"For a year, I refused to have it," she says. "Then I had to go into the hospital again, and, when I came out, they convinced me."
By the time she agreed in 2006, a new wireless defibrillator was available. Dr. Amit Guttigoli, a cardiac electrophysiologist at Methodist Dallas Medical Center, implanted the Contak Renewal 3 RF cardiac resynchronization therapy device from Boston Scientific in April 2006.
An internal defibrillator looks like a pacemaker (an implanted battery-operated device to regulate the speed and rhythm of the heartbeat). The difference is that internal defibrillators continuously monitor the heart rhythm to detect over rapid arrhythmias and then restore a normal heartbeat by delivering precisely calibrated and timed electrical shocks.
Using this device, Guttigoli could monitor her health remotely with an Internet-based, in-home unit that wirelessly reads information from her defibrillator.
Soon, Newsome started to feel better.
By November, she was cooking Thanksgiving dinner for 20, complete with turkey, dressing, greens and her famous lemon pies. And she followed that experience with another big family dinner at Christmas.
"I started cooking Tuesday, stayed up all day Wednesday and cooked half the night, and I didn't have any problems," she says. Given that the optimal time to treat a cardiac arrest is less than a minute, the beauty of this device is that it immediately administers electric shocks to the heart as needed, he says. "It's like having an emergency room with you all the time."
And while there was a recall of earlier versions of the Contak Renewal family of defibrillators in 2005, there have been no problems to date with the newest model, which is the one Newsome has.
In contrast, non-wireless defibrillators, which have been around for about 15 years, require patients to visit their doctors every three to six months to download information from the device. If the non-wireless defibrillator is defective, the doctor and patient may not know until it is too late.
That's why Guttigoli prefers the wireless defibrillator.
"It's great for patients who live alone or far away," he says. It's a 21st century twist on doctors making house calls."
Newsome's only regret is that she didn't do it earlier.
"I feel so secure," she says. "This thing is on my nightstand, and it communicates with my doctor while I'm asleep, and he can see changes before I know what's going on. I feel like the bionic woman."
Build your health & fitness knowledge
Sign up here to get the latest health & fitness updates in your inbox every week!