St. Vincent Healthcare wants rural emergency room doctors and staff to think of telemedicine as another tool in their utility belt. 
So Thursday morning, at the annual Montana Health Association convention at the DoubleTree hotel in Billings, staff from St. Vincent set up a mock vehicle accident with an injured child in one of the meeting rooms and patched in emergency room doctor Richard Lammers. 
In the meeting room at the hotel, Richard Payden, a young doctor with RiverStone Health, was treating the child mannequin with his staff, while Lammers watched via a small camera set atop an iPad where he was visible to Payden. 
Behind Payden at the front of the meeting room, a large split-screen television showed Lammers in his office at St. Vincent Healthcare and Payden and his team working on the mannequin there in the room so that those attending could see both. A group of more than 30 medical professionals sat and watched. 
While Payden and his staff worked on the mannequin and reported out their decisions and courses of action, Lammers listened, offering recommendations and then finally giving instructions for preparing the child for transport. The two worked in concert troubleshooting all the issues that would come up had the situation been real. 
"I was honestly very glad to have Dr. Lammer's input," Payden said. "I honestly haven't done a lot of (child) chest tube placements."
Lammers praised Payden and his team. 
"You did a great job," he said. "You gave me exactly what I needed to know and you honed right in on what needed to happen."
Martha Nikides, virtual health grant program leader at St. Vincent, has been watching closely the growth of the hospital's emergency room telemedicine program. The hospital received a federal grant in 2015 that allows St. Vincent to collect data on the use of telemedicine with rural health clinics and demonstrate the value of the practice for rural communities.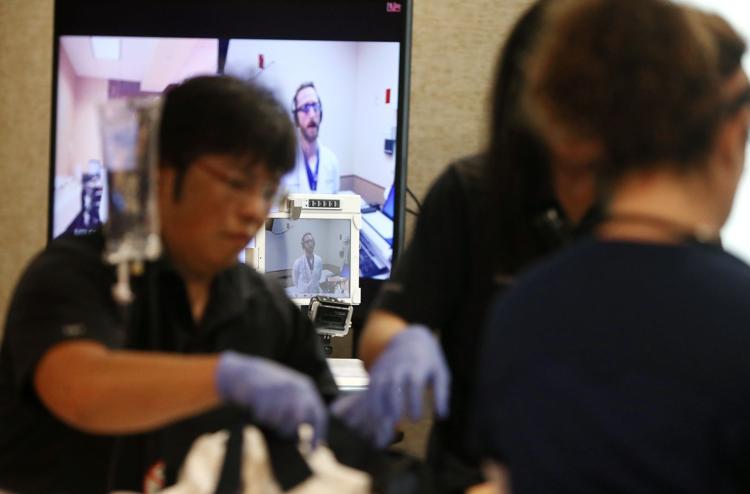 The hope is, as technology advances, rural hospitals will partner more with larger hospitals as a way to improve their patients' access to care in the more remote corners of the state. It can be a challenge to bring established rural doctors on board with new technology, Nikides said. 
"It's a big change for them," she said. 
Currently, St. Vincent averages about two calls a month for an assist through its emergency room telemedicine program. Nikides is hoping through demonstrations like the one they put on Thursday morning, more rural hospitals will take advantage of the technology.