Teresa Stroebe still hurts when she sees the photo, a black-and-white image in an out-of-town newspaper.
"Yeah, that's really tough," she said.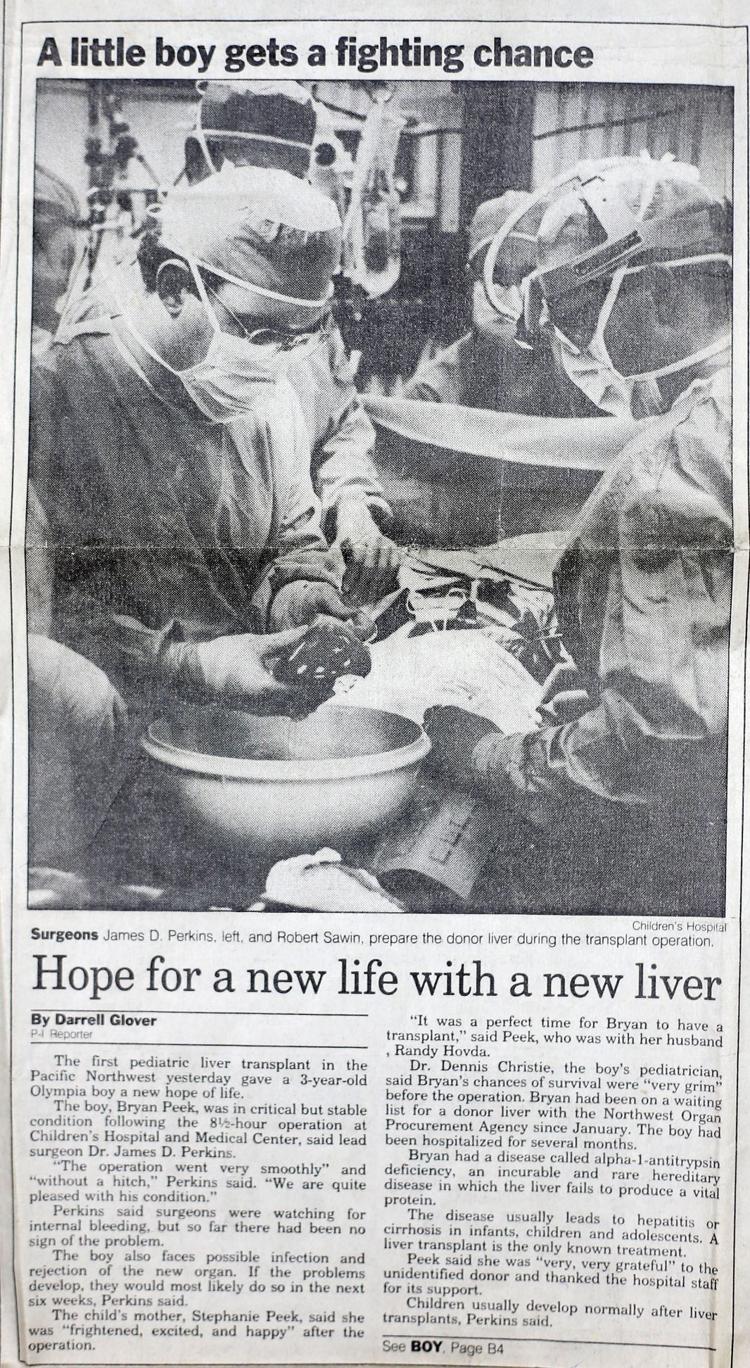 In the photo, a surgeon holds a liver in his two gloved hands, preparing for a transplant operation. It belonged to Stroebe's 4-year-old daughter, Marion.
Stroebe long ago made peace with her daughter's death; it has been almost 30 years now. And sitting in her sunlit kitchen earlier this month, she spoke tenderly of Marion and smiled as she remembered the girl's attachment to an old brimmed hat — she thought she was a cowboy — and her direct way of approaching people she was curious about. 
Bryan Peek hardly remembers the operation. He was 3 when he went into surgery at Seattle Children's Hospital to receive a new liver. He never knew who it came from. He only knew his life-saving surgery was born of tragedy. 
"I've always wondered," he said. "I've always wanted to know."
One Saturday morning
When Teresa Stroebe talks about the accident, her face clouds over just a bit, and the old lines of grief become a little more apparent. 
"It was May, and it was an absolutely gorgeous day," Stroebe said.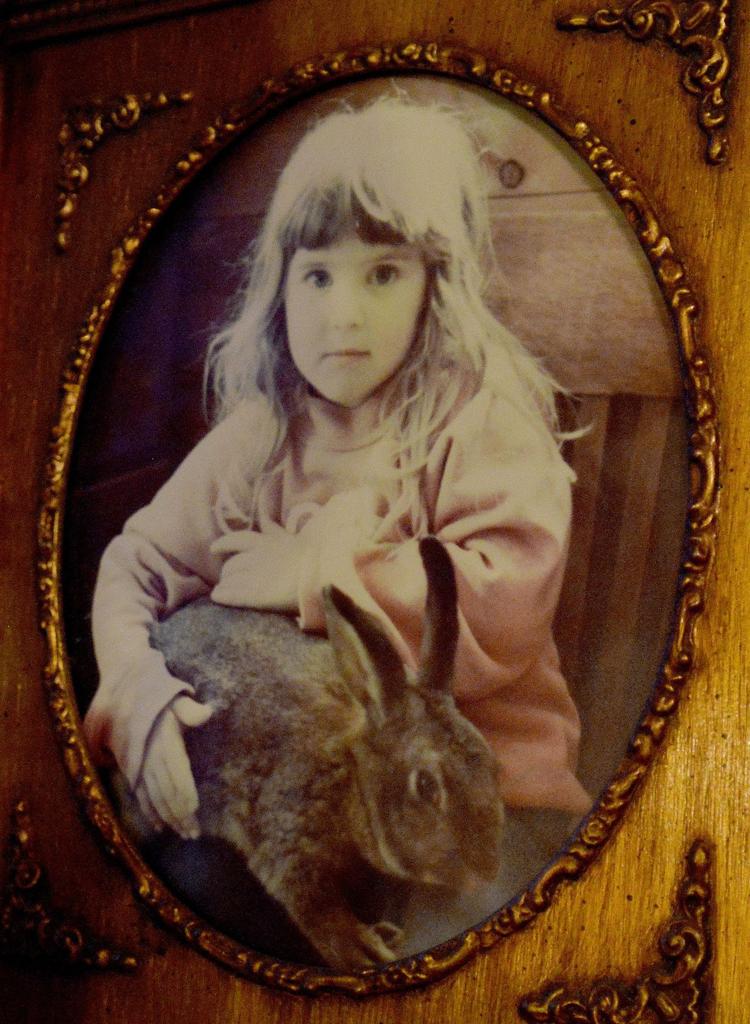 Marion was playing that morning, May 5, 1990, with her 6-year-old brother, Frank. It was a Saturday, and Teresa's husband, Conrad, had come home with doughnuts while Teresa had spent the morning with friends, her first outing since giving birth six weeks earlier. 
When Teresa got home, Marion exclaimed to her, "Dad bought doughnuts!"
That day a work crew was fixing up the back deck, which stands about 12 feet above the ground. A single door on the Lockwood home's second floor leads to the deck, which at that point had several missing planks. The door had been shut while crews worked. 

Maybe that made it more attractive. 
While she was playing in the house with her brother, Marion got up the stairs and through the door to the deck. She fell 12 feet to the concrete floor below, hitting her head. She was rushed to the hospital, where doctors were unable to stop the bleeding in her brain.
By Sunday, they told the Stroebes that Marion was most likely brain dead. Before they turned off the machines, they asked Teresa and Conrad if they were willing to donate their daughter's organs. 
"Conrad signed the papers," Teresa said. "I couldn't."
Waiting for the pager to beep
Bryan had been at Seattle Children's Hospital most of that spring as doctors worked to keep his liver disease from getting any worse. 
"A month before he turned 3 he really started deteriorating," said Vickie Peek, Bryan's grandmother. "He was a light mustard color, and his hair had turned white."
Shortly after Bryan was born, he was taken by his mom to the hospital, puffed up and yellow, like he had jaundice. Eventually he was diagnosed with alpha-1 antitrypsin deficiency. It's a hereditary disease that prevents the liver from producing an important protein, causing hepatitis or cirrhosis and shortening the person's lifespan. In small children, it's especially devastating.
Bryan really had no idea just how sick he had been. He was too young to remember, and the scarier details of the ordeal his mom and grandmother had never really shared — until a couple weeks ago, when he first heard the Stroebes might be interested in reaching out to him.
Up until that point, he'd had no idea who the Stroebes were and that it was their daughter who had donated the liver.  
Filled with new questions about his transplant operation, Bryan excitedly relayed this information to his mother and grandmother. And so at his 30th birthday earlier this month, they pulled him aside.
His grandmother explained that shortly before they learned a liver had become available, doctors were preparing to tell his mother that Bryan likely didn't have long to live. 
"It was very, very dire," he said. 
The disease has no known cure, so a liver transplant is really the only way to successfully treat it. Bryan had been placed on a transplant list four months earlier, and the family had been given pagers that would beep when a liver became available.
It was an enormously stressful time wrapped in lots of guilt, Vickie Peek said. 
"We knew what had to happen for Bryan to get a liver," she said. 
As they counseled with the donor service and their doctors about receiving the liver, they got to a place where they were able to make peace with it. 
"The only way we got through it was because we knew some child was going to live on through him," she said. 
It was the day after Conrad signed the papers, as Bryan's mother and grandmother were sitting at the hospital, when the pagers went off. The next day, May 8, 1990, Bryan was in the operating room for the surgery.
It would be the first successful pediatric liver transplant in the Pacific Northwest.
And it was all over the news.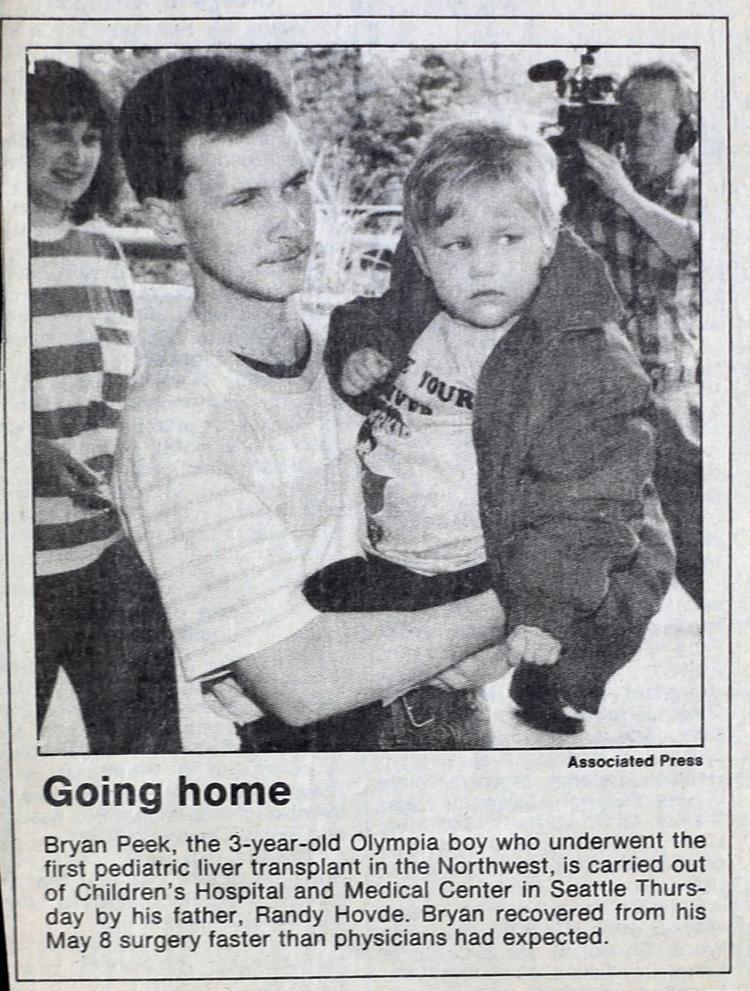 Connecting the dots
You have free articles remaining.
Keep reading for FREE!
Enjoy more articles by signing up or logging in. No credit card required.
When organs are donated, the donor family and the recipient are kept confidential. If the two sides choose to correspond, the organ donation service acts as an intermediary, delivering messages while protecting confidentiality. 
It was because of this policy that the Stroebes received an unsigned letter from the Peeks shortly after the operation. 
"We had mixed emotions that day," Bryan's grandmother wrote the Stroebes. She wrote the letter for her daughter, who simply wasn't emotionally up to the task. "Happy and excited because our wait had finally ended; frightened because our child was now facing major surgery; and sad because we thought of the life that was lost. You were in our thoughts and prayers in that moment, as you have been so many times since."
The Northwest Organ Procurement Agency, a group that served Alaska, Washington, Idaho and Montana, arranged the organ donation (the company was bought out by LifeCenter Northwest in 1997). Officials there had let Bryan's family know that the liver they were to receive had come from a 4-year-old child in Montana. The agency informed the Stroebes that the recipient of Marion's liver was a 3-year-old boy in the Seattle/Tacoma area. 
It was fortuitous for Teresa, who had aunts in Seattle. One was an engineer for Boeing, and the other was a nurse, who was riveted by the news of the transplant. Watching all the coverage, aware of Marion's death and the family's decision to donate, the aunt knew immediately the liver was Marion's.
She collected much of the news at the time and mailed clippings to the Stroebes, including the transplant photo Teresa still keeps in a notebook at home. It was a lot of information to absorb, and some of the details, like the photo, were painful. In some ways, the family wasn't sure what to do with it all. 
And after all these years, they still grapple with knowing what to do.
They've held onto the newspaper clippings, thankful to know Marion saved a little boy's life. The clips sit with other papers and mementos of Marion's life and death, including photos of Marion and the letters of gratitude from Bryan's family and the organ donation company.
But they've never tried to reach out to Bryan, despite knowing his name and where he lived.
The family has felt like it would put enormous pressure on Bryan to somehow respond. He doesn't need to, Teresa often says. The organ donation has always been viewed by the family as a gift. 
Earlier this year, the Stroebes decided telling their story to the Gazette was perfect middle ground. They could put their story out there, and maybe Bryan and his family would see it, leaving them free to respond how they choose. 
A phone call from a Gazette reporter, then, was the first time Bryan had learned anything about the family who gave him his liver. 
The missing puzzle piece
His family had no news clippings and no indication that they'd ever learn who donated the liver or learn about the tragedy behind it. Bryan didn't really start thinking about it until he was a teenager. 
Up until then, the transplant was always just an operation, an experience he'd had as a 3-year-old and one that he almost doesn't remember.
"It's just a part of who I am," he said. Kids in gym class would always ask about the long, semicircle-shaped scar on his stomach.
But as he grew older and understood better the operation and the experiences around it, he wanted to know more. 
Bryan has always felt a connection with his donor that he has trouble explaining. He and his family would drive through Montana most summers traveling to South Dakota to visit family. And every time, that trip across Montana would weigh on him.
"I can't even fathom to put a name or a face (to the donor)," he said. "I can't explain the feeling."
Now the donor is a real person with a real family, and it feels like the Earth is shifting beneath Bryan's feet. 
He compares it to a puzzle. As he lives his life and adds pieces to it, there's always been one piece that's missing, a part that he feels should be there but that he can't identify.
In many ways, it's guided his entire life. 
"I'm big about being positive and doing the right thing," he said.
One thought that has always given him direction has been, "I hope that whoever's liver this is, that they could look down on me and be happy with who it went to."
Simply put, he hasn't wanted Marion to be disappointed with him. 
Life moves on
Bryan is married now and has three kids, ages 8, 4 and 2. Because his liver disease was hereditary, he and his wife had fears that Bryan's condition would manifest in their children. That hasn't been the case. 
But having children has given him new insight into the tragedy the Stroebes must have gone through on that May morning 27 years ago. 
"I think about it with my kids," he said. "I can't imagine."
He takes nothing for granted. He's long been an organ donor, and so has his wife. Their children are donors as well. In the year after his surgery he had a few organ rejection scares. And until he was 10, there were a battery of tests every few months. But for the past two decades, Bryan's life has been mostly normal. 
He still takes anti-rejection medication night and morning and has to go in for yearly blood tests. He avoids medications that are hard on his liver; he can't take aspirin, and he can have ibuprofen only in emergencies. His doctors forbid him from smoking, and he doesn't really drink.
Marion's death changed the Stroebes. Teresa talks about it leading to a spiritual awakening for her and Conrad.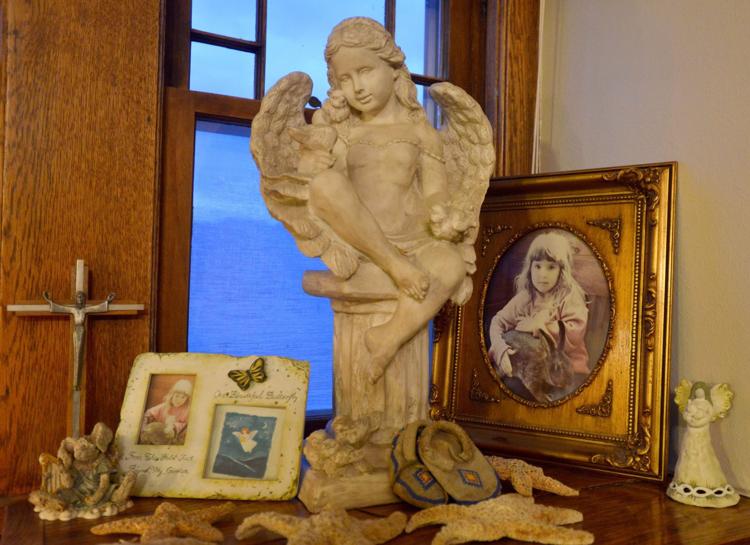 "I believe in eternity," she said. "More so than I did before." 
Like Bryan, the Stroebes have felt a connection they couldn't quite explain. A news photo of a 3-year-old Bryan leaving the hospital gave Teresa some comfort. He looked a lot like Marion. 
The Stroebes and the Peeks have yet to meet. In fact, they still haven't spoken. But for the first time, they both know the other is out there and they're eager to connect. 
Bryan is still struggling to put into words the emotions almost too powerful to process. He's spent the last weeks since he learned about Marion and the Stroebes absorbing a thousand different thoughts and feelings. Mostly, he's overjoyed to finally learn who the 4-year-old was and the connection she has to who he now is.
"I owe them and their little girl Marion my life."