On a recent weekday morning, J.D. Weber stood in place, one foot on a foam cushion while he gingerly tapped four colorful cones with the toes of his other foot.
The exercise has been part of the 37-year-old Huntley man's physical therapy routine at St. Vincent Healthcare for the past four months. His goal is to regain the ability to balance, which he lost when he suffered a stroke in January.
Married and the father of three children ages 10, 8 and 7, Weber enjoys an active lifestyle, camping, riding four-wheelers and taking family trips to water parks. A forklift operator at Costco in Billings, he also helps coach football at Huntley Project High School and is a staff sergeant with the U.S. Army Reserve.
Weber was blindsided in the early morning hours of Jan. 20 by the sudden onset of symptoms, which included an inability to stand without falling over combined with nausea and vomiting.
"We had spent all day in Colstrip at my son's wrestling meet," Weber said, during an interview after his session. "I didn't feel bad at all."
He watched a football playoff game that night at home with his family and in-laws. Weber fell asleep on the couch and awakened at about 1:30 a.m.
"I felt completely sick," he said. "I got up, fell over to my right, tried to get up again and fell into the dog cage. I crawled to the bathroom sicker than I'd ever been."
He didn't experience any paralysis, difficulty speaking or swallowing or loss of vision. Instead, he was struck by vertigo, which affected his ability to remain upright.
At the hospital, an MRI confirmed Weber had suffered a stroke, said Dr. James Richards, a neurologist at St. Vincent who treated Weber. It was unusual, Richards said, because Weber "was so young and healthy."
Richards started his patient on routine medications, including aspirin, and a cholesterol drug to reduce inflammation in the blood vessels. A physical therapy evaluation was conducted to see what help Weber needed to restore body function.
Richards also ordered other tests to pinpoint the reason for the stroke.
"Looking at a stroke in a younger patient, we look at less-common causes," Richards said. "That includes, sometimes, blood-clotting disorders and particular heart problems that might generate a clot that could potentially leave the heart and go to the brain."
In Weber's case, imaging studies revealed he had a congenital heart defect, what's called a patent foramen ovale (PFO). Dr. Rob Terry, a cardiologist at the Billings hospital, got involved at that point.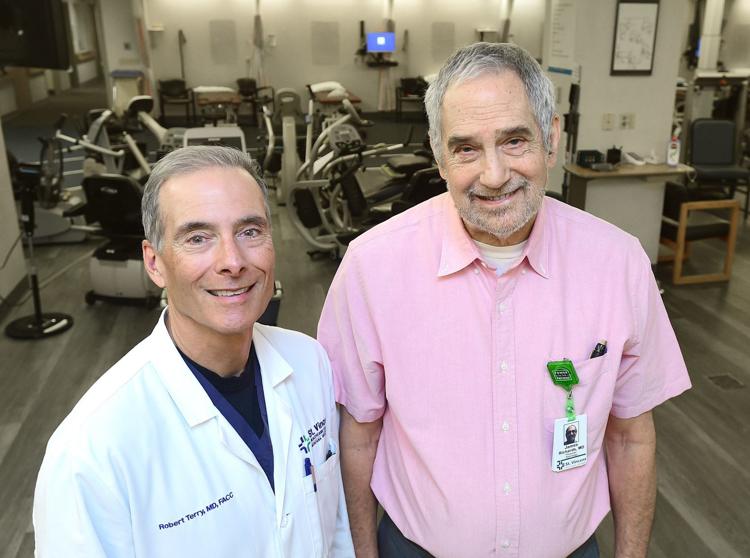 A PFO, Terry said, has to do with a tissue flap located between the two upper chambers of the heart, the right and left atria. Before birth, the flap between the two chambers allows oxygen-filled blood from the mother to bypass the baby's lungs, "which makes less work for the baby," he said.
Typically, that flap closes within a few months after birth. But in 25 to 35 percent of people, it doesn't seal all the way.
"Most of the time it's benign, and we don't treat it just because it's there," Terry said.
But in rare cases, such as Weber's, the small opening can allow a blood clot to travel from the left chamber to the right chamber and continue to the brain, where the clot blocks a blood vessel. In Weber's case, it occurred in the back part of his brain.
With no other known causes for Weber's stroke, a decision was made to close the PFO to help prevent the possibility of a future stroke, Terry said. The outpatient surgery took place about three weeks after Weber had the stroke.
Using a minimally invasive, catheter-based technique, Terry and his team placed a wire-mesh device designed to stop blood flow through the PFO.
For a period after the outpatient surgery, patients are typically prescribed aspirin and an anti-platelet drug until the body forms tissue around the device.
"Once that happens, the patient is good to go," he said.
Weber is one of at least eight stroke patients diagnosed with PFOs since October. If their condition hadn't been detected and treated, they'd be at risk for additional strokes, Terry said.
"This doesn't completely eliminate the risk, but it greatly lowers it," he said.