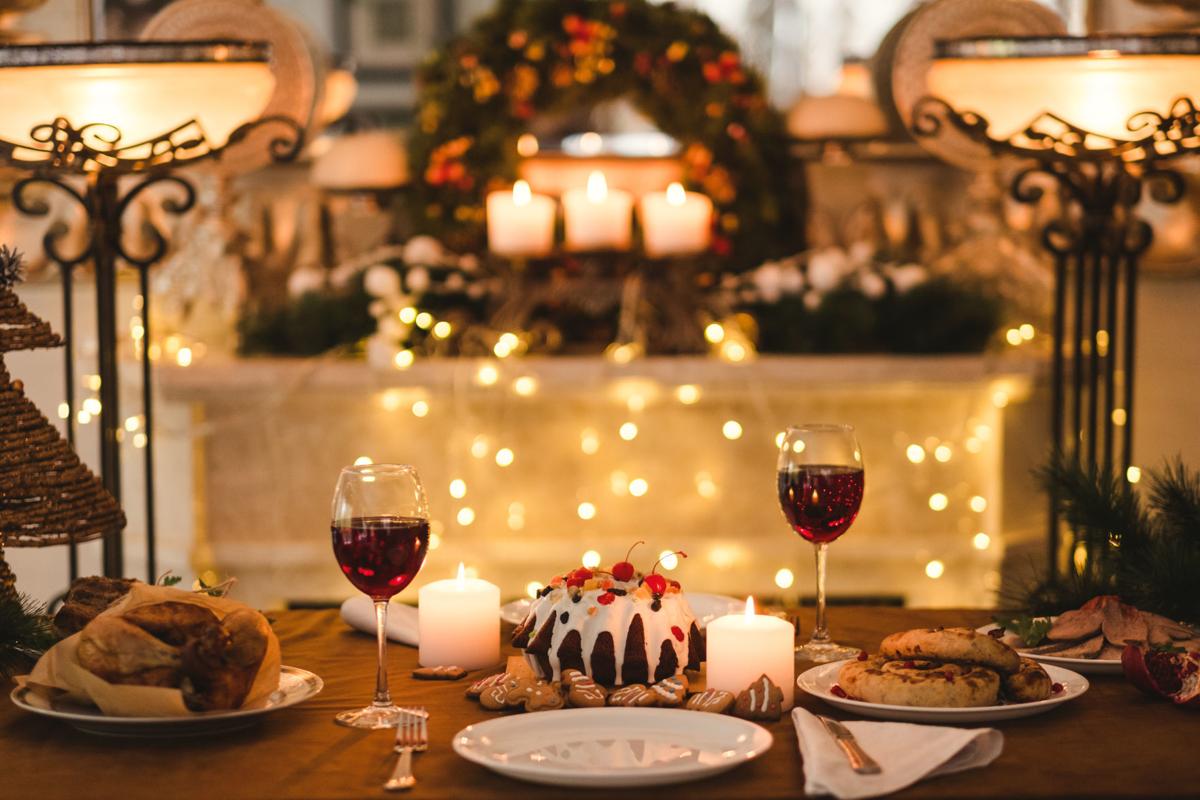 Lighting can create ambiance – a welcoming atmosphere – which is of special importance when hosting holiday meals. Proper lighting can make people and food appear vibrant – their colors true, not washed out. Lighting can even impact the enjoyment of a meal as it plays a role in boosting the brain. Lots of light will cause people to feel more sociable, cheerful and alert, and consequently dampen their appetite. Bright light also tends to make conversations during mealtime more animated.
Now let's face it, with family get-togethers, animated conversations aren't always the goal. A dimly lit room, on the other hand, encourages people to eat well, turning the atmosphere of the table into one reminiscent of those long winter nights spent by an open fire. Soft lighting brings a cozy intimacy to any table.
Here are 5 steps to consider when creating the right light for your holiday meal.
#1 – Layer the light. Layering the light around the table will allow you to adjust the light so it's not too harsh or dark. When adding layers of light, think both vertically and horizontally – examine both layering options from the floor to the ceiling, as well as those from one side of the room to the other. This layered lighting will allow you to experiment and make accommodations for more or less natural light. Utilizing a combination of lamps, ceiling lights and wall sconces, you can create a perfectly lit meal.
#2 – Choose fixtures wisely. A large pendant light over the dining room table will create an even glow that doesn't steal the spotlight, but instead gives important pieces – your dining ware, food and centerpiece – the ability to shine. Wall sconces create a soft light that adds to the ambient light in the room. Sconces can be pretty and scalloped, reminiscent of the ones used to illuminate '30s shop windows; they can swivel and direct their light in order to draw attention to an accent table or chair with small illuminated pools of light; or they can direct their light up to a vaulted ceiling or one with unusual details.
#3 – Employ dimmers. Make sure your dining room lighting is on a dimmer. To do that, you will not just need a dimmer switch, but you will also need to ensure both your bulbs and your fixtures are dimmable. Even the most formal of spreads become relaxing and intimate when the lights dim.
#4 – Accessorize. Candles create a soft glow that adds ambience to the table. If you're using candles on your table, never choose scented ones for mealtime. If there's room in the dining room for a floor or table lamp, such as one on either end of a buffet, consider its shade. If the shade is lined with reflective material, it will help cast light in whatever direction you desire, whereas if the shade is opaque, its light will be diffused throughout the room.
#5 – Light the pathways. Mare sure entrances and exits are appropriately lit. Longer hours of darkness coupled with spiked ciders demand pathways be well lit and safe.
Sprout new ideas
With our home & garden newsletter!