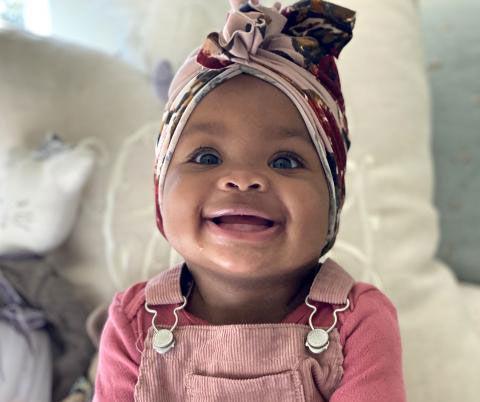 Magnolia Earl of Ross, Calif., has been named the 2020 Gerber spokesbaby, and the company said she is the first Gerber baby who was adopted.
Magnolia was named the winner of Gerber's 10th annual photo search.
What a way to celebrate her first birthday, which is Saturday, May 9.
Magnolia's mother, Courtney Earl, said, "Magnolia has brought so much joy to everyone she meets. Her personality is beyond happy and joyful.
"On May 9, 2019, we received a call from the Adoption Agency that there was an expectant mom that was in labor and wanted to talk to us! We pulled off the highway, got a chance to connect with her amazing birth parents, and a few hours later, this sweet baby girl was born. Adoption is incredibly special to our family's story. Winning Photo Search is an opportunity to tell Magnolia's story and shed light on all the beautiful and different ways families are made."
Magnolia has two older sisters, Whitney, 12, and Charlotte, 8, who also is adopted.
Mom told Gerber that the girls love to play together, "especially splashing in the kiddie pool and dancing to the Baby Shark song."
Gerber's logo features the original Gerber baby, Ann Turner Cook. In 2010 the company launched Photo Search in which parents submit photos of their children.
Magnolia will be featured on Gerber's social media channels and in marketing campaigns. Her family will receive $25,000, $1,000 worth of Gerber clothing, $1,000 from Walmart and phones with a year of free service from Verizon.
Be the first to know
Get local news delivered to your inbox!