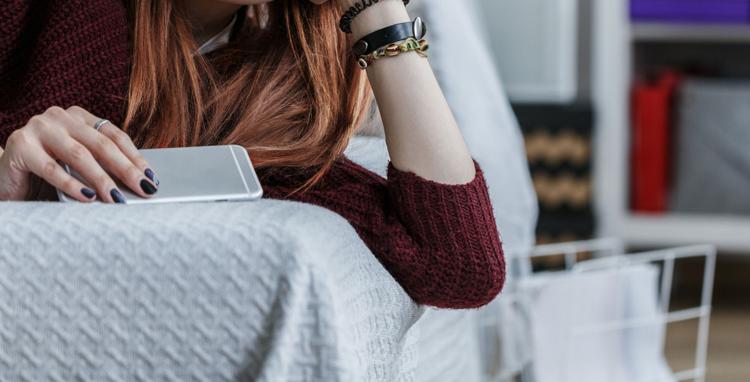 Martina Velasquez of Weston was 13 when she first became aware of secret societies for depressed teens on Instagram and Tumblr. "When you are in a position of absolute depression and hopelessness, you think you are completely alone," she said.
"Girls like me were posting about devastating break-ups and romanticizing suicide," Velasquez said. "After a while, you start thinking, I should give in to this. I should feel sad."
Velasquez said she spent many after-school hours on her cellphone, looking at photos and videos of teens comparing who could cut themselves deepest and starve themselves more, or reading sad quotes about no longer wanting to live. "That negativity is definitely not good for your mental health," she said.
"I am mature enough now to know I was feeding off of it and getting worse," said Martina, now 16 and outspoken about keeping younger girls off these sites. "In that time period, I could have killed myself."
Megan Moreno, a pediatrician specializing in adolescent medicine who conducts research about teen social media use, says young people tell her they use social media to feel connected with others just like them, using hashtags to unlock the doors to secret communities where they can bond over being depressed or suicidal. But at the same time, there is a lot of harmful glorification of suicide that adults either aren't aware of or don't know how to monitor, she said.
"I have been told about things online by patients that no amount of (searching) would pick up," Moreno said. "Cryptic messages … like 'Elvis has left the building' … Only kids who are in that circle would know what that means."
The teens that the South Florida Sun Sentinel spoke to said when deeply depressed or anxious, they go first to social media — rather than reaching out to adults or counselors who won't relate to their pain.
Teens say they want to feel less alone, and sharing their pain gives them instant access to people who "get" what they are going through. A Boca Raton high school student said she posted in a suicide-related Instagram community that she felt sad and no longer wanted to live. Dozens of teens direct messaged; "if you ever want to talk, I'm here," one wrote, and "can relate," wrote another.
For all the empathy the teens share or receive, an element of toxicity can push someone over the edge, not only virtually but in reality. In some of these cyberspace worlds, self-destruction and suicide are not only normalized but encouraged.