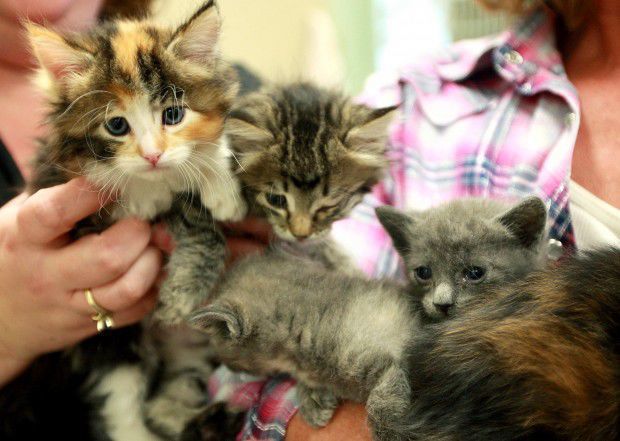 Stressing the importance of not forgetting about the well-being of pets during a pandemic, some pet advocacy organizations have delivered thousands of pounds of pet food to the Wind River Reservation. And more is on the way.
A first shipment of food from the Animal Adoption Society and Humane Society of the United States was dropped off in Fort Washakie on Thursday, with another scheduled to follow early next week in Ethete. Another shipment should arrive in another month, totaling 22,000 pounds of food for pet cats and dogs on the reservation, which organizers of the effort say should be viewed as important parts of families during this public health crisis.
The food will be given out to families that may be struggling to afford food for their pet cats and dogs.
"To not have to see a pet suffer during this time is important and to not have people feel like they need to surrender a pet because they don't have the money to pay for them right now is important," said Carrie Boynton, executive director of the Jackson-based Animal Adoption Center. "The last thing you want is someone to have to give up a family member because they don't have the ability to feed them. I mean, that would be really tough in an already challenging time."
Boynton's Jackson-based Animal Adoption Center has hosted 21 clinics on the reservation and 56 across the Wyoming since 2009, with 3,300 animals being spayed or neutered on the reservation to help its overpopulation problem, according to a Thursday press release announcing the donation.
After realizing a planned spay and neuter clinic on the reservation would likely have to be canceled because of the coronavirus, Boynton said that she still wanted to help the pets somehow and consulted with a contact at the Humane Society of the United States. Within about 10 days the first shipment was delivered.
The economic fallout from the COVID-19 pandemic has hit the reservation hard, tribal leaders have said. With low oil prices and closed casinos — which not only help pay for tribal services but also employ hundreds of tribal citizens — tribes have had to lay off or furlough employees and limit services. The unemployment rate was already high among tribal citizens, with Eastern Shoshone Business Council Vice-Chair Karen Snyder saying in an April letter to the state's Congressional delegation and federal government that it could now be as high as 90 percent for Eastern Shoshone members.
"We are very grateful to have a partnership with HSUS during this time of need," David Meyers, Tribal Health Director of the Eastern Shoshone Tribe, said in the press release. "The support and well-being of family loved ones (extends) to our furry friends as well."
Though far from the only food-related relief effort underway for tribal members, it is the only one so far meant to help families with pets, Boynton said in a Friday interview. She said the food is being split up evenly between the Northern Arapaho and Eastern Shoshone tribes, adding that she's not sure how many families or pets would benefit from the help but that it could be in the hundreds.
"Our hope with this was to be able to just complement the amazing things that other groups are doing with regard to human resources and make sure that we are able to serve the furry family members as well."
The Humane Society, which ordered the food, used a formula based on population, average household size, number of families living below poverty level and the average number of dogs and cats in a home to determine the size of the order, according to the press release.
The Humane Society is also sending pet food to reservations in Idaho and Montana.
"The Humane Society of the United States quickly realized that the COVID-19 outbreak would be particularly difficult for members of our rural communities who were struggling before this crisis hit to access pet food," said Lisa Kauffman, Senior State Director for Idaho and Wyoming. "Pets mean so much to their families, especially during times of isolation and fear, and the shipments of food we were able to provide enables us to keep people and their pets together during these difficult times."
Concerned about COVID-19?
Sign up now to get the most recent coronavirus headlines and other important local and national news sent to your email inbox daily.