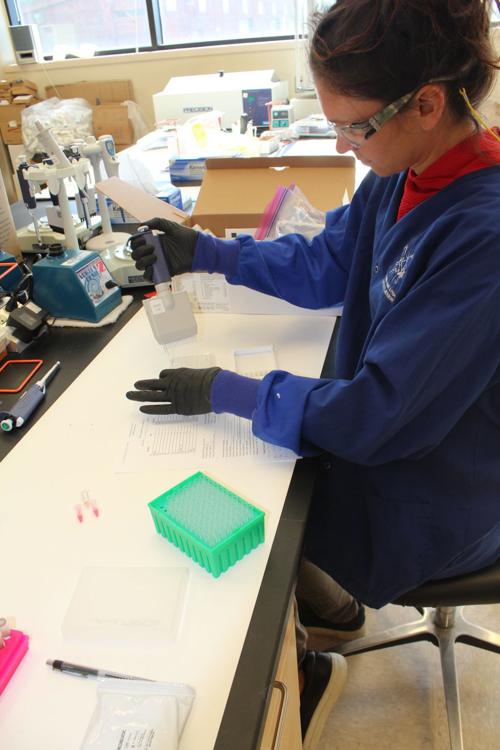 SHERIDAN, Wyo. — Results are in from the first in-depth look at chronic wasting disease prevalence levels in the Powder River Mule Deer Herd, which encompasses hunt areas 17, 18, 23 and 26 between Sheridan and Gillette, north of Interstate 90. Testing of samples from the 2019 hunting season show an overall 11% prevalence rate for adult mule deer bucks, though rates varied by hunt area.
"This prevalence rate is higher than expected but still well below rates found in southeast Wyoming where the disease has been present for many more years," said Sheridan Region Wildlife Coordinator Dan Thiele.
Wyoming Game and Fish has conducted surveillance for chronic wasting disease since 1997. The disease is detected by removing and testing a set of lymph nodes from the neck of a deceased animal. Initial surveillance efforts focused on collecting as many samples as possible statewide to detect CWD as it spread into new areas of the state. The disease is now identified in most deer hunt areas of the state, necessitating a change from detection to determining more precise prevalence rates.
Beginning in 2019 a new sampling regime was implemented that focuses collection efforts on specific deer and elk herds in the state on a rotational basis. Each year one herd in each department region is selected for intensive monitoring. Department personnel collect as many samples as possible from harvested animals during the hunting season in the targeted herds. Collecting a large number of samples allows wildlife managers to determine a statistically valid prevalence level. The Powder River Herd was chosen for the first targeted herd testing in the Sheridan Region because the herd has had limited testing to date.
Emphasis was placed on collecting samples from adult mule deer bucks, but samples were also collected from mule deer does and white-tailed bucks and does. The goal was to collect at least 200 samples from adult buck mule deer and the goal was surpassed with 293 collected.
Bucks are targeted because Wyoming's conservative mule deer hunting seasons result in primarily antlered harvest. As has been found in other hunt areas, prevalence rates were higher in bucks than in does. Also, white-tailed deer had a higher prevalence rate than mule deer, though fewer samples were collected.
Adult mule deer buck prevalence ranged from 2% in Hunt Area 17 to 14% in Hunt Area 26. Sixty-three adult buck white-tailed deer were tested with a resulting prevalence rate of 35%. The high prevalence rates for both mule deer and white-tailed deer suggest CWD has existed in hunt areas 23 and 26 for some time. The higher rate in white-tailed deer could be due to smaller sample sizes but is thought to be a true representation of the prevalence rate due to higher densities of deer along creek corridors.
Although elk were not targeted in this year's Sheridan Region monitoring, hunters brought in 83 samples. Three of the samples tested positive for a prevalence rate of 4%. Additionally, a number of deer were also tested from non-targeted hunt areas from hunters who wanted their deer tested.
"We appreciate the help of hunters, landowners and outfitters in collecting these samples," Thiele said. "We had great cooperation from hunters allowing samples to be collected from their animal when approached by Game and Fish personnel in the field, at a check station or at meat processing plants, and we had many hunters bring their animal into the regional office for testing. This great voluntary cooperation allowed us to surpass our goal of 200 samples. And the more samples we get, the more confidence we can have in our prevalence estimates."
The targeted Sheridan Region deer herd for 2020 is the Pumpkin Buttes herd, encompassing hunt areas 19, 29 and 31 located between Buffalo and Gillette, south of Interstate 90.
Be the first to know
Get local news delivered to your inbox!