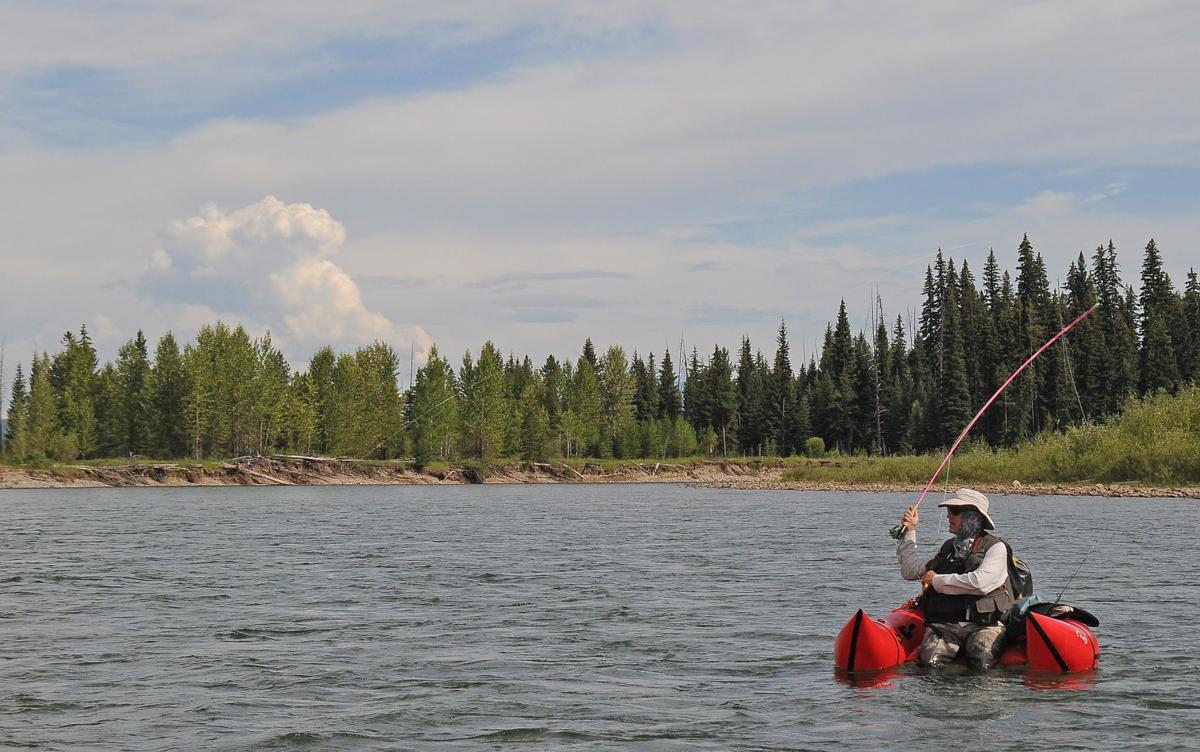 Few anglers have floated into the tight river waters and upon the rough lakes that Macauley "Mac" Lord has made a habit of fishing by himself on a small inflatable boat.
"What people don't understand, this blows my mind, you want to go fishing, you get up in the morning and want to go fish, your raft is of no value to you unless you have a buddy," he said. "That's not quite true. You could row and anchor or pull up to get out and wade fish. But I'm in a one-person drift boat that I control with my fins. I can fish the whole river."
The 60-year-old Lord's passion for exploring rivers and lakes was launched decades ago when small inflatable pontoon boats first hit the market.
"When I was a kid growing up in Kentucky I fished in this little inflatable boat," he said. "I had to scull with one hand, and I'd fly cast with a popper in the other.
"When I got in the OutCast in the U-boat with the Force Fins for the first time — that was in 1990 at a pond in Maine — I made like three kicks and all of a sudden it was like my whole life changed. I'm serious. I had an epiphany, my whole life opened in front of me and I thought: this was the boat I was always supposed to be in."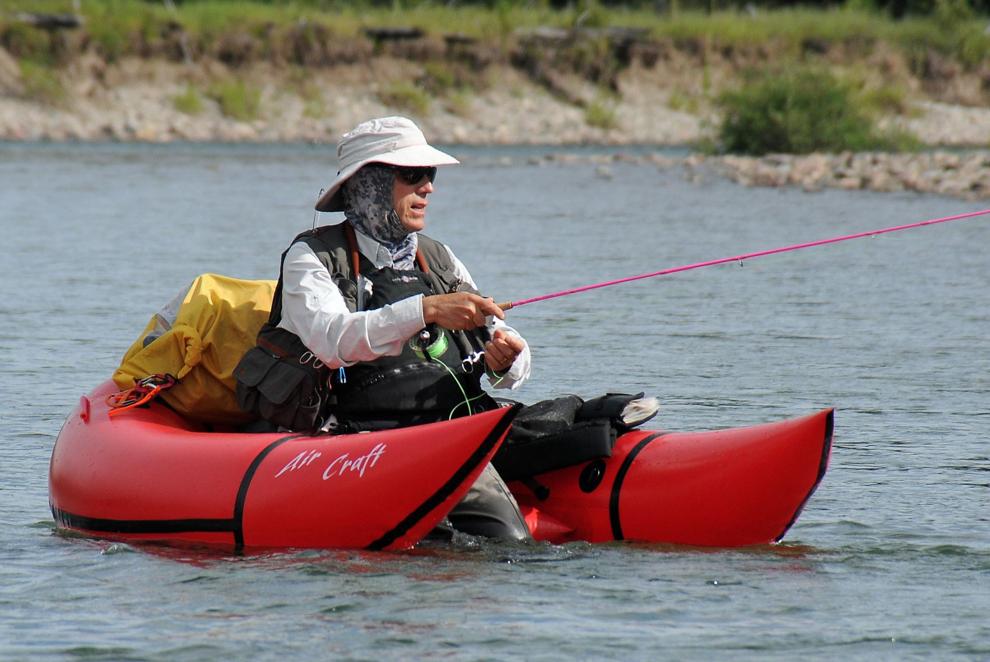 Tuber
Because of his passion for the float tube system, Lord has become a self-proclaimed evangelist for the unique sport, the latest in a long line of fishing-related activities on his resume. More than 20 years ago he helped form the L.L. Bean Outdoor Discovery School's fly-casting program in Freeport, Maine. He's written several books and articles on fly fishing as well as received the Lifetime Achievement Award from the Federation of Fly Fishers.
In July he was visiting a Montana friend and float fishing the North Fork of the Flathead River, along with other waters, prior to attending the Fly Fishing Federation's annual fair in Livingston. Even on the low waters of that northwest Montana river, Lord had no problem navigating small rapids, paddling past huge log jams and trolling through deep emerald pools while fishing for westslope cutthroat trout.
"Once I started doing (flat water) I realized I could float almost any river in the world if I want to," Lord said following his float trip. "Obviously not the rivers people would seek out for whitewater thrills, but the rivers that, you know, fishing guides in Montana would want to float, like the Yellowstone, the Missouri, the Madison."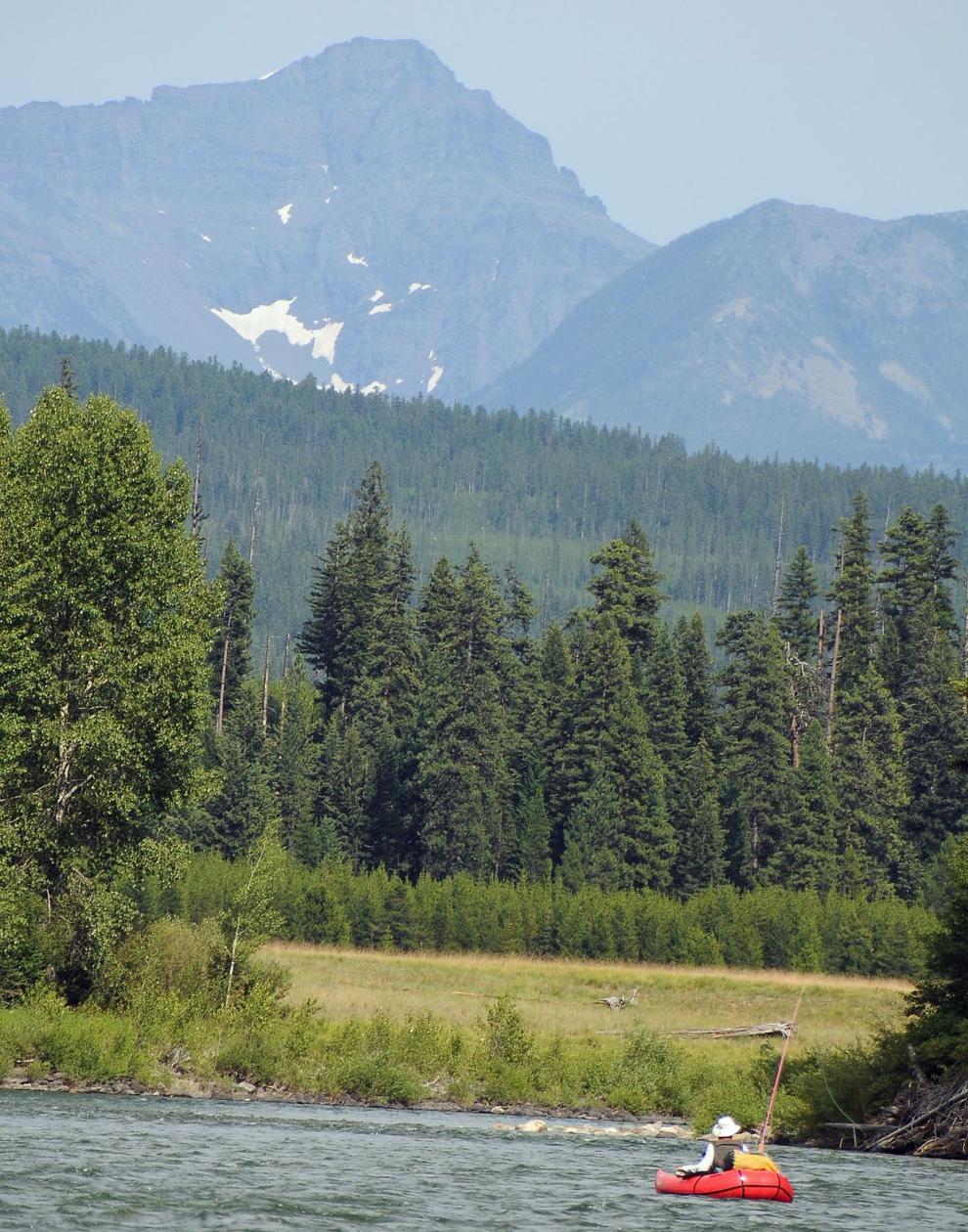 Game changer
This year Lord's experience with the sport of float tube fishing kicked up a notch when Dave Scadden Paddle Sports in Utah unveiled its latest lightweight pontoon boat, the Air Craft. The boat weighs in at a scant 3.6 pounds, making it the most portable float tube currently on the market.
"I can float just about anything you dare drop into," said Scadden, who started using float tubes designed for lakes while fishing rivers in the 1980s.
Those first tubes, which looked more like actual tire innertubes, were "great as long as you knew how to read rivers," he said.
Unfortunately, some folks got tipped over in the tubes, couldn't kick out and drowned. That prompted Scadden to develop a new design that would work better in rivers and wouldn't entangle anglers if they tipped. He launched a line of pontoon float tubes in 1986. Now he makes more than 60 models of boats and ships them worldwide.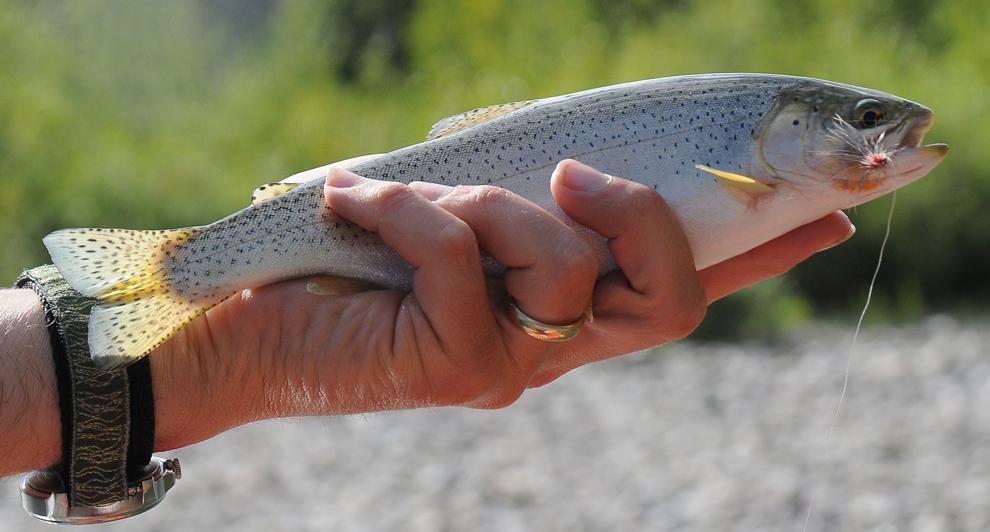 Lightweight
The Air Craft was designed for folks like Lord who value portability.
"I hate hiking into a mountain lake and standing on a rock casting with the fish rising just out of reach," Scadden said.
The light boats are rated to handle 700 pounds.
Lord has used his Idaho-made OutCast Fat Cat float tube, which weighs in at 12 pounds, to haul camping gear for solo float trips on rivers like the South Fork of the Snake in Idaho. He's used the Air Craft on day trips below Hauser Dam on the Missouri River in Montana.
"In my boat I launch at the dam with my backpack on board," he explained of floating below Hauser. "I float down to Beaver Creek and walk back up on the trail with all of my gear. That's like a $700 trip for somebody who has to pay (a guide). Because he has to hire somebody with a power boat. You know how they fish it: they motor up to the cable below the dam, they drift down using indicators, then they motor back up. And they have to launch way, way down."
Scadden's Air Craft, with a hand pump and seat included, retails for $1,100 but was on sale for $599 on his website last week. The OutCast Fat Cat was priced online at $379 and has a 300-pound weight capacity.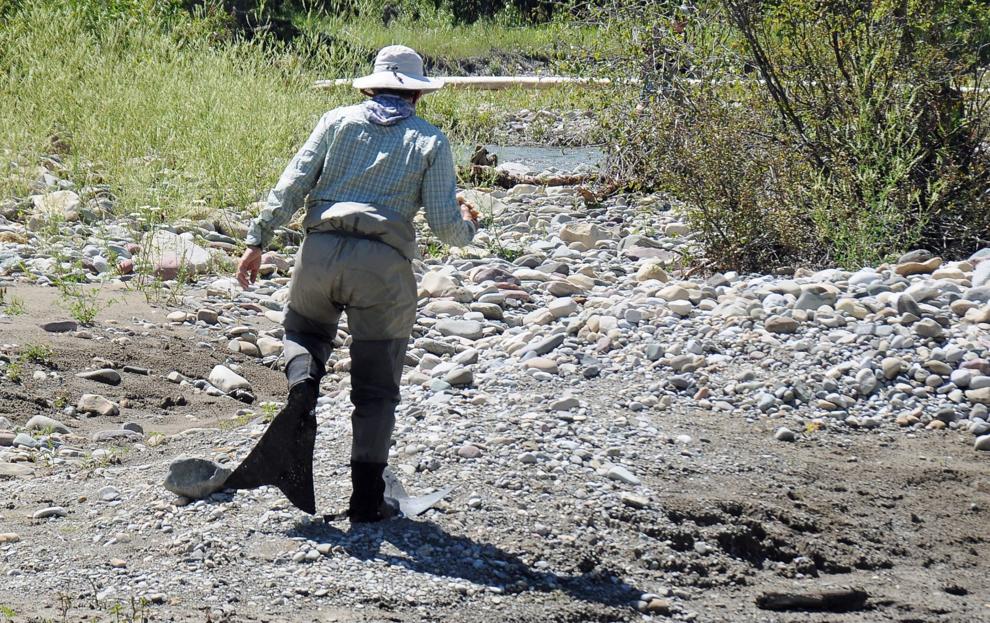 Additional stuff
The other gear necessary for such float tubing is a pair of chest waders, swim fins and on rougher waters a lifejacket. Lord said he has gotten his basic gear down to less than 20 pounds.
When he goes on a multi-day trip he only carries about 40 pounds of camping gear, clothing and food on his boat, although he's fished with more weight on the back when his 80-pound Labrador retriever, Moses, has joined him. He also packs an emergency locator beacon to call for help or text his wife and friends to let them know he's OK on remote trips.
The freedom of the small, light boats has given Lord decades of pleasure exploring waters around the West as well as in remote locations like Argentina.
"You're fishing water that doesn't get fished very much," he said. "It's very cool. It's like total freedom. And it's awesome exercise. You're doing a crunch all day long because of the way you kick."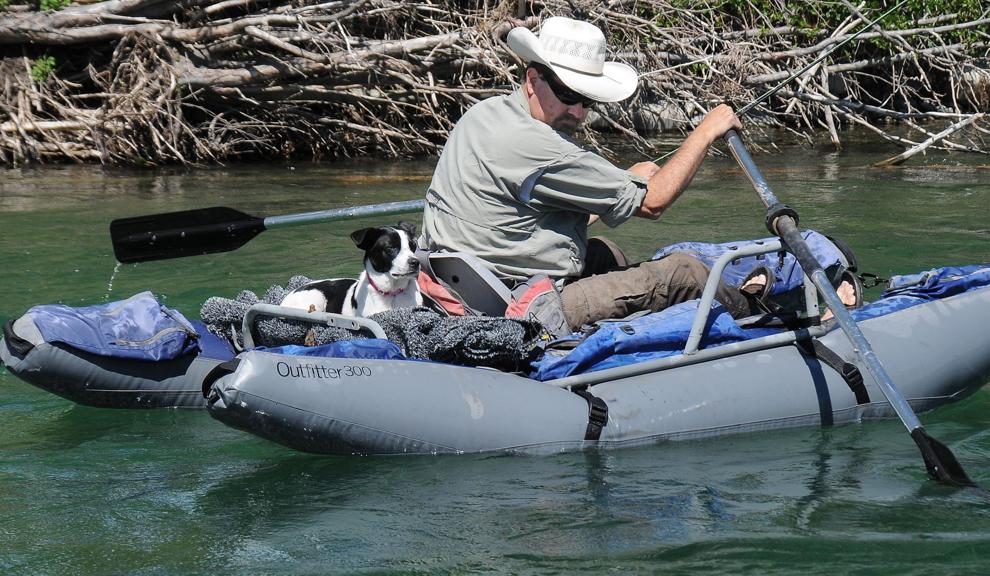 Spreading the word
"I've been an evangelist for this for like 25 years now and people don't, I mean my friends in Maine all have these boats because I took them out and they went, 'Oh my god this is awesome.' And they bought boats and now they do what I do," Lord said. "But out here you never see people doing what I'm doing."
Instead, it's more common to see people using the small pontoon boats that require oars, as well as either a truck or car to haul them when inflated. The drawbacks are they are heavier, bulkier and it's difficult to fish and row at the same time.
"We sold hundreds of those over the years, but guys are getting tired of dealing with the frames and the oars," Scadden said. "Now we have two dozen models of boats without frames capable of carrying 1,000 pounds, they are light and portable. They can carry enough gear for a 10-day trip."
The gospel of Lord
In addition to all of his fishing and teaching, Lord also volunteers as a prison chaplain. So it's not surprising when he compares his float-tube based fishing trips to a spiritual experience.
"I don't believe in the concept of a heavenly afterlife where people like us get to go and there are fish everywhere," he said. "But I tell you when you have this kind of ability to get in a little boat and go down almost any blue line it kind of feels that way. Like you look at any blue line on a map, any lake, and you go: 'I could go there, I could fish that.' And obviously drift boat people can't do that. Pontoon boat guys can't do that. Packraft people can, but the difference is — again — to control their boat they've got to (row) and they can't fish at the same time."