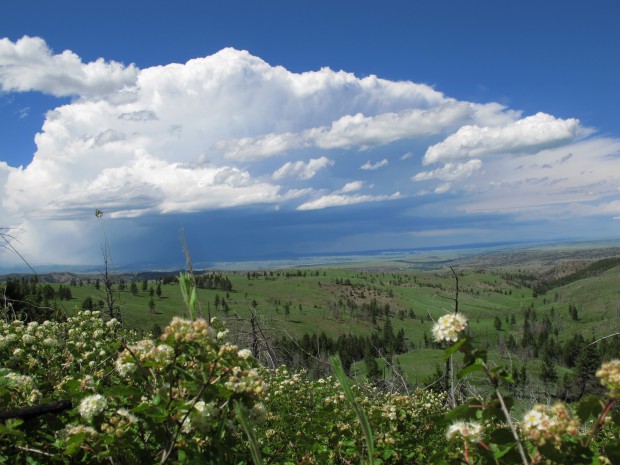 More than 40 Montana sporting groups have signed a letter sent to Sen. Jon Tester and Rep. Denny Rehberg earlier this month urging them to back initiating an eminent domain action on Cherry Creek Road, south of Big Timber.
"We think it's an important issue," said John Gibson, president of the Public Land/Water Access Association, who authored the letter. "There are so many other things going on that it dropped off the radar, but it hasn't for sportsmen."
Cherry Creek Road has been a bone of contention for more than a decade. The road crosses about a quarter-mile of property owned by Lee Smoot, as well as three-quarters of a mile of land co-owned by George Matelich and Michael Goldberg. Matelich and Goldberg's property abuts the Gallatin National Forest.
Last year, Matelich and Goldberg allowed nonmotorized access across their land to reach the forest. But the Forest Service and PLWA claim the road has long been a public route and shouldn't be restricted. In 1999, PLWA (then the Public Land Access Association Inc., or PLAAI) signed a 10-year deal with Matelich and Goldberg to keep the road temporarily open in the hope that the Forest Service could negotiate a deal before that agreement expired. That never happened.
In a letter to the congressmen, Gibson wrote, "During these ten years the U.S. Forest Service was to explore options with the landowners that would have resulted in public access opportunities into the future; from what we understand the landowners have not been receptive to the terms explored. It now appears the only option left for the USFS is to use eminent domain to a obtain a permanent easement. Before this process could be initiated, however, the USFS was required to complete a very thorough analysis; this has been accomplished."
The letter goes on to urge the congressmen to start an eminent domain procedure.
"To this end, we need and therefore request your support to allow the U.S. Forest Service to initiate the eminent domain process unless there can be resolution of the matter in the next 30 days," the letter stated.
In a request for a response to the letter, Jed Link, Rehberg's spokesman, emailed that, "Denny is aware of the issue and he's actively monitoring it to ensure a balance between private property rights and access is met."
Tester spokesman Aaron Murphy wrote: "As chair of the Congressional Sportsmen's Caucus, Jon understands the importance of access to public lands. Jon wants the Forest Service to work with landowners to find a solution."
Last July, Matelich responded to a request to answer emailed questions from The Billings Gazette regarding the Cherry Creek Road dispute. Below are the questions and Matelich's written responses:
Some people believe you reopened access to the road now as a way to shoot down the Forest Service's attempt to gain right of way through eminent domain proceedings. You can say to the agency, "See, you don't need to declare eminent domain, the public can access the property now." What was the reasoning behind reopening the Cherry Creek Road across your ranch to limited access now?
A number of my neighbors have regularly requested permission to cross my property and I decided that it might be easier for everyone to open up access as we have rather than continue to respond to periodic requests.
The road was open under a temporary agreement with PLAAI (now PLWA) until 2009. Why did you close the road in 2009? Why not just extend the circumstances?
We closed the road because that was the deal agreed to with the PLAAI, who was satisfied at the time with a 10-year arrangement. When this arrangement was put forward for six months of public comment before it was finalized by a Montana court, not a single person or entity, including PLAAI or the Forest Service disagreed with the 10-year agreement or that this access is through private property. It would appear that now the Forest Service does not respect the Montana court and its decision and feels it can play by its own set of rules, and the PLAAI publicly states that the deal it made should not be honored.
If your main concerns are the public misbehaving on your property and the devaluation of your property that would come with a public easement, what other offers have you made to the Forest Service to remedy the access situation?
First of all, I have difficulty understanding why the responsibility to remedy this desire for access is my responsibility. I have not taken anything from anyone. Nevertheless, I have offered on several occasions to pay all of the costs associated with the Forest Service extending one of its existing roads in the area so that it could reach the approximately 3,500 acres one is allowed to drive on in the National Forest adjacent to my property. The Forest Service has told me that they do not want to go to the trouble of securing permission to build a road at my expense on their land when they believe it is easier to expend the time and funds necessary in order to take my land by claiming eminent domain.
If reasonable compensation is a concern for you and the other landowners, would you and your partner consider selling an easement across your ranch if the price matched the property's real value? Or is that not an option?
What is the real price of privacy, peace and quiet when spending time at home with family and friends?
The public may think you reopened the road (last spring) simply because the Forest Service is wielding the heavy hammer of eminent domain, and if that case were to fail, you may repeal access once again. Is there any guarantee you and the other landowners would be willing to sign that would ensure public access in perpetuity?
Would you want to give permanent unlimited access to the public through your yard and home? The law of this state, according to a Montana court, is that the road is now and always has been private property. I do not feel I should be treated differently from anyone else in Montana. Who else has voluntarily given up their privacy and opened their home and property to permanent unlimited public use? I would like to have the ability to know who is crossing my property just like any other land owner in Montana, or America for that matter.