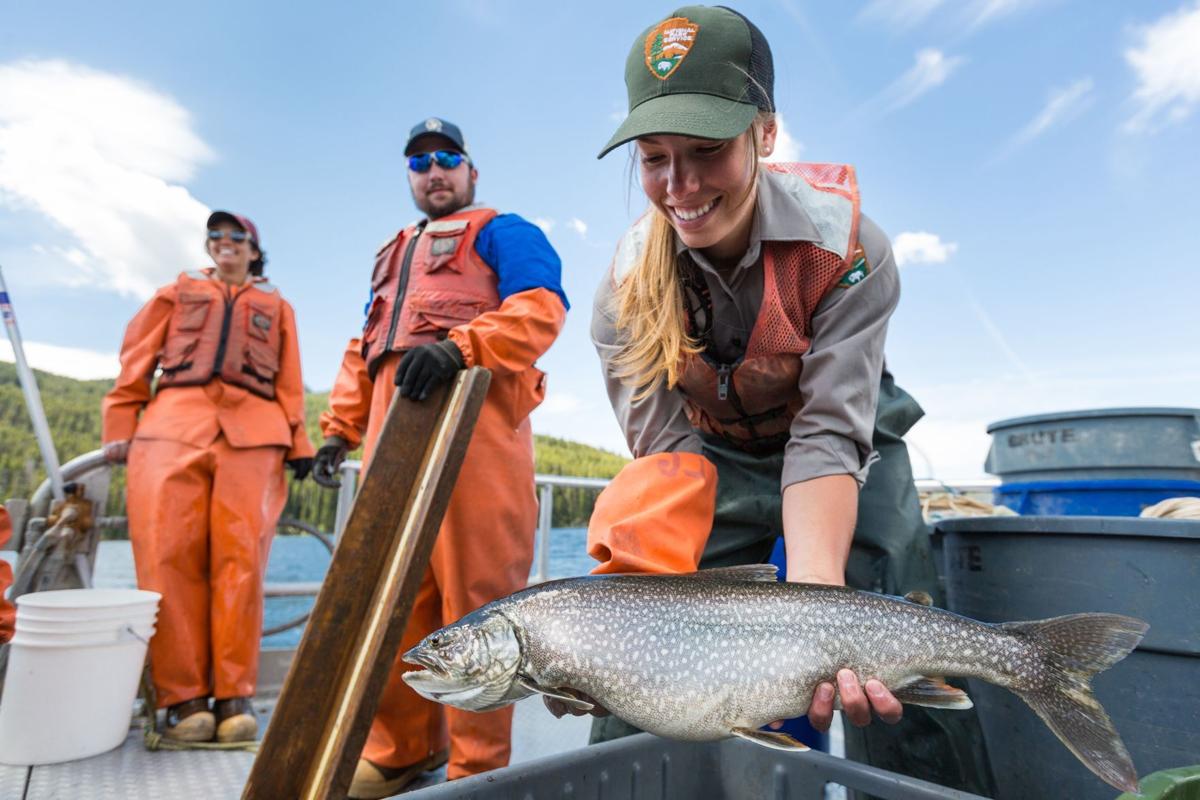 Two summers ago, a gillnetting crew working to catch invasive lake trout on Yellowstone Lake pulled up its nets and found a small, hand-sized fish that sent shock waves through the fisheries biologists working to save threatened cutthroat trout in Yellowstone National Park.
The small fish was a cisco, and it was far from its native waters, the Great Lakes. How the out-of-place fish got there is a guess because there are no natural connections, but the implications of another invasive fish gobbling up the same food sources needed by native Yellowstone cutthroat trout are profound.
"(The cisco) was a 3-year-old female," said Todd Koel, a Yellowstone fisheries biologist overseeing the park's lake trout suppression project. "We did the otolith microchemistry work, essentially looking at the chemistry of the bone of the fish, and we determined that it was born in the lake, meaning that it has parents and it likely has thousands of siblings."
The discovery comes at a time when Yellowstone is making significant progress in the suppression of invasive lake trout discovered about 25 years ago. As the lake trout population mushroomed and fed on cutthroat, the native fish — once numbering in the millions — saw its population crash. The ecology of the park, especially surrounding the lake, was changed. Those animals depending on abundant cutthroat disappeared or changed their diets. Tributary streams, once teaming with spawning cutthroat trout from the lake, had few if any migratory fish.
Since the turn of the century, the lake trout population continued to grow, threatening to eliminate the cutthroat. The park, began spending nearly $3 million a year in suppression efforts and by 2012, lake trout numbers stopped increasing and cutthroat health began a slow rebound.
"I've got great optimism that the adult lake trout population has declined dramatically over the last six to seven years, and as a result, the cutthroat are coming back," said Dave Sweet, Trout Unlimited's Yellowstone Lake special project manager. "We're seeing higher numbers of cutthroat, plus more importantly, we're seeing more young cutthroat, the smaller sizes."
Koel said the lake trout suppression project will get its annual review by an independent panel of scientists soon. The group is comprised of experts on lake trout and people who know how best to battle them.
"They're interested in trying to help us," Koel said. "They review our information from the year and our population modeling. They give us feedback, going forth every year. Due to the magnitude of the program and the cost, we want to make sure we're not doing things in a vacuum."
Koel said many of the scientists giving feedback are familiar with lake trout and cisco behavior, having worked in Midwestern lakes. He said most of his team's focus has been on lake trout, but after the discovery of the cisco, they spent last summer hunting the lake trying to find others.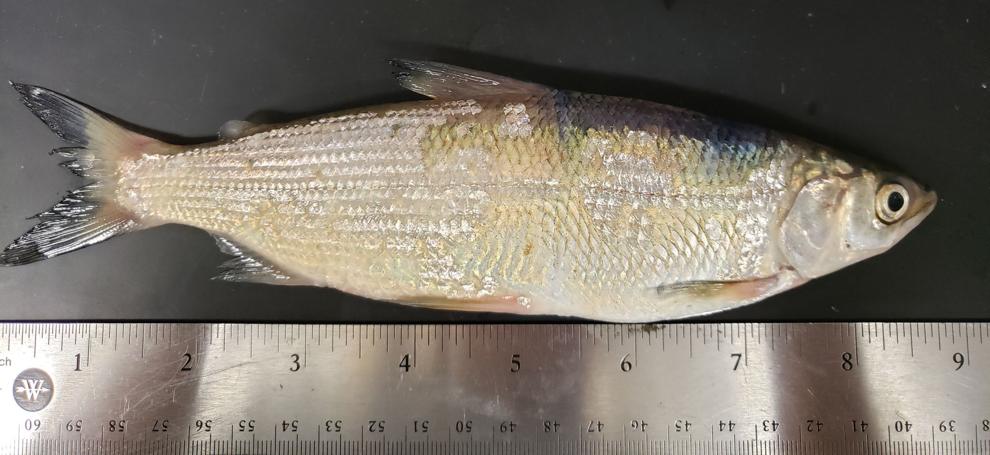 "This is not a good discovery at all," Koel said. "We're trying to learn more. We're doing netting specifically for cisco now just to try and find more. Not suppression netting like we do for lake trout, but we're doing targeting netting in ways that we could maybe catch another cisco."
Besides netting, the park crew has been opening up gillnetted lake trout stomachs since 2019 "and we haven't found another cisco yet." Cisco are a preferred forage fish for lake trout. He admits, though, that it's like playing the lottery because only a few thousand stomachs are checked compared to more than 300,000 lake trout. "The advantage goes to the species when it comes to detection, especially new invasions," he said.
A third method his team plans to use to detect cisco in the lake is environmental DNA sampling. This type of sampling tests lake water looking for DNA of specific fish.
Koel finds it irritating that his staff now has to be concerned about another invasive species after all the publicity made over unwanted lake trout.
"The biggest punch in the gut for this one is that these cisco did not swim to Yellowstone Lake on their own," he said. "We're in this battle with lake trout all these years — that was a 25-year report that I published last year — and then we still have stuff like that going on. It's hard. It's a hard one to swallow for sure."
Koel said he speculates that someone carefully transported the fish to the lake thinking it might be a source of food for lake trout.
Biologists have realized that lake trout need to be suppressed on more than one front.
"We're in a spot where we've got the lake trout into significant decline," Koel said. "Meaning since 2012 we've reduced the adult portion of the lake trout population by over 80%. It's a huge decline in adult reproducing lake trout, which is great, but they also are still able to produce a lot of young despite that decline in adults."
Koel said they have found success in killing lake trout eggs before they hatch.
The park hopes to crash the lake trout population, but Koel said it probably won't happen for another three to five years. The problem is that a few adults who escape gillnets can produce thousands of offspring, replacing those captured each summer through gillnetting efforts. One female lake trout can produce up to 9,000 eggs each year.
Biologists using telemetry technology have identified at least 14 sites where lake trout spawn. At one site, near Carrington Island in the West Thumb area of the lake, Koel and his crew have found success killing lake trout eggs by showering organic pellets from a helicopter over spawning beds. The pellets decompose and remove dissolved oxygen from the water long enough to kill the eggs. Within a few weeks, the pellets wash away and the water returns to normal.
"We've eliminated all recruitment from that site the last two years," Koel said.
The program plans to complete environmental assessments on some of the other spawning sites in coming years to attack the fish before they become adults.
"If we can kill these embryos at these sites in the fall, when the entire lake trout population is depending on the production from those limited sites, we can get to a point where we are treating a majority of those — all of a sudden that becomes a lot easier than later trying to net them as adult fish all over the lake and in all depths of the lake," Koel said.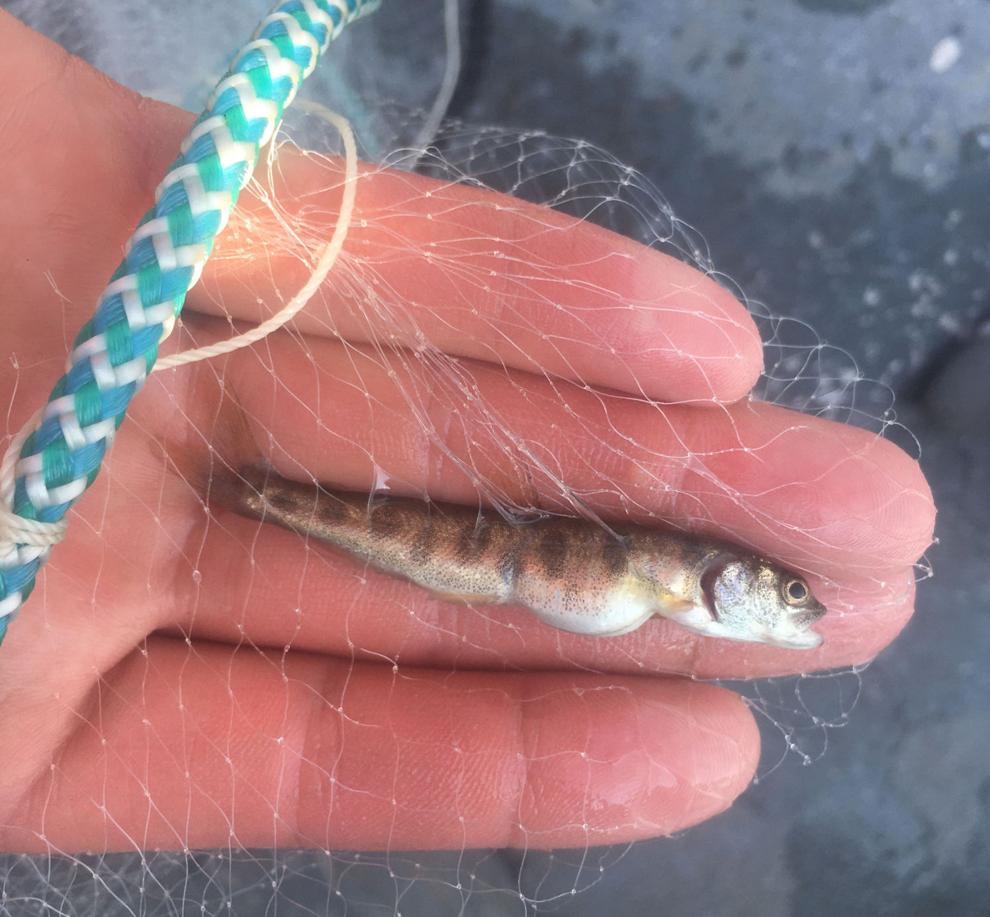 Sweet and Koel point to a trip in the Thorofare region of the park in 2019 as signs that lake trout suppression is paying off. A pack trip into this backcountry follows the main lake tributary, the Yellowstone River.
"It's very encouraging," Sweet said. "Those cutthroat are back in that headwaters of the Yellowstone River. The ones we were catching are almost certainly migratory fish out of the lake because they were large fish. … They were 18 to 20 even 22-inch fish. These were big adult cutthroat that run up into the system out of the lake."
Koel said before the lake trout numbers were held in check, spawners up the Yellowstone River had disappeared along with the outfitters and other anglers intent on fishing for them.
"When we were back there (in 2019) the camps were full of people, and there was a lot of traffic on the trails and people were fishing," Koel said. "I'm glad to see that's back."
The park estimates that it costs from $2.5 million to $3 million per year to conduct the lake trout suppression efforts. Funds have been coming from three main sources: The park budget, the Yellowstone Forever nonprofit partner and Trout Unlimited. The pandemic and recent restructuring at Yellowstone Forever has caused the foundation to pull back on its funding, Koel said. Trout Unlimited has committed to about $1 million each year. The park is picking up the rest of the tab by increasing fishing license, boating and other fees.
"We're in it for the long haul," Sweet said of Trout Unlimited's support. "It's been a long process. We have supported them for well over 10 years, I'd say about 13 years now."
Yellowstone National Park Superintendent Cam Sholly recently announced a doubling of fees to help cover the shortfall.
"Efforts to restore native fish in Yellowstone Lake remain one of our highest conservation priorities," Sholly said in a statement. "Our continued success will be largely dependent on a permanent and reliable revenue stream that will not only help us continue our native fish restoration efforts, but also increase our capacity to detect and prevent new nonnative species from entering Yellowstone's waters."
In the past, three-day, seven-day and season-long Yellowstone fishing licenses were $18, $25 and $40. In 2021 fees will jump to $40, $55 and $75.
Boating permit costs also jump to $10 for a weeklong non-motorized decal to $20 and $30 for the season. Motorized seven-day and annual permits increased from $10 and $20 to $40 and $60 respectively.