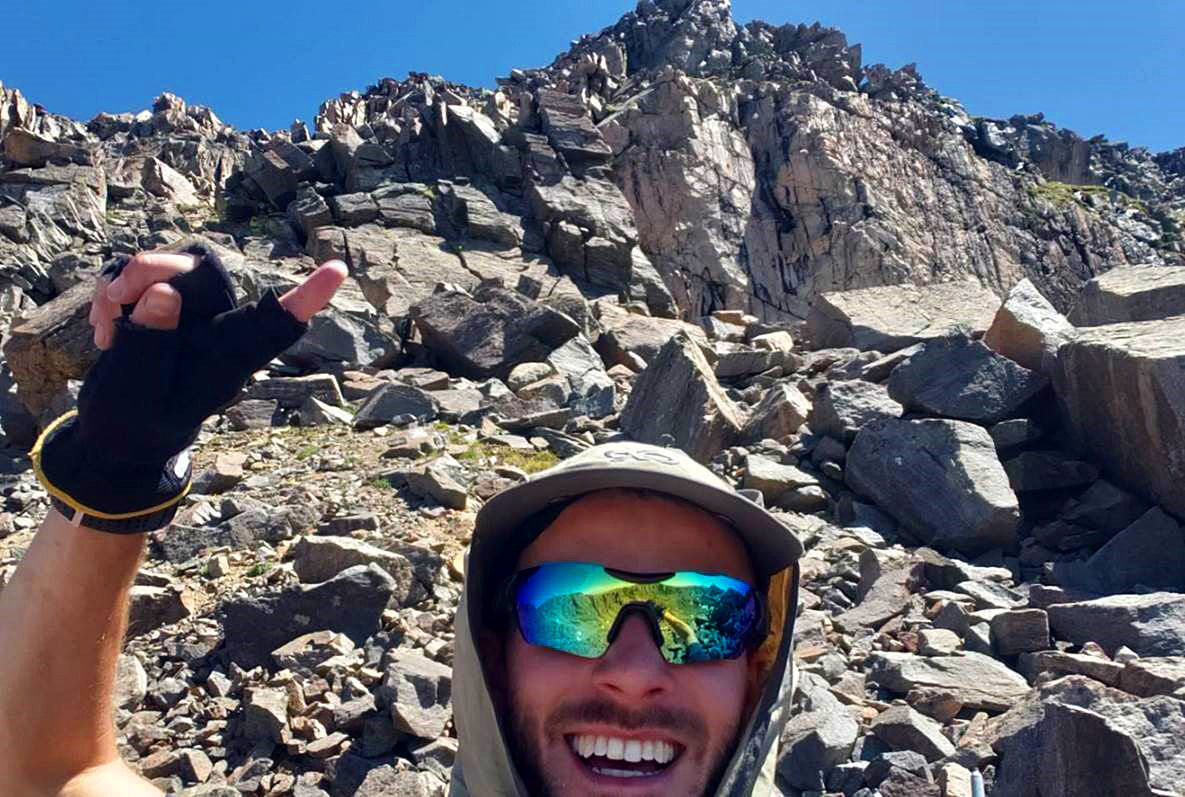 The injuries Branden Joy suffered were painful, pestering and disheartening.
On day five, his fingertips became so cut up and bloody from scaling the ancient rocks of the Beartooth Mountains that even simple actions like sealing a plastic bag or tying his shoes became difficult and agonizing. On day nine, he sprained an ankle after slipping on a rock along the Beaten Path trail. A golf-ball sized inflammation immediately erupted.
The sprain came after logging close to 100 miles off trail through "insane terrain," Joy said. He was feeling strong, energized by the progress he'd made. In that moment he temporarily "succumbed to complacency," rolling his ankle on the flattest terrain he'd traveled in days.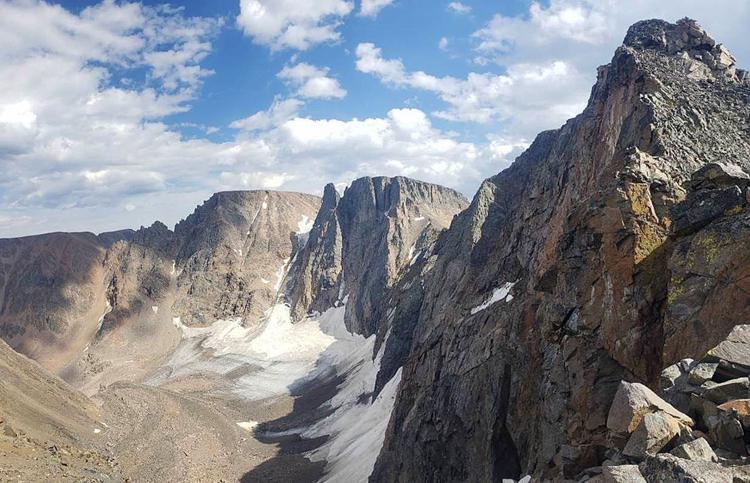 Swelling
The sprain was severe enough that he thought his epic journey might be over. Instead, the 27-year-old Helenan worked it out using skills honed in his environmental engineering profession.
"I was very aware of the center of gravity on every rock," Joy said.
Going downhill, he always led with his bad foot.
"I still put in big days but went slower."
After five days, the ankle pain subsided.
Finished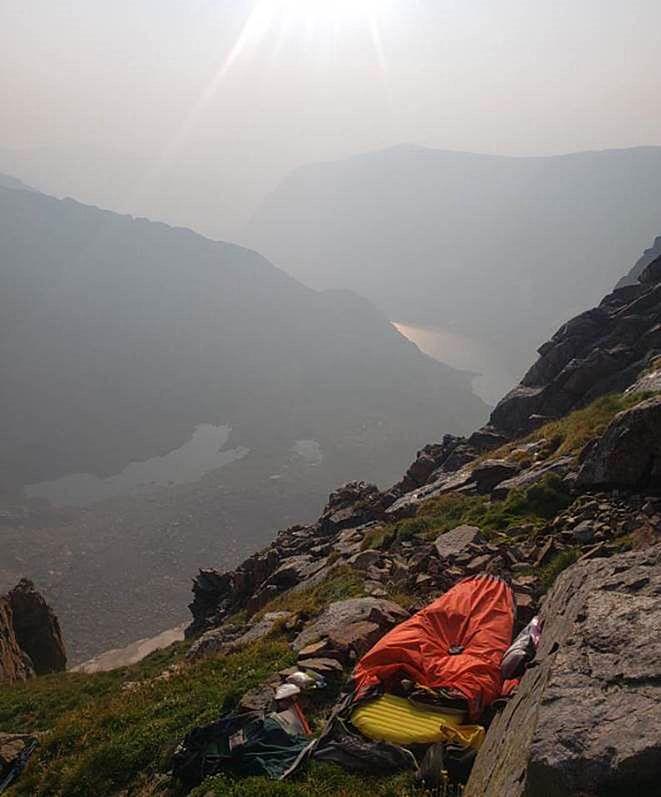 Despite the physical complications — which included strains to his muscles and tendons as he commanded his body to perform at a consistently high level — on Aug. 29 Joy completed an 18-day, 195-mile trip through the Beartooth Mountains. Along the way he summited Montana's 50 highest peaks, ascending 104,400 feet and descending 108,300 feet.
En route, through lightning and hail storms atop rocky, exposed summits, his thoughts distilled to an essential refrain: "These public lands, wilderness areas, are invaluable to not only our culture but our society.
"I know it's not the most eloquent way to say that … but it's really important."
Sipping lukewarm coffee while relaxing inside his apartment — out of the wind, cold and heat that had defined his life for the previous two-and-a-half weeks — Joy was reflective about the journey. From now on he said his life would be lived intentionally.
"I'm an environmental engineer," he said. "My company helps clean up environmental messes. Now there's another aspect of environmentalism within me: to protect areas from needing the type of work I do, preventing those types of messes from ever occurring."
Journey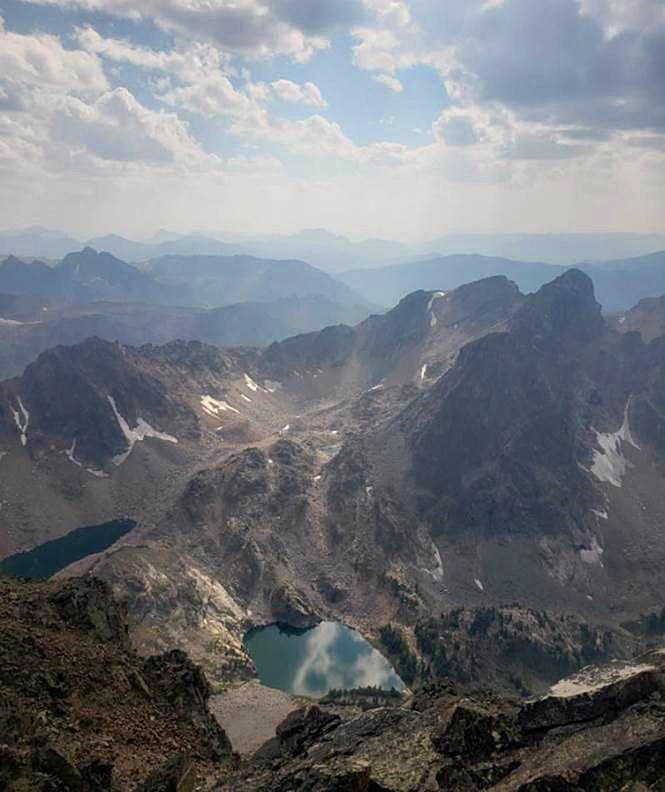 Joy's trek started in the Absaroka-Beartooth Wilderness just south of Red Lodge and zigzagged west. During the entire adventure only about 10 miles was on a trail.
To resupply food in the 30-pound pack he was carrying, he had previously cached rations at four locations along the way. For the first half of the trip he carried no stove, relying on self-heating backpacking meals. For water, he used no filter, instead drinking directly out of seeps, streams and relying on melted snow. Worried about water shortages on high peaks, he often carried more than he needed, adding to his pack's weight.
Sleeping under a tarp or in a bivy sack, he struggled to find level ground for his night's rest. On one cliff he stacked rocks to create a level surface. At the base of one peak he dug into a snow drift to level off a spot.
Although he had started off with a detailed route and maps, those plans soon evaporated as he was required to make decisions on the go.
"Basically, once I was out there I said to hell with my map," he said. "It was full exploratory field mode."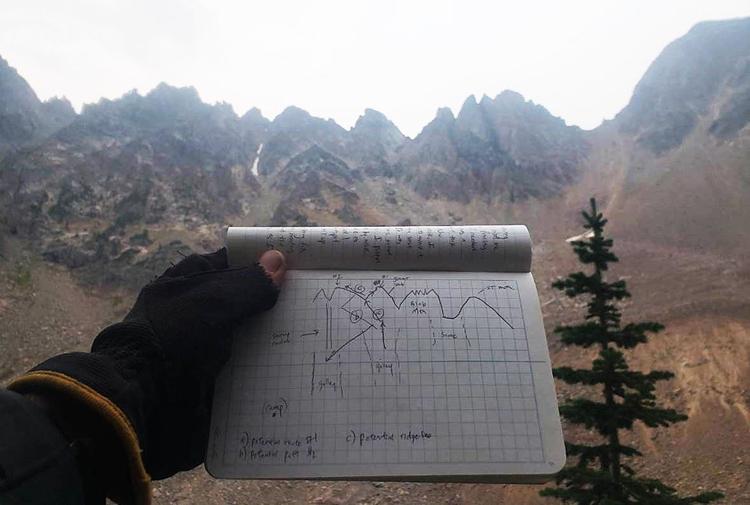 Crux
The hardest part of the excursion came toward the end, after summiting his 40th peak. Above Goose Lake are two unnamed spires, which top out at 11,770 and 11,660 feet, which he saw as the crux of the journey. When he'd looked at them on Google Earth they appeared impossible to scale. Sketching out a map from below, he drew up a plan and executed it. In the process he'd covered about 7.5 miles while climbing 6,000 feet and losing another 6,000 feet in elevation.
"It was a burst of extreme focus," he said. "It was almost like nothing else mattered."
Although he still had a long way to go, his brain began having a difficult time focusing. The constant risk from hiking atop knife ridges, on loose scree slopes and climbing crumbling cliffs had exacted a toll. He called it being "exposure fried."
"I had gone so far beyond anything I had put my body or mind through before. Every step was treacherous, you could literally snap your ankle."
At the same time, his resolve was dissolving, which stressed his mind out even more. Yet he still had 10 peaks to summit and another 50 to 60 miles of off-trail hiking and 25,000 feet of elevation to climb and descend. Dealing with the psychological fatigue while still making good decisions about where to navigate was becoming a strain.
Drawing on what was left of his physical and mental reserves, he pushed on. On his final day he logged a 5,400-foot descent from Pyramid Peak to the Beaten Path, the last leg of his arduous journey. There he met his parents to celebrate the accomplishment with burgers and cold beer.
"I didn't go out there to be comfortable and get a really good night's sleep," Joy said. "I knew I would bleed, be bruised up and get sunburned.
"But the experience of being on my own 18 days moving through that landscape far surpassed anything I have ever experienced."