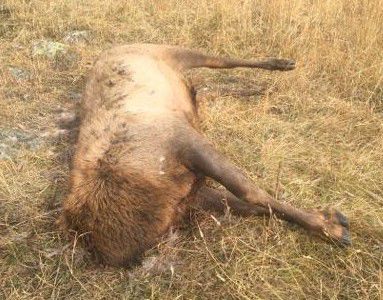 Montana game wardens are seeking information about a headless elk carcass discovered in the Poe Park area of the Elkhorn Mountains outside of Radersburg.
The bull elk was found Tuesday by hunters on horseback. They called Montana's poaching hotline (800-TIP-MONT) and described the elk as having been shot and left to waste, with only its head removed.
The hunters also said they had met a man earlier in the day who was hunting on foot with a large backpack, orange T-shirt and camouflage pants. They reported he indicated he was from the Whitefish area.
Wardens would like to speak to this individual and others who might have information about the case.
"This is a disgusting act of wildlife poaching. The criminal who committed this crime needs to be held accountable," said Warden Sgt. Dave Loewen. "We need the public's help."
The Elkhorns are considered a trophy elk hunting district — requiring a special permit available by drawing only. Many hunters consider it a once-in-a-lifetime opportunity.
Anyone with information is asked to call 800-TIP-MONT or Loewen at 406-439-5688.