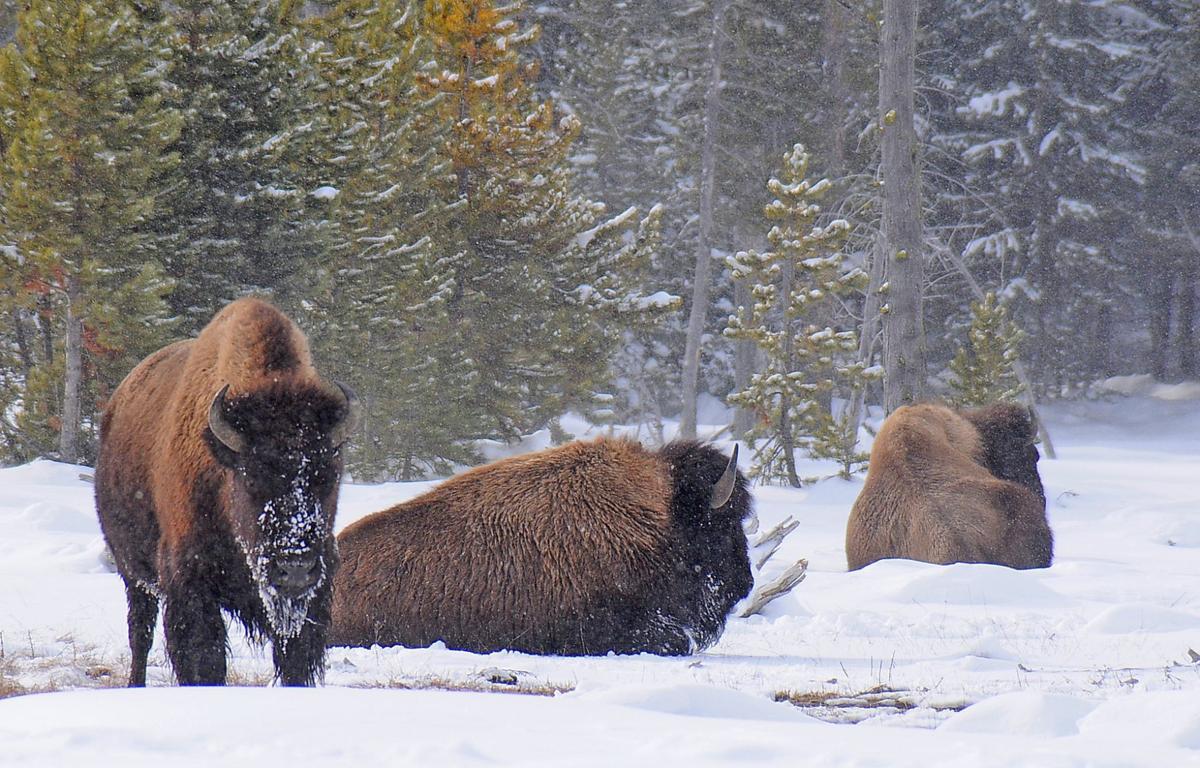 Several conservation groups have banded together to call for livestock producers to bear the burden of fighting brucellosis, rather than using "intrusive manipulation of native wildlife."
"Essentially, wildlife should be valued and treated like wildlife, not livestock," said Glenn Hockett, president of the Gallatin Wildlife Association, in a statement.
The message comes as snow piles up in the interior of Yellowstone National Park. Soon, wild bison will migrate to more open terrain around the small town of Gardiner, where some may be shot by hunters or corralled for shipment to slaughter.
The killing of bison serves two purposes: reducing the overall number of animals to a population that state and federal management agencies have agreed upon, and to somewhat reduce the prevalence of brucellosis in the animals. Brucellosis can cause animals, including cattle, to abort.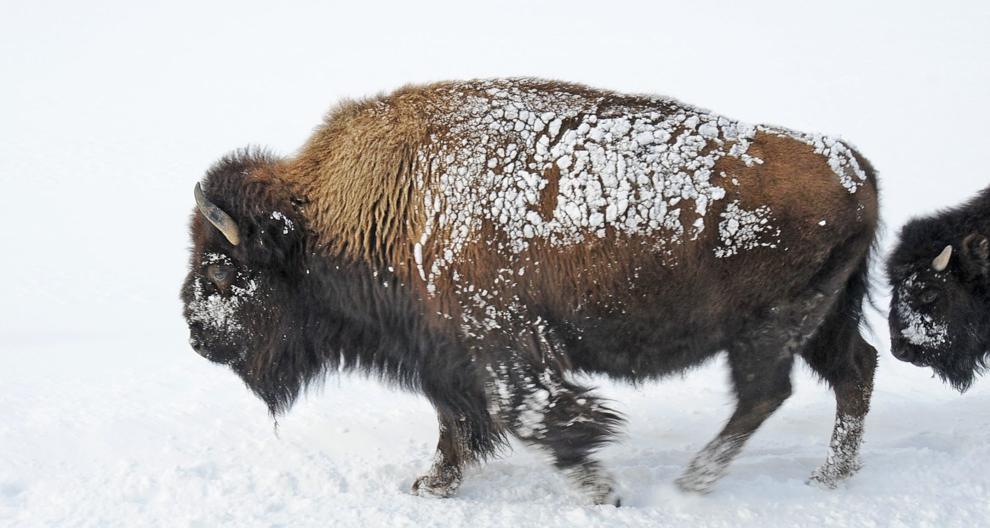 Bison removal
The tentative plan is to try and remove about 600 bison this winter. Last winter, 1,274 bison were culled or harvested. Since 2012, the park has removed 4,258 bison from the population. Yet the northern herd continues to grow and thrive, partly because bison from the central herd are migrating to the north. This summer more than 4,800 bison were counted inside the park.
Bison, however, aren't the only carriers of brucellosis. The disease has also spread to elk in the Greater Yellowstone Area. Elk were determined to be the cause of the most recent exposure of cattle to brucellosis. A case of bison transferring the disease to cattle in the wild has never been documented.
Montana Fish, Wildlife and Parks and the Montana Department of Livestock have cooperated in fencing, hazing and even authorizing the killing of elk to keep them separate from cattle, and thereby lessen the chances of brucellosis transmission.
"It is difficult, however, to move elk to areas away from cattle and to avoid creating problems for neighboring landowners," FWP wrote in a report to the Montana Environmental Quality Council, which has the item on its Jan. 17-18 agenda. "It is also expensive to delay cattle grazing in high-risk areas that overlap strongly with elk distributions."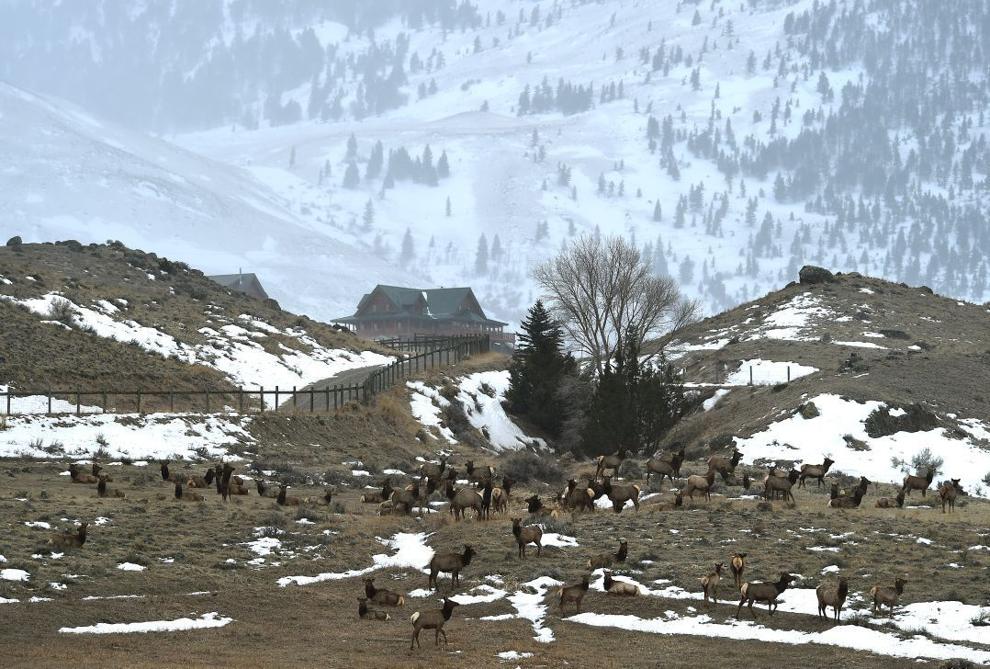 EQC report
The Montana Environmental Quality Council, composed of legislators and members of the public, requested information from FWP on eradicating brucellosis in elk at its September meeting. Sen. Mike Phillips, D-Bozeman, asked for the information to steer the discussion away from bison as a disease vector.
"We have spent a lot of time, years and years and years, saying bison are the problem," Phillips said at the meeting. "We've gone out of our way coming up with all kinds of ways to manage the problem. We know without doubt that elk are a vector. So let's put the bulls-eye at least where it belongs, at the back of the elk, and that's what that motion does."
The conclusion by the agency is straightforward: "We believe that with current technology, eradication of brucellosis in free-ranging elk is not possible."
The report goes on to note that there is currently no effective Brucella abortus vaccine for elk, even if one were developed it would not be effective in wiping out the disease in elk because of the difficulties in vaccinating wild, free-roaming animals.
Capturing, testing and removing elk that have been exposed to brucellosis proved to reduce prevalence of the disease by only 30 percent in a five-year study conducted in Wyoming that cost $1.3 million.
Administering a birth control drug could stop elk from becoming pregnant and thereby aborting, but again, inoculating elk would be difficult, the report stated. And besides, as long as there are bison in Yellowstone that harbor brucellosis, it will be difficult to completely eradicate the disease from the environment. Likewise, elk feedgrounds in Wyoming are also reservoirs for the disease until they are abandoned, which the state has shown no desire to do.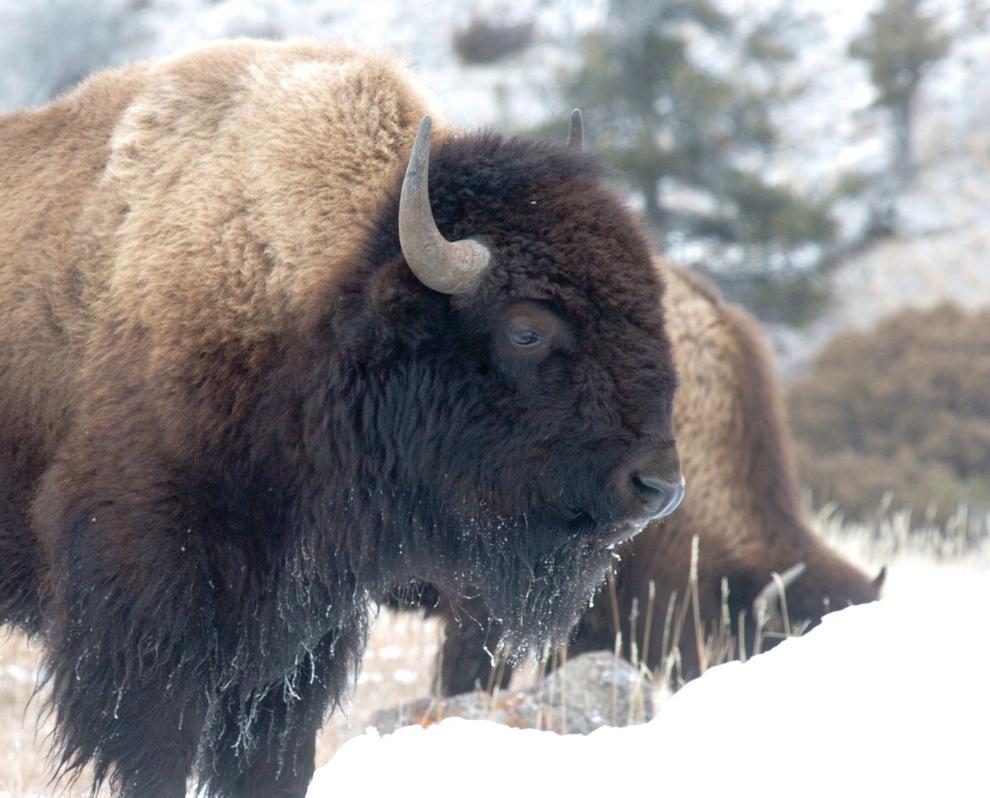 Vaccine hopes
Hockett and other conservation groups contend there is a better long-term solution: creating a vaccine for cattle that would prevent brucellosis.
"The currently available cattle vaccine protects against abortion but not infection," FWP wrote. "Although vaccinated cattle are less likely to transmit the disease, they are not protected from becoming infected."
Unfortunately for livestock producers, Brucella abortus is listed as a select agent by the federal government. Select agents are "biological agents and toxins that have been determined to have the potential to pose a severe threat to public health and safety, to animal and plant health, or to animal or plant products."
Because of this listing, only highly secure labs are allowed to study B. abortus to develop a vaccine. De-listing the agent would be a big step toward allowing more research.
"However, a cattle vaccine may still need to be combined with elk management, since even effective vaccines are not 100 percent protective," FWP wrote.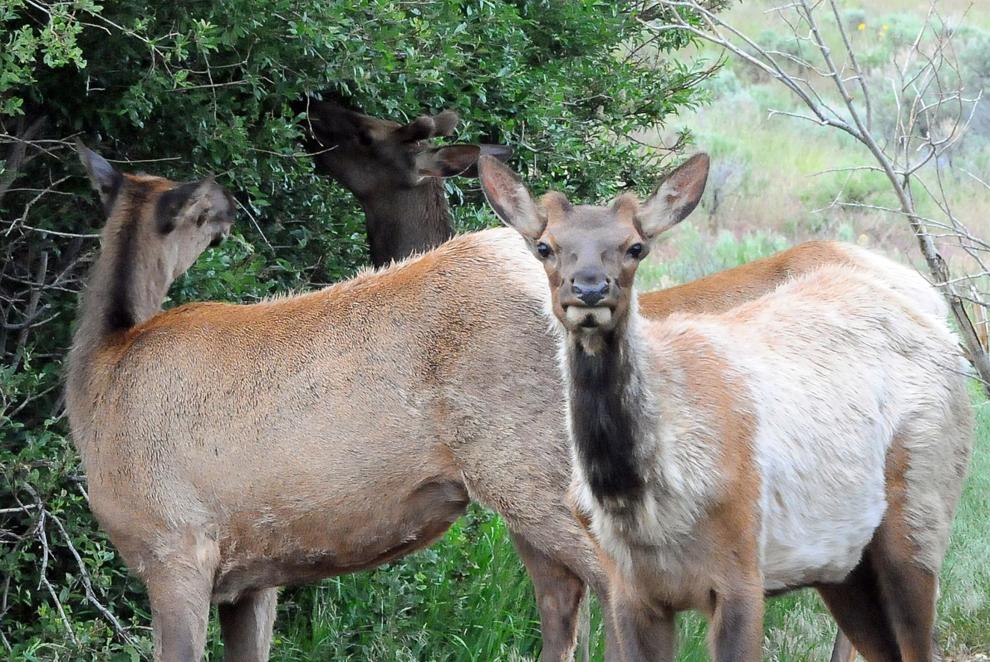 A livestock issue
Until a better vaccine is developed, Hockett said, "The agencies need to focus on livestock-centric solutions like vaccinating cattle and fencing them in."
Roger Hayden, executive director of Wyoming Wildlife Advocates, said Wyoming should help, as well.
"Wyoming's elk feedgrounds, where animals are bunched tightly together for months at a time, are a vector for spreading disease," he said in a statement. "Phasing out feedgrounds, along with proactive livestock management, is key to reducing the risk of brucellosis transmission."
The conservation groups also see the region's predators as key to helping prevent spread of the disease, since they are known to scavenge at birth sites and thereby remove some of the infectious material. Consequently, they are calling for greater tolerance of animals like grizzly bears and wolves on the landscape.
"Healthy native wildlife populations, including predators and scavengers, belong on our public lands," said Josh Osher, Montana Director of Western Watersheds Project. "Public lands managers should seek proactive solutions to reduce conflicts, including targeted voluntary grazing permit retirement and ending predator killing programs."
Rep. Brad Hamlett, D-Cascade, instead told the EQC that he sees wolves as one of the problems, scattering elk across the landscape as they flee the predators, which were reintroduced into Yellowstone in 1995.
More tolerance for predators is not something Montana livestock producers are ever going to support, and many would also prefer to see fewer elk and bison on the landscape. But as FWP noted in its report, that's likely to be "socially unacceptable," just as eliminating cattle from the Greater Yellowstone Ecosystem is inconceivable.
Given all of the difficulties in halting the spread of brucellosis, FWP officials came to a somewhat grim conclusion: "Until advances are made in vaccine development, our existing management tools to reduce or eliminate transmission of brucellosis from elk to cattle are unlikely to significantly change."
Although the cattle industry is known as a large contributor to Montana's economy, the conservation groups counter that "large, free-roaming herds of Greater Yellowstone bison and elk — and the presence of iconic bears and wolves, among other species" are just as important to the region's culture and economy.
"Native wildlife should be valued, conserved and managed as wildlife, not livestock," the groups said.